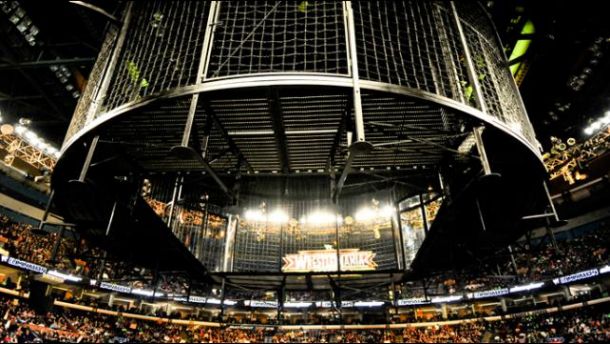 The Elimination Chamber was live from Corpus Christi Texas. The WWE promised two Chambers matches and four total title matches. The show also featured Kevin Owens vs. John Cena in a grudge match that many were looking forward too. The show had only two weeks to build, but there was a buzz about it and the WWE sort of delivered, but maybe not as well as they could have.
The pre-show was rather bland with one match between Zach Ryder and Stardust. Stardust is rumored to possibly be having a match with Stephen Amell from the show the Arrow. He went over Ryder with relative ease so he might be getting a push to help build that match.
Daniel Bryan was interviewed on Miz TV. He announced that he fully plans to return to the ring. He also hyped his new book coming out in a few weeks. After Miz got a little upset with him Bryan called out the Mega Powers to clear the ring.
It was great to hear that Bryan is coming back. That opens up a lot of possibilities. There are a ton of fresh feuds for Bryan that does not have to involve the WWE title…for now. The Mega Powers should be more over than they are, but the WWE isn't fully investing in the angle. It's a shame because Axel and Sandow are putting a lot of effort into it.
The show opened with the tag team chamber match between New Day, Kidd & Cesaro, Los Matadores, Lucha Dragons, the Ascension, and the Prime Time Players. El Torito was allowed to stay on top of the Matadores cage and the New Day were allowed to use all three members. This was an oddly paced matched, but all the teams got a moment to shine. Kidd and Cesaro executed some great combo moves and showed that in the ring there are few better working teams.
The New Day were the last out team of the pod and they used this advantage plus their extra member to get the better of the Prime Time Players for the final fall. It was a big win for them. The New Day was granted a huge advantage for helping Kane out earlier in the week. It's amazing that the New Day have gone from an utter joke to working with the Authority. If WWE wanted to go a step further they could fully embrace them as the henchmen for the group.
WWE couldn't resist having all three of them in the match together in the pod as they had joked about at Payback. In reality there was plenty of space for all three. While all the teams did get to shine here Kidd and Cesaro are still pretty much standouts. It will be interesting to see if the WWE will come back to that feud at some point and where they go from here.
This match probably was probably hindered by the chamber due to the amount competitors. It was nothing memorable that way, but it will help the New Day in their efforts to be taken seriously.
The next match was the Divas three-way for the Title. This match was filled with rough spots and dangerously executed moves. As is custom with WWE women's matches everything seemed rushed and the lack of time to tell a story hurt everything. Nikki got a clean pin over Naomi with the Rack Attack.
This loss absolutely buried Naomi and felt totally wrong given the current situation. Naomi was on the rise as a successful heel and Nikki has had a flat and confusing run with the title to say the least. Naomi has now been beat clean by Nikki twice. This loss also did Paige no favors. Why have her in the match if she wasn't going to be more involved in the finish? All it did was hurt her fan perception as well.
The next match up was Kevin Owens and John Cena in a grudge match. This feud has been heated and the two-week build saw Owens get the better of Cena in many situations. The match started fast with a lot of even exchanges. It was refreshing to see Owens play to the crowd. After about six minutes of back and forth the match went into high gear with Cena and Owens each kicking out of each other's finisher. The announce team even seemed to step up their game as the King noted the genuine electricity in the crowd.
One of the biggest moves was when Owen's locked up Cena in the Package Pile Driver, but actually spun it into the Blue Thunder Bomb. Hardcore Kevin Owen's fans know that his old finish was the Package Pile Driver so this move got a big reaction. The end came when Cena missed a big clothesline and got caught by a second Pop Up Powerbomb. He was unable to kick out and Owens got the biggest win of his career to date.
Post-match Owens cut a monster promo on Cena telling him his time was up. He truly did deliver on what he said so the moment felt real. There were a few crowd shots of distraught Cena fans shown, which only added to the drama.
This match was excellent. It will make the PPV memorable if for only this match. If there was a something to be down on it was the extremely obvious spot calling by Cena. It almost seemed like he was wearing a mic.
Owens is a major player now. This was about the most special feeling match since Bryan beat Cena at SummerSlam in 2013 and before that CM Punk beat Cena in 2011 at MITB. There is a common theme there and it's Cena was involved in all three. You have to give the Devil his due.
WWE unleashed what many will probably take as a major downer only a few matches later when they let everyone know that the rematch between these two will occur in two weeks at MITB. That was a major mistake by WWE. Although this match was great there's no reason to give it right back to everyone two weeks later. It could have been help off for a least another 8 weeks or even until SummerSlam and it's very likely Cena will get his win back and take some of the sizzle off Owens.
Neville took on Bo Dallas next. The WWE did a good job of raising the profile of this match by recalling the feud these two had in NXT. This absolutely helped out Bo Dallas, but it should have been done on Raw and not right before the match started. The crowd was mostly checked out of this one and for obvious reasons as they had an impossible spot to fill following up the previous match.
Neville gets the win and hopefully this feud is over for now. Until the WWE can repackage Dallas there's no reason for Neville to keep matching up with him. Neville needs a little more character development if the WWE wants to keep fans behind him or he will soon fall into the Ziggler zone of not really going anywhere, but putting on good matches.
The next match was the IC Title Chamber match with Ziggler, Sheamus, R-Truth, Ryback, King Barrett, and Mark Henry replacing an injured Rusev. This was a really bad chamber match. Ziggler was doing his best John Cena impression calling spots that people in the upper deck could hear. Henry seemed gassed for most of the match and overall the mix of stars in this thing didn't work. There were two guys in here that could bump and four guys that rely mostly on power moves. The chamber just didn't work with this group.
Ryback gets the surprising win over Sheamus clean. Post match Daniel Bryan awarded the title to Ryback. Ryback spoke for a moment paying respect to Bryan in what was a very classy gesture. Bryan then started a feed me more chant. It was nice to see Ryback get the win. Sheamus was probably booked to do so, but he's currently filming a movie, which WWE loves to support.
This was a largely forgettable match that just felt like WWE going through the motions. They just did not do a good job utilizing the chamber and perhaps because the match wasn't deciding the WWE title and lacked some star power it wasn't ever going to be as good as chamber matches of the past.
The event closed with Dean Ambrose and Seth Rollins for the World Title. HHH warned Roman Reigns earlier in the night about not interfering and costing Ambrose the match, but J&J Security and Kane escorted Rollins to ring side. It should be noted that Rollins came out first. That's wrong as a Champion should always come out last. That's WWE missing the small stuff that they used to be so good at.
The match was just ok. There were some good spots here and there, but nothing that jumps out a people and the pace was pretty slow. Rollins did a great job talking down to Ambrose when he had control. This helped fuel the Ambrose fans. Late on Ambrose got control of the match and went to land an elbow off the top rope. Rollins pulled the ref in the way and Ambrose landed on him instead.
After that Ambrose regained control again and landed Dirty Deeds. A ref shot out from the back and counted Rollins out. Dean Ambrose was the new Champion…until the first ref woke up and DQ'd Rollins for pulling him in the way. This meant that Rollins retained because the title cannot change hands on a DQ. The Authority surrounded the ring looking to help Rollins get the belt back, but then suddenly Roman Reigns hit the ring and cleaned house. Ambrose and Reigns escaped with the title for now.
This was far from the best these two could offer, but it was mainly a troubled match because it was so over booked. The moment you tease that there will probably be some kind of interference is the moment that you lose the audience. There wasn't anybody there expecting this to end in like 10 minutes, but they all knew no finish would come until Kane and J&J had some involvement and possibly even Reigns.
That kills the flow of the match every time. WWE should have barred everyone from ringside. That would have picked up the level of intensity. These two guys are capable of stealing the show, but in this spot they just seemed to be going through the motions.
Elimination Chamber was the second WWE PPV of the month and the third live event if you include NXT. Although match quality was poor and the angles were rushed it was still a good way to spend your Sunday night. WWE might have done better realize that the Cena Owens match was such a big deal that you could have justified it going on last. If you flip flop the main event and that you might have sent fans home a bit happier and with a lot more buzz, but still they did gain something with that Cena Owens match.
WWE jumps right back into action with the MITB PPV in just two weeks. They don't have a tough act to follow, but they have to star creating some interest in more story lines beyond the main event title picture and Owens Cena. The ratings have been abysmal lately and eventually that's going to catch up with them.