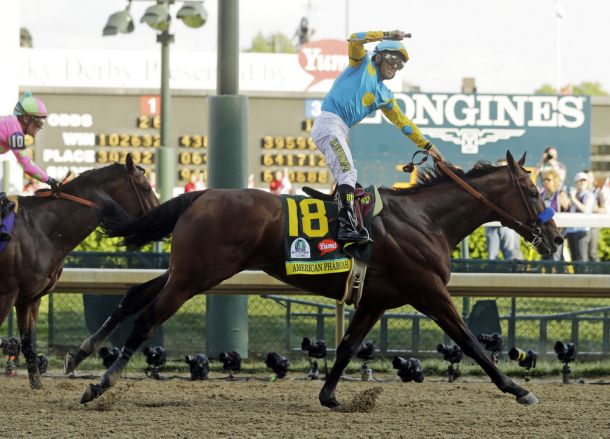 America, we have had a coronation, one almost 4 decades delayed. With Victor Espinoza at the helm, American Pharoah has become a national hero, and today solidified his legacy as the first Triple Crown winner in a generation, the 12th horse ever to accomplish the feat.
Victor Espinoza: "It's just unbelievable how things work out . . . I came into the race with so much confidence [after] the last three times."
Confidence was no doubt exuding from the whole clan, as it has been said all along that American Pharoah was built for the mile-and-a-half long Belmont Stakes. The horse was battle tested, especially after his thrilling victory at an extremely muddy Preakness Stakes. With 3-5 morning line odds, doubt that American Pharoah would win the Belmont Stakes was at a minimum.
Starting from the fifth post, American Pharoah went straight to the lead - and stayed there. This strong lead lasted the entirety of the race, but it did not seem as though it would. Coming around the long, sweeping corner that preceded the final stretch, American Pharoah maintained the impressive lead, and a question silently arose as Belmont Park rocked increasingly louder: did American Pharoah just waste all that energy, or did he have the stamina to make it?
Exiting the corner and nearing the finish line, American Pharoah's lead only grew. The two horses that were predicted to give the colt a run for his money, Frosted and Keen Ice, finished behind American Pharoah as Belmont Park erupted - the Triple Crown had been completed.
"I still can't believe it happened," said Bob Baffert, the 62-year-old trainer of American Pharoah - and now the second-oldest trainer of a Triple Crown winner.
Baffert may be the second-oldest trainer of a Triple Crown-winning horse, but jockey Victor Espinoza became the oldest jockey to win the Triple Crown, having turned 43-years-old just two weeks ago.
"I feel so good," said Espinoza following the big win. "I say, 'I hope American Pharoah feels like me."
Just minutes after the race came to a close, a sign with American Pharoah's name and silks was timely placed in the infield beside similar signs for the 11 other winners of the coveted Triple Crown.
93-year-old Penny Chenery, owner of Secretariat, was one of 90,000 inside Belmont Park - a crowed that was capped to limit crowding and long lines that were caused by last year's 102,199 spectators. She clapped excitedly as the place erupted when the race was completed at the same time as history was made.