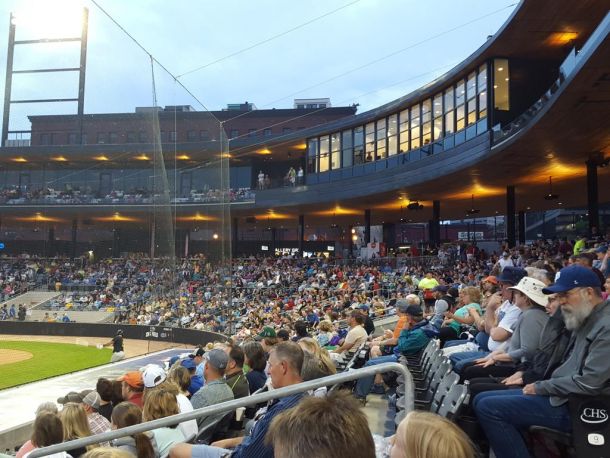 The St. Paul Saints used a quality start from Dustin Crenshaw to defeat the Sioux Falls Canaries 2-0 Saturday night at CHS Field. The win gives the Saints a 14-1 record on the season, the best record in the American Association.
Dustin Crenshaw started for the Saints and turned in a masterful performance, going all nine innings with only two hits allowed, and no runs. Crenshaw came into the game with a ERA of 1.29, and only continued his dominance tonight.
"We've been throwing well," Crenshaw said afterwards, "We had a gameplan and I just kinda stuck with it and worked the ball in and out and they were aggressive and our defense was there to play."
"Crenshaw threw a great game," Saints manager George Tsamis said, "no walks and a bunch of strikes, what an outstanding game."
The Saints helped Crenshaw out at the plate, starting in the third inning when Anthony Phillips hit a leadoff single to left field. Alonzo Harris then advanced Phillips to second with a groundout to the pitcher. After a Sam Maus single put runners on the corners, Willie Argo hit a RBI single to right field to drive Phillips in.
"The third baseman was playing back so Sam Maus laid down that beautiful bunt and it was perfect. You need to execute, and we could've added a few more runs." Tsamis said of the third inning run, which was created by small ball plays by the Saints.
The Saints got another run in the fourth inning when Angelo Songco hit a home run to right field to give the Saints a - lead over the Canaries.
That would be all the Saints needed thanks to Crenshaw, who got some help in the second inning when Sioux Falls had a runner on third, with only one out. Michael WIng flew out to left fielder Willie Argo, who threw a bullet to catcher Joey Paciorek who made a spectacular dive to tag out Richard Stock who tried tagging up from third.
The two teams will face off again on Sunday at 5:05 CT. The Saints will send out Kramer Sneed to try and sweep the Canaries. Sioux Falls will counter with Jeremy Strawn.