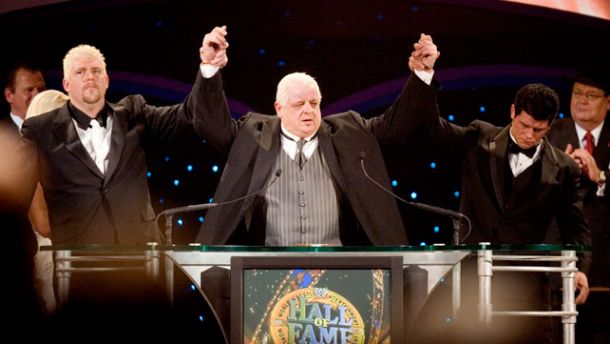 Legendary wrestler and Hall of Famer father of Goldust and Stardust Dusty Rhodes has passed away today at the age of 69. We do not know how this tragic accident happened but what we do know is he will be missed.
Starting out as a wrestler in 1968. He has been NWA World Heavyweight Champion three times, former United States Champion, multi-time Television champion, Tag Team, and Six Man Tag Team championship over his Hall of Fame career. Rhodes retired as an active competitor in 2007. After he retired he was known for making spot appearances at wrestling shows and in WWE. He was a part of the backstage booking and production for WWE NXT, which serves as WWE's developmental system.
Rhodes captured the fan's hearts every night. He was the ultimate fan favorite. He always had good mic skills and had a gift for connecting with the crowd. Nobody will ever forget how hard he worked. Dusty passed his passion of wrestling to his sons Cody and Dustin (Stardust and Goldust), who have both managed to become superstars in WWE.
This is just heartbreaking to everyone here at Vavel-Pro Wrestling. Rhodes was just in the WWE making a TV appearance four months ago. He did not look like he had anything wrong with him. Rhodes looked in great shape. Maybe the cause of his death is related to the way he lived on the road. Another potential reason would the amount of blood that he has lost in his career. Since he is known for bloody wars it may have finally caught up to him and his body could not take it anymore. All we know is wrestling just lost a great man.
Dustin son Stardust aka Cody Rhodes career might be impacted after his father's death. Since his father is now gone he should just drop the Stardust gimmick. Just go back to the Cody Rhodes. Cody could potentially be a great face for the company. WWE should have no problems pushing him at this point; in fact Cody deserves a push. Now is the perfect time for Rhodes to drop the Stardust gimmick and ascend to the upper echelon of WWE's talent roster
F4Wreported that the only details they've heard is that Rhodes had a fall at his house earlier today. Then was rushed to the hospital. His kidneys were then shutting down and he started to get dehydrated. More details to come.