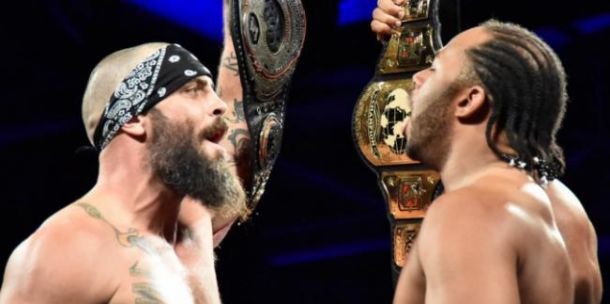 ROH held their Best in the World PPV live from New York's Terminal 5 on PPV Friday Night. Unlike their standard monthly IPPV's this one was available on almost all major cable/satellite providers. This was the first PPV like that since the very flat ROH 13th Anniversary show back in March. From the opening bell to the last the show more than delivered and rejuvenated the confidence of those in ROH's ability to put on a big show.
ROH's 13th Anniversary show suffered for many reasons. The lack of any quality story build-ups and flat finishes hurt the show tremendously. They weren't able to deliver any matches that had that big event feel worthy of someone plopping down big money for a PPV. This latest effort was the complete opposite. It was well booked: from the placement of matches, to the matches themselves.
Mark Briscoe w/ ODB vs. Donovan Dijak w/ Truth Martini-
It was a great decision to bookend the show with a Briscoe versus a House of Truth member. Briscoe proved he is a heck of worker as he absolutely poured himself into what was a great opening match and better than many anticipated. The best spot of the match happened when Dijak slammed Briscoe over the top rope on the floor. This spot was crazy because Briscoe wasn't able to get much of the tope rope, which is usually how you break your fall. He landed 7 feet outside the ring and hit hard as a rock. This is something that has to be seen to truly appreciate.
Briscoe's back was beet red after this for the rest of the match, a good sign of how tough that bump was. As the match began to break down Truth Martini tried to help out his man only to be stopped by ODB who got a hold of the Book of Truth. She shredded the outside cover, a move that caused Kevin Kelly to claim she shredded the Book itself. Martini was crest fallen by this and spent the rest of the match kneeling over the torn pieces.
Briscoe was able to hit his Froggy Bow for the pin. This was not a four star match, but a great way to open the show. It almost suggested that perhaps the House of Truth was crumbling. There was enough good action to get the show going in the right direction.
ACH & Matt Sydal vs. The Decade (BJ Whitmer and Adam Page w/ Colby Corino)-
If you have been watching ROH TV exclusively on Destination America you are probably aware that Whitmer and Page have been schooling young Colby to get under the skin of announcer Steve Corino. Whitmer and Page's actions have gotten them the heat that they desperately needed. This match was a nice showcase for all four men.
After this match it was apparent that Sydal is going to be a contending for a major title down the road. You can almost believe it watching him work and hearing the crowd react to him. He seems way more mature with the beard as well. In the end Colby saved the Decade from defeat and Adam Page connected with the Rite of Passage on Sydal for the win.
The right team won here, as the Decade needed the win to keep the interest in their faction. Sydal and ACH were tossed together as a one off and are better placed as singles. If they do have plans for Sydal they need to start having him win a big match or two and get him away from this filler.
Silas Young vs. Dalton Castle-
This match was a slowdown point for the show. Castle has a great entrance and a cool gimmick, but pairing him with Young didn't feel like it was going to make for much of a match. Then the opposite happened. A pretty good match broke out as Young worked extremely hard and although Castle is still a bit Raw he held his own when needed.
This was a well-booked match. Something you don't normally see this early on the card. They told an excellent in ring story. Castle gets the much-needed win after using a low blow on Silas when the ref was not looking. He rolled him up for the pin. Post-match Silas took out one of Castle's boys.
War Machine (Ray Rowe & Hanson) vs. Cedric Alexander and Caprice Coleman-
War Machine is an acquired tasted. If you like big men and beards they are the team for you. Cedric is coming off a major, although tainted win, over Moose. It would be interesting to see how ROH would protect him here considering he just beat one of their top stars.
The match was short and sweet with War Machine going over big time on Coleman. Cedric could feel the match slipping away so he went under the ring and got a wrench similar to the one he used on Moose. Coleman went looking for a hot tag, but noticed that Cedric had the item and refused to tag him in. War Machine took advantage, hitting Coleman with the Fallout for the pin and win.
Post-match Cedric was upset at Coleman, but did not attack him. Instead he headed to the back. After the very good match prior to this it was a good change of pace, and clearly this match was used to build an angle with Cedric and his heel turn.
Roderick Strong vs. Moose w/ Veda Scott and Stokley Hathaway vs. Michael Elgin #1 contenders match-
Roderick Strong is a superstar. The crowd was hot for him and he sure seemed to work harder knowing that. Moose came out with some custom football gear on that made him look a little cheap. As for Elgin, he seems to lack charisma, but in this match he proved that his in ring ability can more than make up for that.
Roddy worked as hard as he could to deliver a stiff hard-hitting match. Elgin was amazing, hitting numerous impressive spots and playing to the crowd when it called for it. There is no doubt that Moose isn't just a big man. He's got some talent and he is working hard to get better.
Moose hit his spear on Elgin at one point. What makes his spear so impressive is the mid-air twirl he does on his follow through. It adds to the moves impact. For the climax of the match Strong caught Elgin with a sidekick into a suplex backbreaker and then hit Moose with a sidekick for the pin and win.
This was the second time in a week that the previously undefeated Moose had taken a pin. Veda Scott was none too happy about this fact and verbally assaulted Moose post-match before slapping him. Moose looked angry and was ready to spear Veda when out of nowhere came Cedric Alexander connecting with the wrench on Stokley and Moose. It appears that Veda has joined Cedric completing his heel turn.
This was a good move as it helped push Moose in a new direction and it was unnecessary for him to have two sidekicks. The Strong win set him up for a shot at the title at the PPV in July. For a match that maybe seemed like it wouldn't be that great it really over delivered.
Bullet Club (A.J. Styles and the Young Bucks) vs. The Kingdom (Adam Cole, Matt Taven, and Mike Bennett w/ Maria Kanellis)-
It's near impossible to recap a match like this. They did not go 100% spot crazy and run the entire match, but it was the fast paced spot fest that it needed to be. A few things are clear. AJ Styles is a top-level star in every sense of the word. He looks like it, works like it, and delivers like it. ROH needs to use him in big time singles matches going forward. He's just too good for this type of match. The Young Bucks are the hottest thing going today as far as tag teams go, but they need an angle. It just seems like the Bucks are going from match to match and eventually fans are going to soften on them and they will lose their buzz. They need something to in the way of a story whether it be in NJPW or ROH.
Adam Cole is also an incredible worker and does not need to be in a six man in a major PPV. This match did not appear to directly setup a feud with AJ, but that would be a great direction for those two in ROH.
This match had superkicks, dives, crotch chops, Indy Drivers, more superkicks, and a big time finish. After clearing the ring of Taven and Bennett the Bullet Club had a three on one going against Cole, but he was able to get the better of all of them for a moment. This really put some shine on Cole, but it was short lived as the Bullet Club regained the advantage and AJ hit the Styles Clash on Cole for the win.
After the match Cole and his partners seemed to be displeased with each other. It's unclear what direction they will go with that or if it was just overplayed by the announce team. Every ROH show should have a match like this, but what ROH needs to remember is every match should not be this fast paced. If they can remember that then when they do have these matches they will seem more special.
The Addiction (Frankie Kazarian and Christopher Daniels) vs. Reddragon (Bobby Fish and Kyle O'Reilly) for the ROH Tag Team Titles-
This match felt special from the jump. The Addiction has gotten over well as heels and all four men can work like crazy. The match was no DQ so it broke out into an all-out fight from the opening bell. At one point Kazarian accidentally did a dive into his on partner Daniels. Later Kazarian setup a part of the ring barricade over two chairs and he and Daniels slammed O'Reilly through it for an awesome spot.
Reddragon hit Chasing the Dragon on Daniels, but Chris Sabin appeared to break it up and prevent the pin fall. The Addiction then hit Celebrity Rehab on Bobby Fish for the win. This match might have been the only bad booking decision on the card if only for placement after the previous tag match that was very similar. This is what ROH needs to avoid: too many matches that look and feel the same. Still this was a good effort by both teams.
ROH Champion Jay Briscoe vs. ROH TV Champ Jay Lethal w/ Truth Martini, J. Diesel, and Donovan Dijak in a title vs. title match-
Nigel McGuinness was added to the commentary team for this match. It's worth nothing that Martini had come out to the ring with a red suit to start the show, but had changed into an all-white suit and had a new version of the book of Truth. The House of Truth was nowhere near dead.
J. Diesel took a swipe at Briscoe early and the ref sent him and Dijak to the back almost immediately. This match had a big fight feel, mostly because ROH has done such a good job keeping Briscoe and Lethal Champions as long as they have. The match started slow and worked up to bigger spots. Truth Martini saved Lethal from a spot, but was then tossed from Ringside by Nigel McGuinness leaving Lethal all to himself.
The biggest spot of the match had to be when Briscoe hit the Jaydriller through the timekeeper's table. This came off very well on TV. Briscoe wasn't able to get the win from here. Throughout most of the match Briscoe was selling a bum shoulder and that seemed to be what was separating the two in this match. Lethal actually went for the Jaydriller, but was blocked. A sequence of exchanges occurred resulting in Lethal hitting the Jaydriller followed by the Lethal Injection for the win. Jay Lethal is your new ROH World Champion.
Post-match Truth Martini returned to celebrate with Lethal. The Jay's exchanged a meaningful handshake before Briscoe left the ring. The show ended with an emotional Lethal left celebrating in the ring with both belts.
This match alone could have carried what was a much-improved PPV effort by ROH. To truly create a big match environment you either have to catch lightning in a bottle ala Cena vs. Owens or build two guys for a long period of time that eventually collide. That's what this was. ROH worked hard to keep these guys strong the last year and it paid off. Roddy Strong is waiting in the wings next month for Lethal, but who doesn't want to see the rematch for this main event. This PPV gets a solid A-.