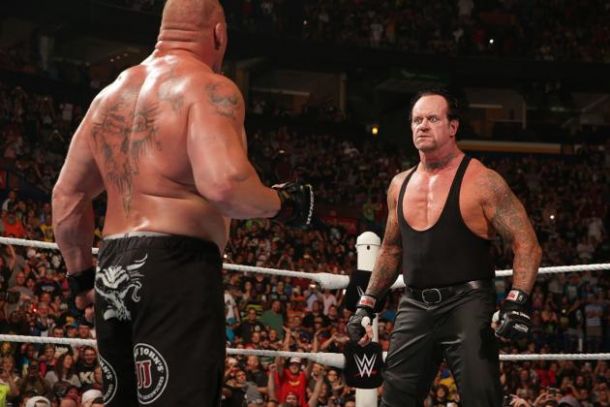 Monday Night Raw starts off with a video package noting what happened at WWE Battleground. The package focuses on how close Brock Lesnar was to winning the WWE World Heavyweight Championship. As the ref counted the pin fall the Undertaker returned, attacking Lesnar, costing him his chance at winning the world championship.
This is a rare appearance from Undertaker; he comes out to a large standing obviation. He gets in the ring and grabs a mic, he talks about his undefeated streak and how it was ended by Lesnar and how streaks were made to be broken. He then talks about how Paul Heyman and Lesnar, kept reminding everyone that Lesnar broke the streak. He then says that he will conquer the beast it was great seeing Undertaker live on Raw once again.
We see Triple H and Stephanie McMahon in their office, announcing that Lesnar and Undertaker will face off at Summer Slam. Which might possibly be a bigger match hype wise, then the one that they had at WrestleMania .Triple H then says that keep Brock Lesnar away from the arena tonight, because he knows what Lesnar can do when he is not in a good mood.
Triple H is shown in his office talking on the phone, who it looks like to be Paul Heyman. He tells Heyman that his client should take the night off, The Miz comes in interrupting the phone call trying to get Triple H attention. He then complains about how Big Show knocked him out, in the center of the ring at Battleground. Saying how important he is to the company, Triple H makes Big Show vs. The Miz. Which does not make Miz happy but it looks like the boss does not even care.
Triple H and Stephanie McMahon are seen backstage looking at a painting, then see Paul Heyman walking around. The two walk up to him Heyman them tells them that Lesnar is not in the building, but he wants to go out there and respond to the Undertaker on behalf of his client. Stephanie does not trust Heyman Triple H then tells her the security needs to be on point, tonight to keep Lesnar away. Stephanie tells him they will probably need half of the locker room as well.
One of the greatest wrestling managers in the world, and maybe one of the greatest mic workers in the business. Paul Heyman walks out as always he reminds the crowd who he is, and who is client is. He blames Undertaker, for costing his client his chance at winning the championship. He recaps what happens at Battleground when his client went face to face with Taker, he then reminds everyone that his client ended Undertaker undefeated streak at WrestleMania last year. He talks about how long Undertaker waited which was 469 days, since Mania last year to get his hands on Lesnar. He then says he will always brag about that, because it was the greatest thing that will ever happened to his client. He talks about the people that couldn't get the job done at Mania, at ending the streak people like Shawn Michaels, Triple H, Edge Ric Flair, Batista, Randy Orton, and many more. He talks about how Taker comes back to get his revenge. He then talks about how Undertaker took what his client cares about most, which is being called the WWE World Heavyweight Champion once again. He says that he sold his soul to get revenge on Lesnar, he tells him at Summer Slam he belongs to Brock Lesnar.
The lights go out and we all know what that means, it comes back on and Undertaker is standing in the ring with Heyman. Just as Undertaker was going to get his hands on Heyman, Lesnar music hit and he made his way to the ring. To protect his manager a huge brawl started between Lesnar and Taker. Security had to come out to separate those two, which did not make the fans happy. Even the security did not do enough to keep those two away, Triple H comes out with the rest of the locker room they come out to help the security in trying to separate Lesnar and Taker. It did not have any effect, they still got to each other attacking each other.
We are seen backstage where Taker and Lesnar are still brawling, they finally get them away from each other. The security then put handcuffs on Lesnar to escort him out of the arena, would like to point out that those were not real handcuffs. That they put on him to get him out of the arena for the rest of the night.
We see Bray Wyatt reunited with Luke Harper on the screen, Bray talks about how he is more than a man. Both talked about how it is just the beginning for Roman Reigns, and that they will not stop until they fix the mistakes until there is nothing left.
Seth Rollins makes his way down to the ring he grabs a mic, he starts to brag about his title reign. He talks about how Lesnar has destroyed everything, putting J and J Security on the shelf injuring Kane destroying the new car he got for J and J Security. Everyone said he was going to get hurt and going to Supplex city, and was not going to make it out alive. He then says that everyone was wrong, he is still standing as the champion. He talks about everyone that Lesnar has faced over the years, from Undertaker to John Cena. He talks about everything he done is life is up to the moment, him becoming champion. He calls out Lilian Garcia making her announce Rollins, as still the WWE World Heavyweight Champion since the announcement was not made at Battleground.
That brings out the United States Champion John Cena, who is fresh off a big win at Battleground over Kevin Owens where he retained his championship. He talks about how Rollins and he, both became champion on the same night at WrestleMania. He thanks Rollins for being a poor excuse for a champion, he then talks about how people lost respect for the World Championship and gained more respect for the United States Championship. Rollins talks about how people have to earn a shot at his title, he then talks about how he is the WWE World Heavyweight Championship. He talks about how the fans hate his guts. Cena talks about Rollins running away from any challenge, since becoming world champion.
Overall it was a good show great segments, Undertaker being there made the show a lot better. The hype for Lesnar - Taker is now at an all-time high. The matches were pretty good too; the main event could have been better booked then a six man tag. Other than that it was a descent show, with decent matches and segments. It was great to see how WWE is pushing the NXT divas like Charlotte and Sasha Banks.