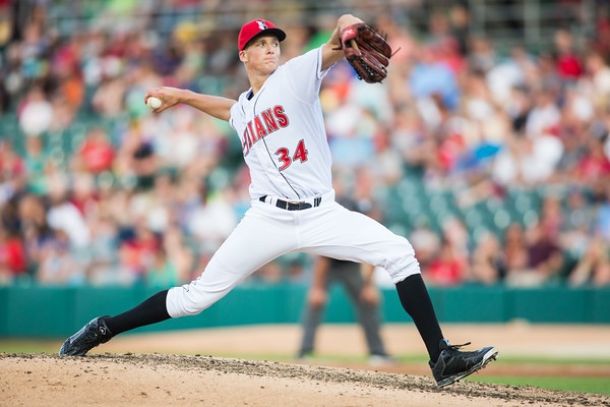 Tyler Glasnow versus Robert Stephenson. Travis Ishikawa versus Brennan Boesch. Indianapolis versus Louisville.
Tonight was no ordinary night at Louisville Slugger Field. Yes, the stands were full because of Labor Day weekend, but the pitching matchup was one that will be seen for many years to come as the Cincinnati Reds and Pittsburgh Pirates' top pitching prospects (Robert Stephenson and Tyler Glasnow) took the ball for their respective clubs.
While both starters asserted dominance in the first inning, Stephenson reverted back to old habits in the second by walking Dan Gamache after sitting down the first two batters. Remember the old saying, "walks will haunt?" Well, in this case it did as Gustavo Nunez singled to advance runners to first and second for the pitcher Glasnow. "Easy out right?" Wrong! The Indians' ace smacked a ball that was just out of the reach of left fielder Kyle Waldrop, resulting in Indianapolis to jump out to an early 2-0 lead.
Would two runs be enough for the lanky right hander? On this night, yes. Glasnow quickly found his rhythm on the Louisville Slugger Field mound and sat down the first eight batters, three via strikeouts. Although Louisville's Kristopher Negron surprised everyone by breaking up the no-hitter with a high fly ball that landed in the first row of the bleachers, Pittsburgh's number one prospect settled down and squandered doubles by Chris Dominguez and rehabbing outfielder Brennan Boesch during the fourth and sixth innings respectively in 7 1/3 innings of one run ball.
Like his counterpart, Stephenson also calmed down after the opposition scored by retiring 12 of the next 15. Yet, he did run into trouble in the seventh frame as Gorkys Hernandez chased the Reds' number two prospect with an RBI single to increase the advantage back to two.
The result was bound to be decided by the bullpens, and like most nights over the course of the 2015 season, Louisville's was the weaker as MLB.com's 33rd prospect Josh Bell "put the final nail in the coffin" with a two-RBI triple.
Last night's star at Victory Field, Travis Ishikawa, had a very silent night in the last game of his rehab stint, for he went hitless in three at bats.
IL West Drama
With the Columbus Clippers winning their game versus Toledo tonight, the winner of the International League West Division will be decided on the last day of the season since Indianapolis and Columbus are tied at the top. Even though both teams have clinched spots in the postseason, winning the West is not just for bragging rights because the winner of the division will have home field advantage versus Norfolk in the semi-finals while the loser will be at a disadvantage against Scranton/Wilkes-Barre.