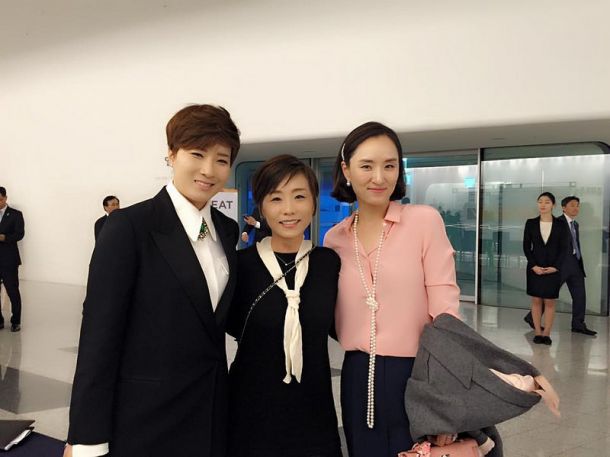 The top two players on the LPGA Tour are within fractions of each other in every major category, but it is the names that will not be playing that makes the event feel as if it is missing something.
The first generation of Korean superstars have either retired or are entering their final rounds. Mi Hyun Kim, an eight time LPGA champion who was able to find success despite her small stature, was the first step away from the game. She made the KEB Hana Bank Championship her final career event in 2012. A year later, Grace Park, the 2004 Kraft Nabisco Champion whose six wins seems like a disappointment for the oft injured Arizona State graduate, stepped away at the same event in 2013. Hee-Won Han and Jeong Jang, stables of Korean golf in the mid-2000s, both retired last season, and Jee Young Park decided to walk away earlier this season.
All that remains is the godmother of the entire movement, Se Ri Pak, who announced earlier this year that 2016 will be her final year as a touring professional. Pak just turned 38 years old, but injuries have forced her to cut several seasons short. Her comeback victory at the 2010 Bell Micro LPGA Classic was an example of the Korean legend's perseverance, as injuries and poor play made it seem as if her career was already over. She also won in Korea in 2012, and she finished T4 at the Kraft Nabisco Championship last year, all while nursing injuries that would cause most people to spend the weekend at a spa.
Those injuries took their toll this season, and Pak will not be teeing it up in Korea this week. This marks the first time in the tournament's 13 year history that Pak, Park, and Kim will not be in the field. To American golf fans, that may not seem significant, but for Korean golf fans, it is similar to watching the first Masters Tournament without Jack Nicklaus, Arnold Palmer, and Gary Player. It is similar to how most of us will feel next year when we watch an Open Championship without Tom Watson. Sure, their careers may have stretched longer than the Korean legends, but the impact on a nation is very much the same.
Prior to Se Ri Pak's triumph at the 1998 US Women's Open, Korean's had won a grand total of three LPGA victories, two of which took place in Japan. Pak herself won four times in 1998 alone, including two majors. Between 1998 and 2003, Pak, Park and Kim would win a combined 30 LPGA Tour titles, with Kim winning another five titles in Korea and Park winning the US Amateur Championship. Se Ri Pak won four major titles in that span, and Park would pick up her first and only major championship in 2004. Between the years of 1998 and 2004, Pak, Park and Kim made up 81% of all victories by Asian born players.
It was in 2005 when the effects of Pak's major triumph and Kim and Park's solid play would begin to be seen. Birdie Kim and Jeong Jang were both major winners on the LPGA Tour. A young golfer in Korea by the name of So Yeon Ryu was playing amateur golf against her peers, and would turn professional two years later at the age of 17. Another teenager named Inbee Park was winning amateur tournaments in the United States, and found herself finishing inside the top 10 in professional tournaments against some of the players she considered her heroes. Koreans won seven times in 2005, by seven different players, both of which were records at the time.
Fast forward ten years, and Korean golfers have already won 12 times this season. This does not count Lydia Ko, who was born in Korea but moved with her parents at a young age to New Zealand. Everyone who follows ladies professional golf knows the impact Se Ri Pak had on the sport. Everyone knows how good Mi Hyun Kim and Grace Park were in their prime. Do they realize, however, how quickly an era had ended, and with such little fanfare?
The spotlight will be on the country of Korea for the second week in a row, with the LPGA replacing the Presidents Cup. As the golf world continues to look at Korea as a golfing power, now would be the perfect time to remember those golfers who opened the door for these events to happen. Any Korean golfer who plays amateur golf in the United States should thank Grace Park. Any player who plays on the KLPGA Tour and improves their skills before going to the LPGA Tour should thank Mi Hyun Kim. And any Korean golfer who wins on the LPGA Tour and enjoys the money they make and the notoriety that comes with that success should thank Se Ri Pak. After all, these three women opened avenues to the game and had to go through many different hardships along the way.
All three golfers will be in attendance this week, but neither of them will be on the first tee when the tournament begins. As long as they choose to return, however, all three should have an honorary VIP table at pro-am party, a special shout out at the opening ceremonies, and, perhaps, a ceremonial tee time to begin the tournament.
And, if either of those three wish to continue walking down the first fairway and participate in the tournament, they should have that right, as well. After all, without this generation of Korean golfers, the KEB Hana Bank Championship would not even exist.