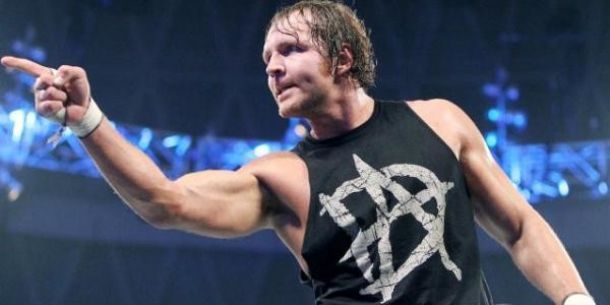 Ever since Dean Ambrose debuted on the main roster as a member of The Shield it was clear to see that he had an extravagant personality that certainly had a wild and crazy side to it, something he has evolved to the stage where the word 'unstable' has become a nickname.
But since the demise of The Shield, the lunatic fringe has been stuck working as a babyface when his whole character seems to be built around a perfect heel mold, the crazed psychopath who will go to any length to ensure he get's what he wants, and it has appeared for some time now like the WWE is finally heading in that direction.
With his bestfriend relationship with Roman Reigns, his disgust at Chris Jericho or his lack of trust with Randy Orton, the company seems to be teasing what feels like the inevitable, a major heel turn, but will it actually happen? That remains to be seen.
Is it a good idea?
That's the question that will surely be in the minds of many of the WWE Universe, whether or not it is a smart move to turn Ambrose into a heel. His current popularity as a babyface can not be denied and therefore turning him would come with an element of risk, but when doesn't it?
WWE is lacking in major heel superstars and to have great faces you must have great heels and vice-versa. This is causing problems for the company, and with ratings continuing to decrease a shake up is urgently needed.
Looking at the current roster there is a lack of top heel's who could be seriously considered as a World Champion other than Seth Rollins the WWE doesn't boast any other real talent that could do it.
Bray Wyatt's opportunities seem to have passed him by for the moment, Brock Lesnar is no longer considered a monstrous heel due to his overwhelming popularity amongst fans, Kevin Owens currently finds himself sat in the upper mid-card position and all other top talent currently find themselves as babyfaces.
Even The Authority themselves seem to be undecided as to what exactly they are, and whilst The New Day are arguably the most over superstars on the roster currently, it's difficult to picture any of them as a World Champion anytime soon.
But on the flip side, the fact that Rollins will be defending his title against Kane at Hell in a Cell, and his last defense coming against Sting it would appear the roster is also depleted of major face characters to challenge for the title.
However with Reigns' feud with the Wyatt family seemingly coming to it's end, he will be free to potentially make the step up to the main event once again, but the company can easily find babyface's within the current roster and when bringing 'legends' back for feuds it is more often that not that they return as face's.
Which leads me to believe that it is the heel side of the equation that is in the most urgent need of help, and Ambrose fits the bill; he has previously worked as a heel in FCW, his lunatic character suits a heel persona and his in-ring style and microphone abilities would easily work in a darker role.
His feud with William Regal during his time at FCW was one of the most talked about things from the old developmental system, with his uniquely dark promos and violent style, even his mini Twitter feud with Mick Foley got people talking and peaked fans interest, he has the ability to do it.
Given his current lack of direction and the fact he has been simply thrown into a feud between Reigns and the Wyatt's for the past few months show that the WWE has no real idea of where to take Ambrose or how to use him as a baby face, and this may hinder his growth within the roster as he aims for the top spot.
Right now he finds himself without a feud and due to Orton's current injury without even having a match at the upcoming Hell in a Cell event (more on that later), a change of direction is exactly what he and the company need, and it will without doubt benefit both parties.
Should it have already happened
As mentioned earlier, the heel turn of Ambrose is something that seems to have been on the verge of happening for some time now, with the creative team having created several great opportunities for it to take place already, and with Ambrose now losing momentum, should this change have happened already?
The most obvious person for Ambrose to switch against would be his 'best friend' Roman Reigns. The relationship between the former Shield members has been forced down fans throats ever since Ambrose began helping Reigns with Bray Wyatt, and the closeness between them has been highlighted especially.
Due to the amount of time the WWE has given to showcasing the fantastic brother like relationship the two share it seemed that it was only a matter of time that Ambrose would leave his partner alone, allowing the Wyatt's to take advantage and providing the perfect set up for them to head into an all out war between themselves.
The potential for the feud could be huge, the chemistry already exists between them having spent the majority of their main roster careers together, both men have proven they can take and hand out punishment to others, and could provide both men with a platform to spring from to move further up the card once the rivalry came to it's end, but it appears the WWE is no longer going in the obvious direction.
Y2J was the next obvious choice for a superstar to feel the wrath of the lunatic fringe. The legend made his return at Night of Champions to be the mystery tag team partner he came back to a thunderous reception by fans worldwide and with the way the match played out, it would have been a fantastic situation for Ambrose to simply take Jericho out.
Jericho's eagerness to get the victory ended up costing the team the match up against the Wyatt Family, and having Ambrose lay out Jericho would have made sense. it could have allowed the future hall of famer to leave and fulfill his duties with rock band, Fozzy, and leave a perfect rivalry for him upon his next return, whilst Ambrose could have moved onwards and upwards.
But instead the company decided to have Jericho appear to be the one looking set to make a heel turn as he walked out on his partners at the end of the match. Jericho hasn't returned to WWE television ever since which just leaves more questions than answers.
The latest opportunity has come with the Apex Predator, Randy Orton who had originally been recruited to be the mystery tag team partner before being taken out by the Wyatt's. Upon Orton's quick return, Orton has given his full efforts to aiding the fight against the Eater of Worlds and was set to team up with Ambrose at Hell in a Cell on Sunday.
The storyline being played out was one showcasing a lack of trust between Ambrose and Orton due to the type of superstars they are, wanting to handle business themselves and struggling to trust or play well with others. It would have been another great chance for the WWE to turn Ambrose heel. Allowing him to then work with an experienced talent who has portrayed a heel character several times.
Unfortunately it appears that Orton has suffered an injury that is going to see him unable to compete at the upcoming WWE special. This means if the WWE was planning on doing any form of heel turn at the expense of Orton the idea will either have been put on hold or scrapped altogether.
WWE has had the chances to pull the trigger and make the decision but for some reason they appear to be hesitant to do so. Whether that's because they have major plans for Ambrose as a fan favorite some time soon will remain to be seen but had it have already happened, it's tough to believe Ambrose wouldn't be in a better position than he currently finds himself.
The Future
What WWE will do with Dean Ambrose in the immediate future is difficult to say, but the man is far too talented to simply be wasted, not competing on the companies 'special events' or to be used in an attempt to make another superstar more popular with the fans.
One possibility could see him play a major role in Hell in a Cell by answering John Cena's open challenge, as the champion is set to be taking some time off after the event, it would make sense for him to drop the belt come Sunday night, and if the company want to keep Ambrose as a face for now, this could be one way of doing so.
The United States Championship hasn't been respected this much in a long time, and that is down to the work of Cena, but whoever it is that does finally take the title away from him, will no doubt get a major push and will benefit from the title's momentum.
With the championship now finally having the prestige that it deserves and no longer simply being viewed as a prop it would be a big moment in Ambrose's career and would push him back to the top of the card. Make him once again the focal point of his own storylines.
As Ambrose has no match at Hell in a Cell, this would be a good way of working him onto the card and the pair would no doubt deliver a high quality match, that is if a certain Prince Pretty doesn't turn up and challenge Cena instead.
If the heel turn is to happen, then it needs to do so soon to give Ambrose the chance to work out the kinks and for the character to really develop, after all the road to Wrestlemania is fast approaching and the unstable one would be a perfect candidate for a high profile match up against a major face in the company.
Whether a much needed change of direction and heel turn is in the future for Ambrose or a major push as a face will remain to be seen, but he has worked hard and given his all since the minute he debuted on the main roster, and no matter what direction he goes in, a big future should surely be waiting for him, This writer just hopes it's as a psychotic lunatic heel.