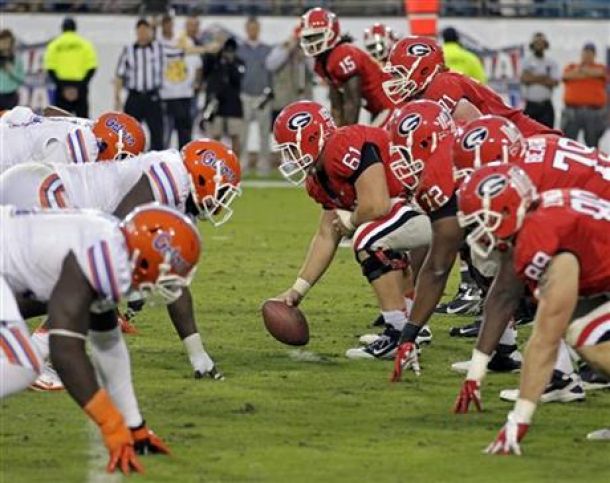 NCAAFB
Matchups of the Day - #11 Florida - Georgia
EverBank Field, Jacksonville, FL - 2:30 PM, TV : CBS
It will be another big Florida-Georgia game as the #11 ranked Gators come into this game coming off a valiant loss to LSU last week. Without suspended QB Will Grier, Florida will struggle with Treon Harris as Grier showed that something extra to give Florida a boost. Georgia also come into this game with their own QB problems as Greyson Lambert will be replaced by Faton Bauta. It will be the backup QB who makes the least amount of mistakes that will win this game.
2nd Matchup of the Day - #19 Ole Miss - Auburn
Jordan-Hare Stadium, Auburn, AL - 11:00 PM, TV : ESPN
Ole Miss had a dominant win over then ranked Texas A&M as Chad Kelly and company had another big win in SEC play. But they face a trap game against Auburn. Although the Tigers have struggled, anything can happen in the SEC and these are the games that Ole Miss has to win if they want to advance to a New Years Six bowl again. This also signals a tough end to the season as they also play LSU, Arkansas, and rivals Mississippi State to end the season.
Other CFB :
Western Kentucky vs Old Dominion 11:00 AM
UCF vs Cincinnati 11:00 AM [ESPNN]
South Florida vs Navy 11:00 AM CBSSN
Illinois vs Penn State 11:00 AM [ESPN2]
Nebraska vs Purdue 11:00 AM [ESPNU]
Rutgers vs Wisconsin 11:00 AM BTN
South Carolina vs Texas A&M 11:00 AM [SECN]
Syracuse vs #17Florida State 11:00 AM [ABC]
Virginia Tech vs Boston College 11:30 AM [ESPN3]
Massachusetts vs Ball State 12:00 PM [ESPN3]
Central Michigan vs Akron 1:00 PM [ESPN3]
UTEP vs Southern Mississippi 1:30 PM
Georgia Tech vs Virginia 2:00 PM [ESPN3]
USC vs California 2:00 PM FOX
Colorado vs #24UCLA 2:00 PM PAC12
#3Clemson vs NC State 2:30 PM [ABC][ESPN2]
Marshall vs Charlotte 2:30 PM
Florida Intl vs Florida Atlantic 2:30 PM
#14Oklahoma vs Kansas 2:30 PM FOXS1
#12Oklahoma State vs Texas Tech 2:30 PM [ESPN]
Maryland vs #10Iowa 2:30 PM [ABC][ESPN2]
Boise State vs UNLV 2:30 PM [ESPNU]
San Diego State vs Colorado State 2:30 PM CBSSN
Troy vs Appalachian State 2:30 PM [ESPN3]
Tulsa - SMU 3:00 PM [ESPNN]
Tennessee-Martin vs Arkansas 3:00 PM [SECN]
Louisiana Monroe vs Louisiana Lafayette 4:00 PM [ESPN3]
Georgia State vs Arkansas State 6:00 PM [ESPN3]
Tulane vs #16Memphis 6:00 PM CBSSN
Oregon State vs #13Utah 6:00 PM PAC12
Vanderbilt vs #18Houston 6:00 PM [ESPN2]
Miami (FL) vs #22Duke 6:00 PM [ESPNU]
#15Michigan vs Minnesota 6:00 PM [ESPN]
Texas vs Iowa State 6:00 PM FOXS1
Texas San Antonio vs North Texas 6:00 PM
Tennessee vs Kentucky 6:30 PM [SECN]
#9Notre Dame vs #21Temple 7:00 PM [ABC]
Idaho vs New Mexico State 7:00 PM [ESPN3]
Air Force vs Hawaii 9:30 PM CBSSN
#8Stanford vs Washington State 9:30 PM [ESPN]
Arizona vs Washington 10:00 PM Fox Sports 1
MLB
Matchup of the Day - Kansas City Royals - New York Mets
Queens, NY - 8:07 PM EST - TV: Fox
Steven Matz vs Chris Young
After dispatching the Royals in Game 3, the Mets are back in the World Series and will look to even up the series at 2-2. Chris Young pitched well the last time he pitched in the ALCS as he shut down the Toronto Blue Jays long enough to give his bullpen a good amount of innings to work through. Matz was on the mound for when the Mets wept the Cubs at Wrigley Field and kind of struggled early. Expect another offensive game from both teams.
NBA
Matchup of the Day - Golden State Warriors - New Orleans Pelicans
7:00 PM EST ; TV : NBATV
It will be a rematch of opening night as Anthony Davis and the Pelicans look for revenge against MVP Steph Curry and the Warriors. If there is a positive for the Pelicans in this game is that they played well and was only down by a couple of points with Davis having a horrible game. Let's see how they fare if he decides to go off.
Other NBA :
Jazz vs Pacers 6:00 PM
Knicks vs Wizards 6:00 PM
Nets vs Grizzlies 7:00 PM
Suns vs Trail Blazers 9:00 PM
Kings vs Clippers 9:30 PM
NHL
Matchup of the Day - Pittsburgh Penguins - Toronto Maple Leafs
7:00 PM EST ; TV : NHL Network
It will be an primetime matchup as Sidney Crosby and the Penguins play the last place Maple Leafs. It has been a tough year for the Maple Leafs and having only 4 points in the season is not helping. It has been an ok season for the Penguins as they sit 4th in the Metropolitan division. Expect a lot of offense from Pittsburgh as they look to put away Toronto early.
Other NHL :
Devils vs Islanders 12:00 PM
Stars vs Sharks 2:00 PM
Kings vs Predators 3:00 PM
Senators vs Red Wings 6:00 PM
Blue Jackets vs Jets 6:00 PM
Lightning vs Bruins 6:00 PM
Panthers vs Capitals 6:00 PM
Blues vs Wild 7:00 PM
Oilers vs Flames 9:00 PM
Tennis
Maria Sharapova - Petra Kvitova
Singapore , TV: Tennis Channel 6:30 AM
It looks like tennis fans earned a preview of an important Fed Cup Final showdown early as Maria Sharapova meets Petra Kvitova in the second semifinal of the day. Kvitova snuck her way into the semifinals after countrywoman Lucie Safarova knocked out Angelique Kerber to put Kvitova through. Meanwhile, Sharapova has been absolutely dominant throughout the Finals so far, dropping only one set. Kvitova looks to me physically spent dealing with mono but don't count her out of this one. Whichever woman wins this matchup will book their spot into the finals tomorrow and will have a psychological edge heading into a potential Fed Cup Finals showdown.
Other Tennis :
Hingis/Mirza - Chan/Chan
Muguruza - Radwanska
Hlavackova/Hradecka - Muguruza/Suarez
Navarro Swiss
Indoors Basel
Nadal-Gasquet Federer-Sock
Valencia Open
Pospisil-Sousa
Bautista Agut-Johnson