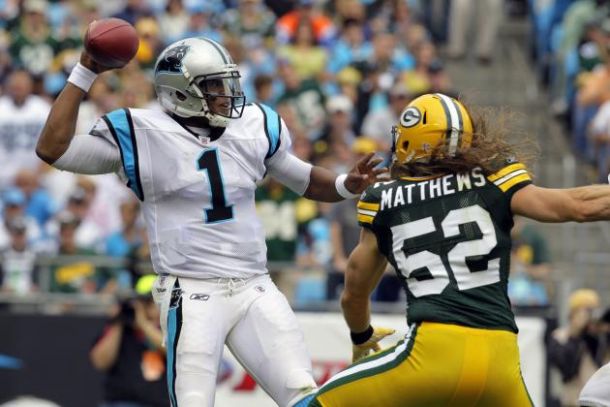 NFL
Matchup of the Day-Green Bay Packers v Carolina Panthers
Bank of America Stadium; Charlotte, North Carolina, 1:00 PM
TV: FOX
For the first time since the 2011 season, the Packers will go to the Carolina's to play the Panthers in a match where Cam Newton plays against Aaron Rodgers. The Panthers are 7-0, and have played teams such as the Tampa Bay Buccaneers and San Francisco 49ers, whereas the Green Bay Packers are 6-1 lost to a Peyton Manning-of old, Denver Broncos in week seven. The Panthers have a history of struggling against the Packers, which asks the question: Do the Packers shake off last week and win, or will the Panthers go to 8-0?
Read more here, as VAVEL's own Caleb Wahlgren discusses the game.
Other NFL Games (EST):
Miami Dolphins v Buffalo Bills-1:00 PM
Jacksonville Jaguars v New York Jets-1:00 PM
Oakland Raiders v Pittsburgh Steelers-1:00 PM
Washington Redskins v New England Patriots-1:00 PM
St. Louis Rams v Minnesota Vikings-1:00 PM
Tennessee Titans v New Orleans Saints-1:00 PM
New York Giants v Tampa Bay Buccaneers-4:05 PM
Atlanta Falcons v San Francisco 49ers-4:05 PM
Denver Broncos v Indianapolis Colts-4:25 PM
Philadelphia Eagles v Dallas Cowboys-8:30 PM
NHL
Matchup of the Day-Oilers v Blackhawks
United Center-Chicago, Illinois
TV: RSN, WGN
After defeating the Tampa Bay Lightning in six games in the Stanley Cup Finals, taking two out of three against the Oilers last year, and right wing Patrick Kane winning in a rape case, the Blackhawks currently have everything headed for them, but after letting up twenty different goals in their last five games, including a 4-2 loss to the New Jersey Devils on Friday, and not practicing on Saturday, will the Oilers be able to take the advantage?
Other Matchups
Dallas Stars v Detroit Red Wings-3:00 PM
Vancouver Canucks v New Jersey Devils-5:00 PM
Boston Bruins v New York Islanders-5:00 PM
Tennis
Novak Djokovic meets Andy Murray in the final of the Paris Masters with the new world number two looking to carry momentum of a potential victory into the World Tour Finals in London while the world number one is looking to continue his win streak at Paris-Bercy.
NBA
Matchup of the Day-Indiana Pacers v Cleveland Cavaliers
Quicken Loans Arena, Cleveland, Ohio 3:30 PM
TV: FSI, FSOhio
The Indiana Pacers head to Cleveland to face the Cavaliers in an early season divisional matchup. This matchup will pit two superstars against each other as Paul George continues his comeback, this time against LeBron James.
Other Games
Los Angeles Lakers v New York Knicks-3:30 PM
Toronto Raptors v Miami Heat-6:00 PM
Pheonix Suns v Oklahoma City Thunder-7:00 PM
Detroit Pistons v Portland Trailblazers-9:00 PM
NASCAR
AAA Texas 500
Brad Keslowski starts at the pole as NASCAR's Race for the Chase continues from just outside of Fort Worth, Texas for 500 miles of heart pounding action. Make sure you check it out to see who gets to take the checkered flag.