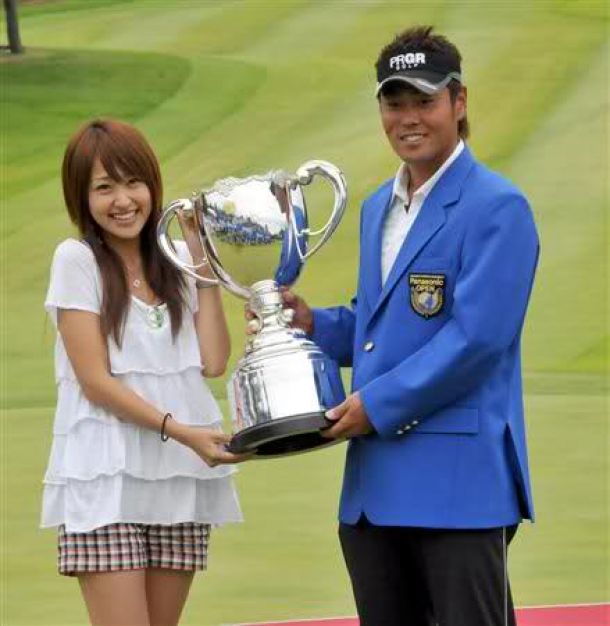 After two years of close calls, Japan Tour veteran Hideto Tanihara was finally able to win his eleventh Japan Tour title at the Heiwa PGM Championship.
Tanihara, who last won in 2013, has finished inside the top ten 13 times in the past two years, including two straight entering this week. Tanihara has always been one of the most consistent players on the Japan Tour, and finished T5 at The Open Championship back in 2006. He spent a year on the PGA Tour back in 2004 and was ranked as high as 68th in the world at that time.
Tanihara wasn't going to be denied this week. He entered the final round with a two shot lead, and quickly took control with a birdie on the fourth hole. The final round featured the hardest scoring conditions of the week, and after shooting a front nine 32 and opening up a four shot lead, the tournament was out of reach for the rest of the field. Tanihara fired a final round 69 to win by two strokes.
Finishing in solo second was Yoshinori Fujimoto. The 26 year old has two Japan Tour victories, last in 2013. His finish this week is his seventh top 10 finish of the season, and his second straight. The second place finish gets Fujimoto inside the top 200 in the Official World Golf Rankings.
Michio Matsumura, winner on Tour two weeks ago, finished two shots further back in solo third. It is Matsumura's fourth top five finish in seven weeks.
Among those finishing inside the top 10 was Yuta Ikeda, who notches his eighth top 10 finish of the season. He currently sits inside the top 100 in the world, a position he'd like to keep in order to get into some big tournaments next season. Ikeda is currently setting himself up to be money leader Kyung-Tae Kim's nearest rival.
46 year old Hiroyuki Fujita, who has struggled with injuries in the past season, also finished inside the top 10. It is only the third top 10 finish for Fujita, but he has turned his season around as he has gotten healthier. He hasn't missed a cut since the Open Championship, and hasn't finished worse than T22 in the past six weeks.
Shingo Katayama rounded out the list of notables inside the top 10. It is Katayama's sixth top 10 finish of the season. Katayama won the money list title five times, and has won 28 times, which is tied for 6th all time on the Japan Tour.