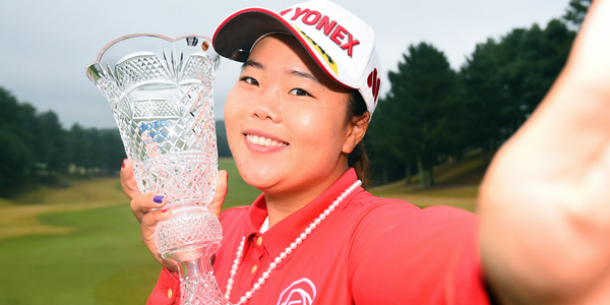 She's won 26 times before, but none of them were as big as this one.
Sun-Ju Ahn, a veteran of the JLPGA and KLPGA Tours, fired a final round 67 to put herself in a playoff, and birdied the first playoff hole to win her the Toto Japan Classic for her first LPGA title.
"I'm very happy," Ahn said. "I didn't think that I'd be able to win the tournament, but it's a nice surprise. I'm very happy."
The tournament, which is co-sponsored by the JLPGA Tour, offers invites to several players from that Tour based on their position on the money list. Ahn has won the JLPGA money list title three separate times, including last year.
Ahn's final round was a bogey free round, but she had the opportunity to put away the tournament on two occasions on the back nine. The first was on the par 5 16th, but she was unable to make a birdie. Luckily for her, neither were her nearest competitors. She also had a birdie putt on the 18th hole to win the tournament, but could not convert. She was leaving nothing to chance on the first playoff hole, sticking a 6 iron within five feet of the hole for an easy birdie and the win.
Ahn was a dominating figure on the JLPGA Tour. She had 10 straight top five finishes in 2010 and was the first Korean to lead the money list on that Tour. She has still been incredibly consistent, but the rise of several other great players in Japan has caused Ahn to not be as dominant as she once was.
The victory gives Ahn the option to join the LPGA Tour in 2016, and also gives her an entry into the year end CME Group Tour Championship. Ahn, however, has yet to make a decision on whether or not she will accept her LPGA Tour card.
"I haven't thought much about that yet," Ahn admitted. "I'm just going to enjoy this win and this moment."
Two years ago, JLPGA player Teresa Lu won the Toto Japan Classic, but chose not to accept LPGA membership. On the other hand, Q Baek won the KEB Hana Bank Championship in Korea last year and became a rookie on the LPGA Tour this season.
Ahn won in a playoff over Angela Stanford and fellow JLPGA pro Ji-Hee Lee. Lee turned professional back in 1998 and has won 12 times on the JLPGA Tour, but hasn't won since 2012. Her first victory was in 2001. This is her best finish on the LPGA Tour. Lee likely would not have accepted LPGA membership had she won the tournament, as she has been loyal to the JLPGA Tour for so many years.
This is Stanford's third top 10 finish of the season, who is still seeking her sixth LPGA Tour victory. Stanford's last victory was in 2012. This is Stanford's first top 5 finish of the season and first top 25 finish since August.
Finishing out shot outside the playoff was second round leader Jenny Shin. This marks her 17th career top 10 finish, but she has yet to win on the LPGA Tour. Entering this week, she was on a streak of two straight T14 finishes, and this 4th place finish moves her to 21st in the Race For The CME Globe standings.
The round of the tournament went to Ariya Jutanugarn, who fired a 64 to finish in solo 5th place. Her round featured eight birdies and no bogeys, including four straight birdies on holes 12-15.
"Before today I thought that if I shoot 2-under today that'd be good," Jutanugarn said. "I was just patient and did what I had to do."
Jutanugarn, a rookie this season, began the year strong, almost winning in the Bahamas and finishing in solo third in Australia. She really struggled in the middle of the summer, however, and missed 10 cuts in a row. She has since rebounded, hasn't missed a single cut since July, and now has a streak of two top 10 finishes in a row.
"This year has taught me a lot," Jutanugarn admitted. "I had a really hard time when I missed 10 cuts in a row but I've learned how to come back and now I realize that I'm a good golfer and I've got more and more confidence."
Six players finished at T6. The most notable is Stacy Lewis, who picks up her 14th top 10 finish. She is still third in the Race For The CME Globe, but she has also yet to win this season. She has only two tournaments remaining to break the drought.
Lexi Thompson was another player at T6. Thompson has been on a roll lately. She won in her most recent start in Korea, and has now finished inside the top 10 six times in her last seven tournaments. She is currently ranked fourth in the Rolex Rankings.
Hyo Joo Kim also finished at T6, but it will not be enough for her to catch Sei Young Kim in the Rookie Of The Year standings. Kim needed a victory to stay alive, which means Sei Young is the 2015 Rookie Of The Year. It was still a good tournament for Hyo Joo, who withdrew with an injury in her most recent start. This is her first top 10 finish since July.
Pornanong Phatlum also finished at T6 for her third top 10 of the season. The Thai, who has won 11 tournaments worldwide, is still looking for her first official LPGA Tour victory. This has been a down season for her - she notched seven top 10s, including a runner up finish in 2014.
Former Rolex Number One Jiyai Shin was also in that group at T6. Shin, who gave up her LPGA membership in 2014 and has been playing on the JLPGA Tour for the past two season, recently stated that she is considering a return to America.
"I'm really enjoying the JLPGA at the moment but I do really miss the LPGA." Shin said prior to the tournament. "I had a new goal in Japan Tour and that was to win Player of the Year and after making that I'm really thinking about going back to the U.S."
Shin has won six times in two seasons on the JLPGA Tour. She won the Women's British Open in 2008 and 2012, two of her 11 LPGA Tour titles. Shin returning to the Tour would strengthen an already incredibly strong Korean contingent.
Rounding out the T6 group is Ha-Neul Kim, who will be kicking herself after a poor final round. Ha-Neul, who goes by the nickname "Sky", entered the final round one shot back. She could not get anything going on the final day, carding three birdies and three bogeys to barely hang on to a top 10 finish. Kim won on the KLPGA Tour eight times and was the money list leader in 2011 and 2012. She took up JLPGA membership this season, and won for the first time on that Tour back in September.