Whilst injuries are never a good thing in the WWE, when they do happen there is a positive that comes with it, that is the opportunity that opens up for another superstar to take and prove themselves.
When the talent in question is your WWE Champion and the face of the company, a very big opportunity arises and that is the case with the recent knee injury to Seth Rollins, even though the WWE lost a top tier talent, a huge platform has become available for someone to step up to.
So let's take a look at some possible candidates who could and already are benefiting from the injury to Rollins...
Sheamus

The most obvious choice out of the current roster right now given the fact he is the man who has walked away with the championship followings Rollins time on top, and is the newest member of The Authority.
Some may say he has already benefited from the injury as it was unlikely that he was going to be walking out of Survivor Series as champion had it not been for the unfortunate circumstances surrounding Rollins, so the mere fact he is no champion is a huge benefit.
There is no denying that the Celtic Warrior has jumped up the card with this title win, going from consistently losing in the mid-card to being the number one heel in the company is quite the leap, so he is already reaping in the rewards of the injury.
But simply becoming champion isn't the only way that Sheamus can benefit from the injury to Rollins, many fans are currently doubting his ability to carry the title and question his believability as a top guy, given the way he has been booked since winning the money in the bank.
Now he is the top superstar in the WWE he has a chance to prove to fans that he can still work as a top star and his aims should now be to prove himself once more and ensure this is not his final run on top.
Sheamus has been a World Champion before and is more than capable of putting on a good match and is very comfortable on the microphone, now he will be getting the creative teams full focus (whether that's good or bad is for you to decide) and will be featuring in the main events on T.V. and specials.
He has a chance to silence his critics and with the road to Wrestlemania just around the corner and a depleted roster, strong performances could easily set him up for a good position on the card, he's bringing in the heel heat, now it's just up to him to use it in the correct way and continue to benefit from the injury.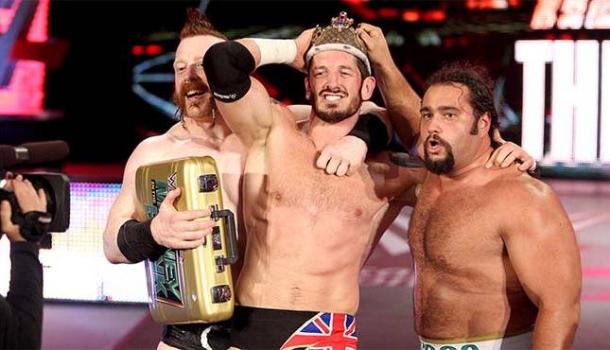 Rusev and King Barrett
Both Rusev and King Barrett have been stuck in mid-card hell for some time now, even when they aligned with Sheamus to form a European group all three of them were still not taken seriously.
However now that could all potentially change as the duo have been handed an opportunity of a lifetime and it's a must seize chance, especially for Barrett who has been around a lot longer.
Ever since Rusev dropped the US Championship he has struggled to regain his momentum and be seen as a dominant and scary heel, but his surprise return on RAW proved that the WWE hasn't given up on him.
Where Barrett is concerned he has had several chances and there are numerous reasons as to why it hasn't worked out for him, but this is yet another opportunity to work at the top level and prove he can get the job done.
It seems like WWE is planning on using them as Sheamus's henchmen (think of a more realistic version of J&J Security) and let them do the fighting for the champion and The Authority, so expect to see them face Roman Reigns plenty of times on the road to TLC.
The pair would never have been given this chance had it not been for Rollins' injury and therefore they are already benefiting, but should they win over the audience in these positions then it could set them up for a strong run into Wrestlemania and beyond.
Seth Rollins
That's right Seth Rollins himself, if people are puzzled don't be, whilst injuring himself is never a positive thing for a superstar as there is potential that they could not return the same or complications could potentially stop a return from ever happening.
But looking at the big picture, sometimes an injury can be exactly what a wrestler needs for several reasons, the main one being that it allows a character to freshen up and come back in a different way.
Whilst Rollins is arguably the WWE's best in-ring talent, his title rein will not go down in the history books as one of the greatest and he will mainly be remembered as a cowardly champion, his time as champion wasn't one of the most enjoyable, so cutting that short allows his return to be a big moment and means he can come back straight at the top, with an instant rematch.
Rollins had been playing the same gimmick as The Authority's superstar for some time and whilst the whole Authority itself is quickly becoming outdated so was Rollins' role within it, when he returns the options will be endless for the WWE and that can only help his career.
Due to his success since being introduced to the WWE Universe in NXT he has earned a strong level of popularity, and even though he can make a crowd hate him and gain strong levels of heat, there is nothing stopping him returning as a face either and playing a totally different gimmick.
His injury was not at the best of times and will more than likely see him miss Wrestlemania, the potential positives are humongous, just look at past returns from serious injuries and see the difference, Edge, Triple H and Shawn Michaels all benefited from a sustained period of absence through injury, hopefully Rollins will be added to that list next year.
Roman Reigns
For fellow Shield member, Roman Reigns the injury to his former partner should provide him with the biggest opportunity of his career, the chance to finally win the big one (and keep it) and go on to become the face of the company, like most thought he would have done at last Wrestlemania.
With Rollins out for the forseeable future and fans currently not taking to Sheamus, a spot is available for someone to take to become the number one superstar in the WWE, and for Reigns this is an opportunity he must make the most of.
Having come so close on several occassions it appears like the WWE is finally preparing to give Reigns a chance to prove that he can carry the company, but that chance would more than likely have come regardless of the injury.
Instead, now Reigns must prove he is without doubt capable of doing the job when the chips are down and given the state of the current product, that is a situation that he is certainly facing, and with another proven superstar in Rollins gone, Reigns must step up even more.
Fans were intrigued to see the two former Shield members go toe to toe and embark upon their rivarly but now that isn't possible, can Reigns make fans just as interested to see him do battle with the likes of Sheamus?
That is where his true test will be, and without Rollins it's his chance to silence his critics and become the face of the WWE.