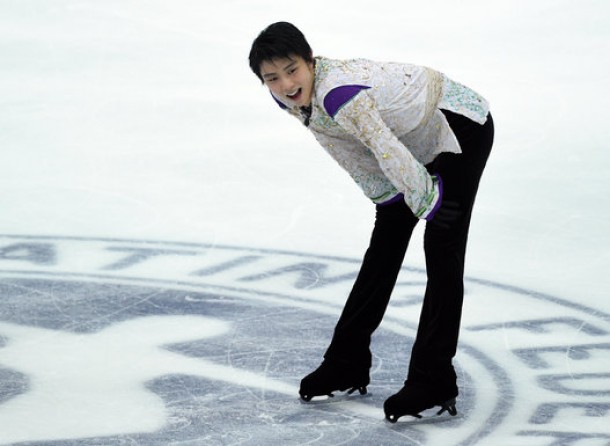 The magic number was 300. Hanyu blew right past it.
Reigning Olympic gold medalist Yuzuru Hanyu set a figure skating world record last night at the NHK Trophy, posting a previously inconceivable combined score of 322.40. The score shatters the previous world record of 295.27, set by Patrick Chan in 2013.
Hanyu got to that mark mostly in part due to his free skate. His free score 216.07, making him the first skater in history to break the 200 point mark in the free skate.
"I don't believe it," Hanyu told a sea of reporters following his victory. "That score really was a surprise. I was so nervous before I skated but I wanted to go for it. I wanted to show that I'm the Olympic champion, here on a rink where the Olympics were held (in 1998). Despite the score, I still think there is room to improve."
Hanyu's performance showed exactly what he is capable of when he is performing at his best. In his previous two starts this season - at the minor Autumn Classic event and the Grand Prix event in Canada, Hanyu looked rusty, and missed a few jumps during his newly rebuilt free skate. Hanyu walked away with the bronze medal in his most recent start, and he and his coach have worked hard over the past several weeks to nail his jumps.
It showed. Hanyu didn't have any issues with his jumps. He has an incredibly high risk program, which includes four quads. He added more difficulty to his routine an effort to avenge his World Championship loss to Javier Fernandez.
It helped that Hanyu performed in Japan. Thousands of fans were in attendance, and the loud cheers from female fans at every hit routine sounded like something from a One Direction concert.
"I owe my performance to all you fans. I can't believe it and I'm really surprised (with the score)," said Hanyu at the gold medal ceremony. "I was telling myself I'll win it here at the rink in Nagano where the Olympics were held."
Hanyu's gold medal qualifies him for the Grand Prix Final in Barcelona in two weeks. He will attempt to become the first skater to win three straight Grand Prix Finals.
The second place finisher at the NHK Trophy was Jin Boyang of China, who finished over 55 points behind Hanyu. Still, the teenager did what he needed to do to win his second silver medal of the Grand Prix season and qualify for his first Finals. Boyang was the other skater that beat Hanyu in Canada earlier this season, but Hanyu appears to be a much better now.
Takahito Mura of Japan walked away with the bronze medal. He will not in the field at the Finals, but Japan will be well represented - Hanyu will be there, as will Shoma Uno and Daisuke Murakami. Out of the six men competing at the Finals, three of them will be from Japan. The other three skaters will be Fernandez, Chan, and Boyang. Max Aaron is the highest ranked American skaters, and will be the second alternate behind Yan Han of China.
On the ladies side of the draw, favorite Mao Asada struggled in her short program and was in fourth place entering the free skate. She was more polished in her free skate, and was able to walk away with the bronze medal and qualify for the Grand Prix Finals. The Japanese crowd still got a hero to cheer for, as Satoko Miyahara won her first ever Grand Prix gold medal. She finished over 20 points ahead of American Courtney Hicks. Miyahara qualifies for her first ISU Grand Prix Finals.