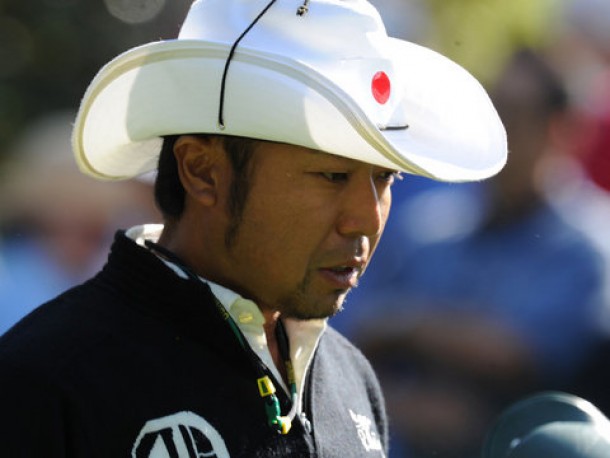 The final event of the 2015 Japan Golf Tour season is upon us, and several players are on the verge of receiving some important invitations.
The final event is the Golf Nippon Series JT Cup, which is a limited field event that features the top 30 on the money list. For some of these players, they are looking to add a marquee victory to their resumes and hope to take that momentum into next season. For others, however, this weekend could change their schedule for 2016. Here are some players who would greatly be impacted by a big week.
Kyung-Tae Kim
K.T. Kim has the money list title wrapped up, so he earned an invitation to next year's Open Championship and WGC-Cadillac Championship. At 58th in the Official World Rankings, Kim will be looking for a victory to earn him an invite back to Augusta National, which invites the top 50 in the world by the end of 2015. He is likely in to the PGA Championship, which invites most of the top 100 in the world, just as long as Kim has a decent season next year. A victory could also secure Kim a spot into March's WGC-Dell Match Play, which will invite the top 64 in the world.
Shingo Katayama
We were in a similar spot with Shingo last season - hovering right around 70th in the OWGR. Shingo rarely plays outside of Japan, so once this week is over, he will be playing golf very sparingly until the next season begins. Shingo has an outside chance to secure an invitation to The Masters - a win this week and a good finish in next week's Thailand Golf Championship on the Asian Tour could get him enough points to get him inside the top 50 in the world. Sitting at 66th in the OWGR, two good weeks could also get Shingo in great position to play in the Dell Match Play. Shingo also sits 15 million yen outside of second on the money list. A victory nets 40 million yen, so a victory could get him there. Second place on the money list secures an invitation into the Open Championship and Cadillac Championship.
Yusaku Miyazato
Currently sitting at second on the money list, the task is simple for Miyazato - play well, and you're in The Open. Miyazato has played in the Open twice, most recently being last year. Miyazato is too far back in the OWGR to earn an invitation any other way, so he needs to secure his spot on the money list if he wishes to play in any of the big tournaments next season.
Yuta Ikeda
Ikeda looked poised to lock up an invitation to The Open, but a few bad weeks in a row have dropped him to third on the money list. A bad week by Miyazato would open the door for Ikeda. Ikeda is still hovering inside the top 100 in the OWGR, a position he's going to want to keep moving forward. He is expected to play in the Sony Open in Hawaii on the PGA Tour, but that will likely be his only start between now and the start of the Japan Tour season unless he secures an invite into the Cadillac Championship.
Yoshinori Fujimoto
Despite not winning this season, Fujimoto still has an opportunity to jump to second on the money list with a victory. This is likely the only way he secures any invitations, as he is outside the top 100 in the OWGR and he only plays in Japan. Fujimoto is riding a streak of five straight top 10 finishes, so a victory is not outside the realm of possibility.
Hideto Tanihara
Tanihara was used to getting invitations into the majors based on his position on the money list, as well as the fact that he was a mainstay in the top 100 of the OWGR. For next season, however, Tanihara will need some help. He has fallen to 124 in the OWGR, and while he has had success in the Sony Open in the past, he did not play in that event last season, meaning this may be his last tournament before the start of the next Japan Tour season. Tanihara still has a chance to climb to second on the money list with a victory, which would secure him an invitation into his fifth Open Championship. Tanihara has a top 10 in four of his last six starts, and hasn't finished outside the top 25 in nine weeks, so he has plenty of confidence.
Ryo Ishikawa
Ishikawa is likely licking his wounds after being unable to close out the tournament last week. He can't secure any invitations this week, but a solid week would give Ishikawa some confidence moving forward as he returns to the United States in January. Ishikawa barely secured his PGA Tour card last season, and hasn't gotten off to the greatest of starts this season, but if he can enter his next start coming off a string of good tournaments in Japan, he will likely begin to play better.
Hiroshi Iwata
This is about pride for Iwata, who was recently slapped with a two year ban from the Japan Open. Iwata, who earned his PGA Tour card via the Web.com Tour finals, will be spending most of next season in the United States, so it would mean a lot to him if he could walk out of the Japan Tour as a champion.