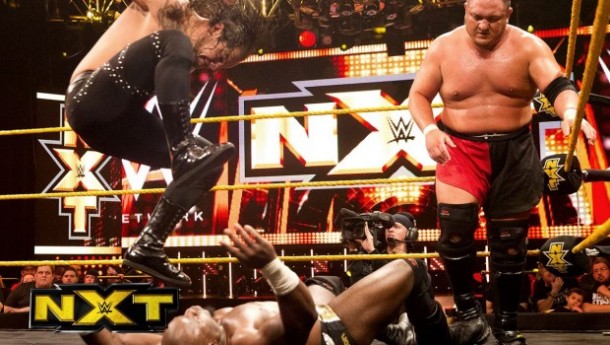 Team SAWFT def. Corey Hollis & John Skylar
We kick off this weeks show with the number one contenders for the NXT Tag Team Championships, Enzo Amore and Colin Cassady making their in-ring return since the injury Cassady suffered at the hands of the champions.
The team made their way to the ring with a much more serious approach then fans have come to know from the team, who are normally full of excitement and bravado, we get none of the usual entrance talking and instead it's straight into the ring ready for business.
Their opponents come in the forms of Corey Hollis and John Skylar who didn't manage to get any offense in during the matchup and were simply sent out to be bait for the a beating from the focused Team SAWFT.
Big Cass started things off and was clearly fired up and had a point to prove as he gave a vicious beating into his opponent before making the tag to Amore who picked up the pace, hitting a brilliant looking collision, before they wrapped things up with the Rocket Launcher.
Analysis: Simple way of making the new number one contenders look strong as they head into Takeover, with the team only just returning last week it was crucial they won in a dominating and quick fashion to make them look a serious threat.
The new attitude with the more focused and physical approach is a good change of pace from what people have come to know from this team, they are telling the story of being annoyed and wanting revenge, it's simple but effective.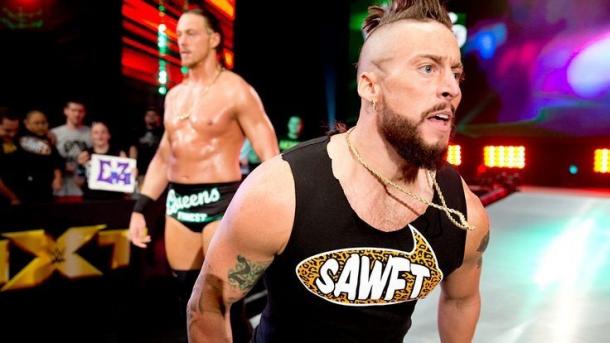 The duo are focused on the titles Source: www.aminoapps.com
Following the domination, Amore got on the microphone to tell the crowd that this is how they put food on the table, and that they've been unable to do that recently, before moving on to say how they've been around longer than any other team in NXT history and still have nothing to show for it.
Cass then took over by saying they've fought too hard and for too long to not walk out of Takeover as champions, and promised to get retribution.
Analysis: That was a fantastic promo and is exactly what this team and the feud needed, the match itself has felt rather rushed ahead of Takeover, but this small promo instantly turns up the intensity.
Both men did a brilliant job and were certainly fired up and it was conveyed to the audience brilliantly, it would have been nice to hear from Carmella too but what we got was good enough, setting up the match for next week.
Backstage interview with Emma and Dana Brooke
The concentration then shifted towards the women, with both Emma and Dana Brooke appearing backstage with Tom Phillips for an interview segment, where Emma wanted to know why the red carpet has been rolled out for Asuka since she arrived.
She also claimed that it was her who started the Diva's revolution, long before fans had even heard of Bayley or Sasha Banks, before Brooke patted Phillips on the head, which is something she has been doing since Asuka did it to her.
Analysis: Another good promo by the duo who have got great chemistry together, the new evil Emma is working brilliantly for her and this is a feud that NXT creative has done a fantastic job with booking.
Asuka def. Deonna Perazzo via referee stoppage
Following the interview featuring her Takeover opponent, Asuka was next in action taking on Deonna Perazzo in what was a relatively short match up that began at quite a slow pace, with the women focusing on wrestling holds.
It was clear Asuka was targeting the arm of her opponent, in order to give her an advantage for if she locked in the arm bar, which she did in spectacular fashion with a brilliant takedown, but luckily for Perazzo she got to the ropes.
The match was then brought to a halt following a hip attack as Emma and Brooke came out to the ramp, hoping to distract Asuka, who instead hit a huge roundhouse kick to Perazzo which knocked her out, granting her a victory and at the same time sending a very clear message to the ladies watching.
Analysis: The match itself was nothing special, although what they did in the ring was not bad by any means, but the way it ended was superb, Asuka is a character of few words who lets her actions do the talking and she certainly spoke loud and clear. The expression on Emma and Brookes face told the story.
Backstage promo's
The Hype Bro's appeared next in what was a relatively strange promo that this author has tried to block out of his mind, they talked about poop mostly, it wasn't the greatest but they are keeping up their upbeat characters and getting over in the process.
Former Tag Team Champions, Blake and Murphy (the Hype Bro's opponents) then had their turn to speak and they were accompanied by Alexa Bliss who did the majority of the talking.
Bliss blamed her men for her loss against Bayley for the Women's Champions and claimed that they were going to end the Hype Bro's, before declaring that the "Blake and Murphy factor" were back.
Analysis: They Hype Bro's segment was pretty weak, but Bliss did a solid job with what she said, they have new Nightmare on Elm Street styled gear, which for Horror fans will be appreciated as it looks fantastic, apart from the tight jumper that Blake was wearing, which looked like it would have fit Bliss just fine.
The Hype Bro's def. Blake and Murphy w.Alexa Bliss
Mojo Rawley kicked things off in the ring by cleaning out both Blake and Murphy, sending them both to the outside early on before telling them (with the help of the Full Sail crowd) they "they ain't hype!"
Zack Ryder tagged in and attempted to hit the Broski Boot on Murphy but was stopped by his tag partner, Blake who then ended up receiving the boot himself, but control switched again as Murphy attacked Ryder from behind.
After a beat down on Ryder, he eventually made the hot tag to his partner and Mojo would once again take out both men before the Hyped team hit the Assisted Rough Ryder for the victory.
Analysis: This was a good match, where the faces looked strong and they deserved too as the team is finally starting to click with the audience and each other, for Blake and Murphy, this author wonders what is going to be the next step after dominating the division for such a long time.
Backstage segment with Baron Corbin and Samoa Joe
The heel team for the main event were backstage and admitted that they were not each others biggest fans, but regardless tonight they were going to send a message to their Takeover opponents, and perhaps make sure they wouldn't even make it to London.
Corbin claimed that Apollo Crews is a nobody rookie who doesn't deserve anything, and Joe questioned whether he did betray Finn Balor, saying how he fought by his side and when he finally asked for one favor in return, Balor didn't give him it.
Analysis: Strong segment from two of the best talents in the NXT locker room, it set up both the main event and the Takeover matches, whilst reminding fans that they once had a fierce rivalry themselves, that's story continuity and good booking, it makes a change to see the WWE alluding to past matches as it never happens on the main roster.
Bayley def. Peyton Royce
This was a good way of continuing the story that NXT is providing with Bayley's current feud, she has been taken out by Nia Jax in previous weeks and the champion was showing she wasn't 100% in the ring.
Not many people would have expected Peyton Royce to get as much offense and she did, but that's because they are trying to show Bayley has been shook up by these attacks, however after some impressive maneuvers from Royce, it was a quick comeback and Bayley to Belly for the win.
Following the match, Jax, accompanied by Eva Marie came to the ramp to talk to Bayley, with Marie kicking things off by saying she doesn't know how Bayley walked out with the belt following their title match.
Jax then took the microphone and told Marie she doesn't need anyone to talk for her, she told Bayley if she'd been in NXT sooner then she would never have been the champion in the first place, before telling her she will take the belt next week.
Analysis: The match told a good story and Royce looked good and made the most of her opportunity, it would be good to see her given a greater role as she certainly has talent in the ring.
Both Jax and Marie got huge heat on the ramp, so much so it was difficult to actually hear what they said, with Bayley being one of the most over people in the entire WWE, the match is set to have great crowd reactions.
Backstage segment with Apollo Crews and Finn Balor
Having heard from the heels earlier it was now time for the faces to talk to each other before the main event took place, Crews approached Balor and asked him if his head was in the match as he had been trying to call him all week and received no response.
After assuring him he was focused on the match, Balor said they would give their opponents a tease of what will happen at Takeover, but only for Crews to remind him that once they have finished up with them, that he and Balor have unfinished business, and told him he will be coming for the title.
Analysis: Similarly to the heels earlier, it was a very good segment that again alluded to the previous match they had tht never finished, it sets up that they might not actually be on the same page and that Crews still has the title in mind.
Baron Corbin and Samoa Joe def. Finn Balor and Apollo Crews
The main event started with some great psychology, with Balor in the ring his Takeover opponent, Joe tagged out immediately to stay away from him, and then Balor quickly took the big man down to tag in Crews, to which Corbin would bring in Joe.
With the heels looking to avoid their opponents, the mind games were played early on in the match, the number one contender looked dominant as he beat down Crews as he and Corbin both worked on singling him out.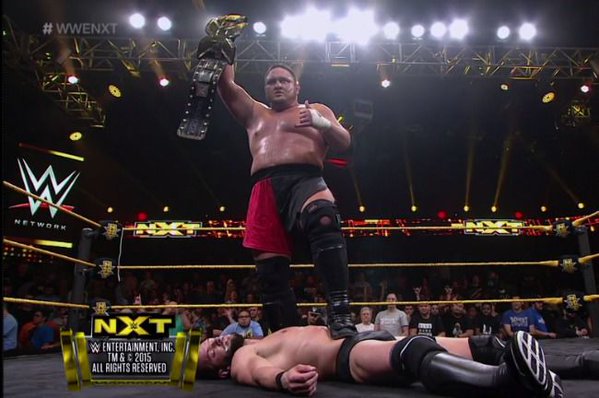 Joe stood tall to finish the show. Source: Twitter.com
We eventually got the hot tags which led to Balor and Joe facing off, and the champion appeared to be getting the best of his opponent and attempted to hit the Coup De Grace, only for Corbin (who was preoccupied, brawling with Crews) to push Balor from the ropes.
Joe then put on the Coquina Clutch as their tag team partners brawled all the way up the ramp, leaving Joe to make Balor pass out again for the victory, meaning yet again the submission specialist laid his opponent to waste.
Analysis: Fantastic main event that gave fans a tease of what will happen at Takeover without showing too much interaction between opponents, the start was fantastic work from the heels, only a small thing but it drew great heat.
Seeing Joe come out on top puts him as the favorite going into the match and will leave fans asking if Balor can overcome him, whilst Crews and Corbin continue on a level playing field.
Score: 8.5/10
Last Week: 6.5/10
The show was a big improvement from last week and was one of the best episodes of NXT in recent memory, the night gave plenty of build towards Takeover:London which is shaping up to be a very strong event.
There was yet another tease for Sami Zayn, this week showing him accepting the John Cena open challenge on RAW, that was an awesome moment and it was fun to relive it, his return will be a huge moment for NXT.
After an extremely under whelming RAW this week that saw some of the worst booking and creative ideas in a long time, it was good to be reassured by the WWE they still know how to get it done, and showed wrestling as it should be, entertaining.
As usual the hour just flew by and was over before you knew it, there was no wasted segments or filler moments, everything had a purpose and that was to build talent and progress the stories that they are telling.
Moment of the night: The new focused and determined Team SAWFT was great to see, it was a surprise as fans have come to know them for something very different, and the promo that they delivered was superb, they're a great team with plenty of potential.
Star of the night: Samoa Joe, he just looks like an absolute monster as of late, his heel turn has been executed to perfection and he couldn't look any stronger going into his title match.