The event has shaped into a very strong card and the creative team has worked hard building up storylines and feuds between everyone involved, which in turn has made this Takeover very difficult to predict, but let's give it a go.
Before getting into the actual matchups, it has been rumored that English wrestling legend, William Regal will be making a 'special appearance' during Takeover, marking his return to T.V. following his injury.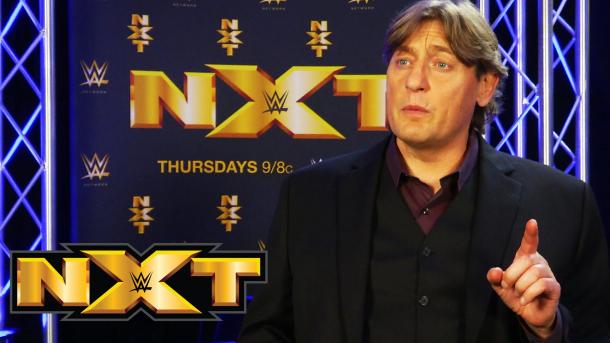 Will Regal return at Takeover? Source: Youtube.com
This is something that this author believes will happen, whether it's simply welcoming everyone at the start of the show or a more important role, NXT's general manager should return and the reception would be well deserved as he has done a tremendous job since taking up the role.
His appearance could lead to another potential return, that of NXT favorite, Sami Zayn who has been out of action for months and is now cleared to return. Zayn has already competed on the tour and therefore is in the country, so a return for one of the brands elite stars would be a huge moment.
Should the Underdog from the Underground return at Takeover, it would make the moment feel more special and would make it a much bigger deal as there will be a greater viewership to this special in comparison to a normal episode of NXT.
During a recent conference call, Triple H stated that whilst Zayn would be on the tour, and would wrestle throughout, he would not be competing at Takeover, whether that remains the case, we will have to find out, but him simply coming out and cutting a promo would suffice for most fans who are eager to see him back.
Prediction: Both Zayn and Regal make their T.V. returns at Takeover:London.
Nxt Tag Team Championship Match: Dash & Dawson (c) - Enzo Amore & Big Cass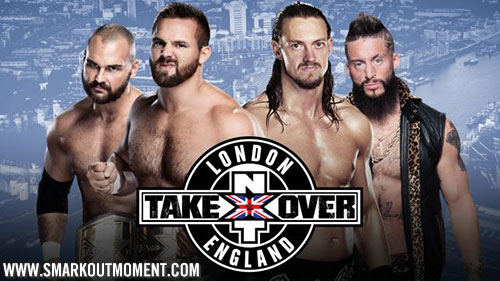 Who will walk out as champions? Source: Smarkoutmoment.com
The first official match we shall be looking at is the NXT Tag Team Championship match as the new champions, Dash and Dawson will defend their titles on a Takeover for the first ever time against Team SAWFT.
This battle has been built around the fact that the champions injured Big Cass and cost him a few weeks off, the champions and rough and physical, or as they call it 'No flips just fists,' and have been excellent since getting their break.
For the challengers they have been in NXT longer than any other tag team, and that is something they played up in the most recent episode of NXT, they are looking for the titles and are more focused and determined then ever, not just to take the belts, but to get revenge at the same time.
Both teams are hard working and over with the crowd so the match itself should be very entertaining, it will be a physical encounter that's for sure, but some fans have questioned why Amore and Cass have been given this opportunity over other teams, after being off T.V. for a while.
Many wanted and expected to see Jason Jordan and Chad Gable in this spot, as they are arguably the most popular team in the division at the moment, but there is the potential that creative doesn't want to take the belts away from the champions just yet, and didn't want their rising team to take the fall.
Whether they've earned the spot or not, Team SAWFT are a very popular tag team, who in truth should have already had a run as champions, and will be interesting to see if they get their chance after London.
Prediction: Dash & Dawson retain the titles.
Asuka - Emma w. Dana Brooke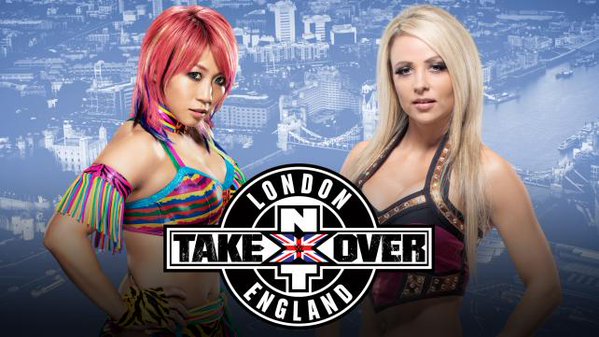 This feud has been built brilliantly. Source: Twitter.com
One of two women's matches to be featured on the card and the one that this author believes has the potential to be the surprise of the night if they are given enough time, due to the sheer amount of talent in the ring, as two of the entire company's best women do battle.
This feud has been ongoing ever since Asuka arrived in NXT, having first taken out Dana Brooke at Takeover:Respect, Asuka now faces the other half of the heel pairing, in the form of Emma.
Emma has taken a dark and evil turn recently, one that has been fantastic for her character and is on a quest to prove that Asuka is not the best diva in the division, as she is frustrated at the amount of hype and bravado Asuka has been gifted.
For Asuka, she is a women of few words who lets her actions (more specifically her devastating kicks) do the speaking for her, as she simply looks to climb her way to the top of the mountain.
NXT has done an amazing job of building this feud between the pair, Brooke couldn't get the job done, therefore now it's the turn of Emma who played a pivotal part in the Diva's revolution.
Both of these ladies have brilliant ability and they should produce an excellent match, it's almost a guarantee that Brooke will have some sort of involvement and it doesn't seem like this matchup will be the end of the feud, and that would be a good thing.
This author predicts a controversial ending, which will lead to the need for a rematch or perhaps even a handicap match where the face eventually comes out on top, but London could bare witness to Asuka's first ever loss.
Prediction: Emma via some sort of interference.
NXT Women's Championship match: Bayley (c) - Nia Jax w. Eva Marie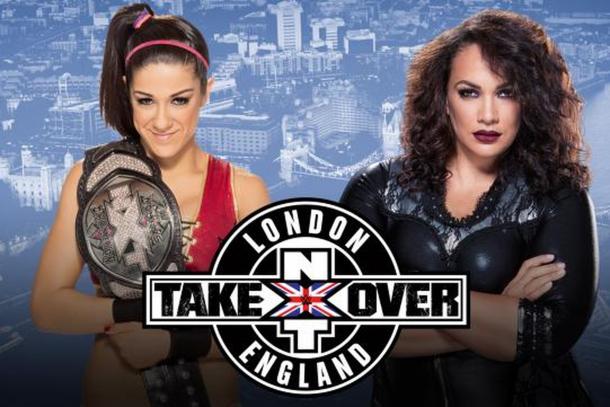 Can Bayley overcome the odds? Source: www.cagesideseats.com
The famous story of David - Goliath will be the theme of this match, as Bayley will be hoping she can overcome the strength,size and power of her number one contender, Nia Jax, whilst at the same time, Total Divas star, Eva Marie will likely be up to no good at ringside.
Ever since she has arrived in NXT, Jax has steam rolled her competition and forced her way to the top to earn a title opportunity, and with Marie by her side, the pair make a dangerous duo.
But Bayley's road to the championship showed nothing but heart and passion and everyone's favorite hugger has kept those traits ever since, the underdog role is where she is most comfortable and she should relish this opportunity.
Jax played a significant role in Marie's title match a few weeks ago on NXT, so it will be interesting to see what the rookie does to return the favor in London and how much of an influence she will have in the outcome.
Jax has had the upper hand on the champion for the past few weeks, taking her out when she isn't expecting it, which has led to Bayley not walking into London 100%, but with the NXT Universe behind her, it's going to take a huge effort from the newbie to prise the belt from her.
Prediction: Bayley retains the title.
Apollo Crews - Baron Corbin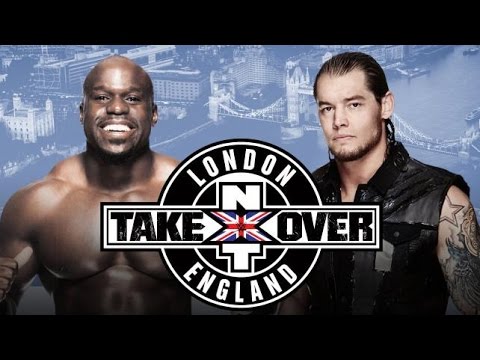 Could they steal the show? Source: Youtube.com
Two of NXT's biggest names will go head to head in London in what is sure to be a match full of physical hard hitting blows mixed with Apollo Crews' technical and aerial style, in what is sure to be a brilliant match.
The creative team has done an excellent job in the build up to this match as both men are heading in on a level playing field, neither man has had the upper hand on the other which makes it incredibly tough to predict the outcome.
It is arguably the biggest opportunity of both men's careers so far during their time in NXT, and whilst Crews hasn't been around as long as Baron Corbin, he has made a big impact in a short time.
The feud began when Crews won the rights to become the number one contender for the NXT Championship following a battle royal, something which the Lone Wolf didn't take too kindly too.
During the title match, Corbin would head to the ring and take out Crews, costing him his opportunity at the championship as he is of the belief that no one is owed a shot at the belt more than himself.
Ever since then, the pair have gone on to exchange heated words and had physical brawls, they have beaten everyone that has come in their paths as they head into Takeover, and on the go home show neither man could be separated as they brawled all the way up the ramp.
Both men have huge futures ahead of them and will be hoping to be involved in the title picture following this match, but with two superstars with plenty to prove, and two men who believe they should both be the champion, the chance has been given to them to compete in a major match in London, and thus they will be hoping to steal the show.
Prediction: Baron Corbin
NXT Championship match: Finn Balor (c) - Samoa Joe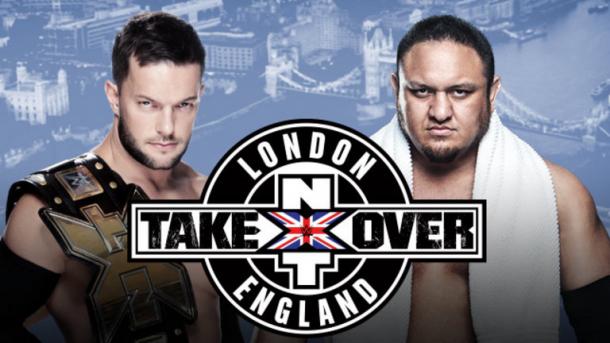 Who will leave London NXT Champion? Source: Sky Sports.com
It's a blockbuster main event to close the show in London, and could easily set the bar high for following matches to follow, as two of NXT's most popular and experienced wrestlers finally have their match after weeks of build up.
Following their victory in the Dusty Rhodes Tag Team Classic Tournament, Samoa Joe requested a championship match from his friend Finn Balor, which he accepted, only for Regal to stop.
When Apollo Crews eventually became the number one contender, his match was stopped by Baron Corbin, as the Lone Wolf beat down on the champion, it would be Joe who came to his aid, only to betray his former friend by taking him out and claiming his spot as the number one contender.
Ever since then this rivalry has become a personal battle between the two, and one that Joe has come out on top off every single week, as he has reverted to using his Coquina Clutch which he made the champion pass out with on several occasions in the build to this match.
Because of Joe's recent domination, Balor is walking in as the underdog in the eyes of most, and it would be expected that the demon will be unleashed in order to bring out a more physical and aggressive side of Balor.
The long awaited heel turn of Joe has been put to great use and it's obvious that he has been around the business for a long time and knows what he is doing, the match is going to be fantastic, but deciding who will win is tough, as both are more than deserving of being champion.
Due to how comfortable Joe has taken the champion apart, it would seem that giving Balor this victory would re-establish him as the face of NXT, but the brand loves to swerve fans, and it wouldn't be a surprise to see a new champion return to the States.
Prediction: Finn Balor retains the title.