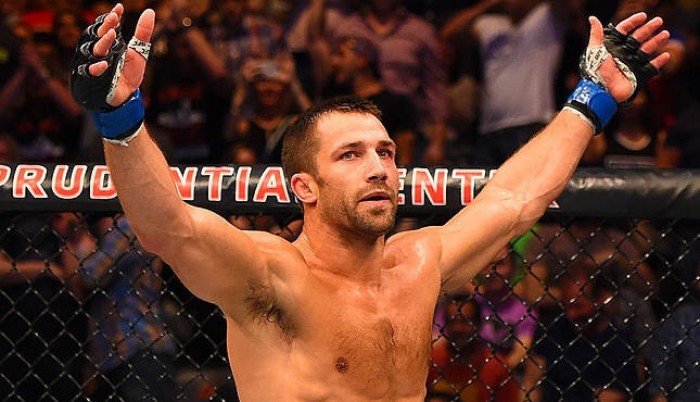 While competing in the UFC, one loss could end a career. No really, one landed left hand hook or a blocked leg kick (ask Anderson Silva), has the potential to make or break a fighter. However, if one is fortunate to have their hand held high and name announced by famous octagon announcer Bruce Buffer, his or her next fight could be against a ranked fighter, then a top five fighter, and finally the champion of the division. To this journalist it is called "Soaring to the Top," and three fighters have caught the attention of the nation as well as VAVEL USA to be recognized for their spectacular 2015 campaigns. Who are these fighters you ask? None other than Luke Rockhold, Holly Holm, and "The Notorious" Conor McGregor.
Luke Rockhold
***Current Middleweight Champion
Prior to 2015
May 19, 2013: A day Luke Rockhold will never forget. The now 31-year old was making his UFC debut on the home turf of the great Vitor Belfort (Brazil). KO'ed! In the first round of his first UFC bout, Rockhold was drilled squarely across the head by a spinning heel kick that knocked him out cold. Obviously, it was not the ideal start to his UFC career. However, it was the best thing to ever happen to the former Strikeforce Champion.
Motivated to not allow another defeat occur, he gradually climbed up the middleweight ladder with quick first round finishes before showcasing two of his skills (kickboxing and striking) in an impressive 2nd round submission win over "The Count" Michael Bisping to end 2014.
UFC Fight Night: Machida - Rockhold
***Main Event
But how can we forget his wrestling and jiu jitsu? In his first fight of 2015, Rockhold grounded and pounded former UFC light heavyweight champion and future hall of famer Lyoto Machida prior to controlling the back in Round 2, which led to a tap-out (rear naked choke). Following the battle of top-five middleweights, the California native said, "Did you hear my walkout song? I'm the best around! Look, I did my part. Weidman, you do your part!"
***Co-Main Event
***Middleweight Title Fight
And indeed "The All-American" did as Chris Weidman defeated Vitor Belfort by a 1st round knockout (punches via ground and pound) that set up a battle the UFC had been hoping for: California versus New York. Rockhold versus Weidman.
As the co-main event of UFC 194, the last pay-per view telecast of 2015, Rockhold and Weidman faced-off in what was the latter's fourth title defense. Would that fact alone affect the always-confident Rockhold?
"I think he (Weidman) knows he is in trouble."
No it did not! Despite barely losing Round 1, Rockhold utilized a combination of back leg kicks and standing strikes to steal momentum and the 2nd round. Then, the "Move of the Fight" transpired. Though this time, it wasn't a positive if it came from you.
Grabbing back previously lost momentum, the champion used a page from his opponent's play book with damage causing leg kicks in addition to a takedown. However, what Weidman would do next changed the complexion of the fight and ultimately the result.
As alluded to, Chris Weidman was winning the 3rd round thanks to landed leg kicks. Nevertheless, by Weidman attempting a risky wheel kick, Rockhold was able to dodge it and takedown the opposition. And then the ground and pound began! With elbows and unopposed strikes, the challenger was able to mess Weidman's face up while almost finishing him off. Unfortunately for him, the bell rang and a Round 4 was ensuing.
Though, the short reprieve failed to make any difference, for Rockhold initiated another takedown, which led to more significant strikes (he had 126 on the night) and finally, the stoppage by referee Herb Dean. Luke Rockhold's climb to the top had ended with the belt!
But by no means is the "Time of Rockhold" over.
---
More VAVEL USA's UFC Year in Review...
December 26 - Fight of the Year (Lawler - MacDonald II)
December 27 - Submission of the Year (Rousey - Zingano)
December 28 - Knockout(s) of the Year (Rousey - Holm & Aldo - McGregor)
December 30 - Soaring to the Top (Luke Rockhold, Holly Holm, & Conor McGregor)