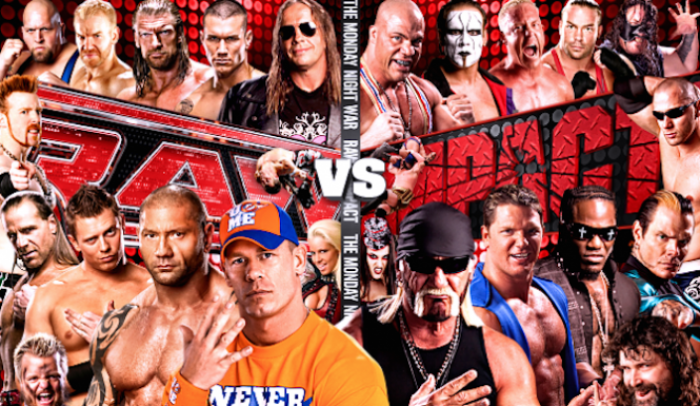 In this edition of wrestling civil war the topic of interest is WWE vs. TNA. There isn't much of a battle between these two companies as WWE has always been the bigger business while TNA has floated in existence with its audience. Since the end of the ratings war of the late 90s WWE has been the wrestling super power in the United States, TNA was founded in 2002 and has become either an alternative wrestling show for fans or a place for former WWE talent to wrestle. TNA is and always has been a pond compared to the ocean that is WWE. So hearing that TNA would move Impact! to Monday night to compete against RAW would be unbelievable and a total joke, only it wasn't.
In 2010 TNA did the unthinkable and actually convinced Spike TV to move its show from Thursday night to Monday. The idea to compete with WWE came shortly after Hulk Hogan announced that he and Eric Bischoff signed with TNA in late 2009. TNA's president Dixie Carter wanted TNA to become the world's biggest wrestling company and it was as if history was repeating itself as Vince McMahon would be going head to head with Bischoff once again. To add to the situation, Hogan would be making his debut in TNA on the same night that Impact! would be a three hour broadcast just television channels away from WWE RAW. It doesn't stop there as WCW's former booker Vince Russo would also be involved in the new Monday Night War.
Battle of the returns
Monday night Impact! featured the debut returns of, Scot Hall, Sean Waltman, Jeff Jarrett, Bubba the Love Sponge, Jeff Hardy, Rob Van Dam, Ric Flair, Sean Morley, Orlando Jordan, The Nasty Boys, Sting and Bischoff himself. WWE countered Impact!'s debut with the return of Bret the Hitman Hart, who was last seen trashing the arena at Survivor Series in 1997, after being the victim of the infamous Montreal Screwjob. Hart made his return to WWE and confronted both Vince McMahon and Shawn Michaels over the incident that occurred over a decade before.
You have to hand it to TNA for at least making an attempt to stand up against WWE, but as it was obvious to the millions watching at home, this ratings war was short lived as Impact! moved back to Thursday nights just mere months later. Although TNA utilized former WWE talent and scored Eric Bischoff, it failed to attract a big enough audience and lacked creativity. Although Monday night Impact! did set a new record of viewership than what it had previously held, the ratings were declining each week.
Between the two companies TNA has the better women's division, but it lacks the use of psychology in the creativity of the show. There's no doubt that Impact! moving to Mondays was Bischoff's idea. Unfortunately Bischoff didn't see the flaw in his own plan, as having a ratings war with WWE is a thing of the past and that's where it will always stay, as this new war proved.
A war that cannot be won
After McMahon purchased both WCW and ECW, WWE finally had stability. For years fans were tuning in every Monday for RAW, Thursday/Friday for Smackdown and eventually every Tuesday for ECW, people had a habit of watching RAW every Monday. There's also a world outside of wrestling that includes other sports and television shows that air on Monday nights as well. To get fans to break their habits of watching the shows that they normally watch on Monday nights is certainly a challenge, it throws off everyone's personal schedules, especially if they're loyal fans. Not only is getting fans to tune into the show a challenge but keeping their attention throughout the show is an even bigger dispute. TNA had to give it their all and more to keep viewers interested in their show instead of what's going on a click away. TNA just doesn't have the ability to do that especially for a three hour block. WWE knew this which is why they didn't put up much of a fight when TNA announced Impact!'s move. On the bright side, Spike doesn't keep all of its eggs in one basket and only allowed TNA a spot on Monday nights as long as Impact!'s ratings either increased each week or were stable. At least someone learned something from Ted Turner's mistakes.
This event is proof that the Monday Night War will never happen again, as argued in the previous Wrestling Civil War post. Even when the Beta tries to fight back, the Alpha is still supreme. WWE is supreme for more reasons than just one. Despite a few downfalls here and there, WWE knows how to keep their fans engrossed and on their toes. If another company is able to step in and take down RAW, the longest running television show, then that is definitely a force to be reckoned with.