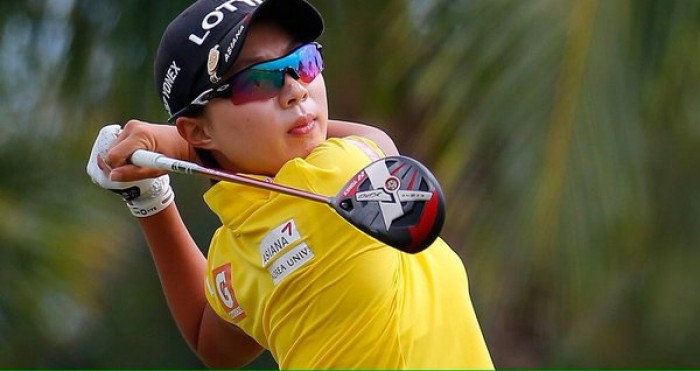 It's getting a little more crowded at the top.
Hyo Joo Kim, the 10th ranked golfer in the Rolex Rankings, fired a final round 66 on Sunday to win the Pure Silk Bahamas LPGA Classic, the first tournament of the 2016 LPGA season. The victory is Kim's third LPGA Tour victory, and second since joining the Tour last season.
Kim, the 2014 Evian Masters champion, began the final round one shot back of the 54 hole leaders, and quickly found herself at the top of the leaderboard with three straight birdies on holes 4 through 6. Kim went out in 32, and three straight birdies on holes 12 through 14 gave her a three shot lead. The players behind her, however, were not letting up, and a bogey on the 16th hole saw her lead evaporate to one. She quickly retook control of the tournament with a birdie on 17, and despite being unable to birdie the par 5 18th, she wound up with a two stroke victory.
The victory is Kim's first since the Founders Cup last season. She joined the LPGA after winning the Evian Masters in 2014 as a non-member. Prior to her joining the Tour, she was a dominant force on the KLPGA Tour, winning nine times in her career and being named the Player Of The Year in 2014. Kim had a strong rookie season last year, where she had eight top 10's beyond her victory.
Entering the season, Kim had several goals, including a few victories in the United States and representing her home country of South Korea in the Olympics. She also has a goal of getting married, despite not currently dating anyone. Despite her 2016 goals, she did not expect to win in the Bahamas, and admitted that her real goal this week was a top 10 finish.
At only 20 years old, Kim's best golf seems to be ahead of her, which is a dangerous proposition for the rest of the LPGA Tour. With her major resume and her international success, it won't be long until Kim will be mentioned along with the greats in the game.
Another Close Call For Stacy
Stacy Lewis got off to a slow start on Thursday, shooting an opening round 73. She played incredibly well the next three days, getting herself into the final group on Sunday and shooting a final round 68. Still, it wasn't enough to keep up with Hyo Joo, and Stacy will have to settle for another second place finish.
"I just got off to a bit of a slow start." Lewis said after the round. "Making a bogey on 8 really hurt...I'm really happy where my golf swing is."
Lewis was unable to win last season, where she finished runner up six times. Lewis is optimistic about her season following her showing in the Bahamas, but all these close calls have to be getting frustrating.
Creamer Back In Contention
Once one of the best players in the world, Paula Creamer has fallen on hard times in recent years. She hasn't won in two years, only managed five top 10's in the past two seasons, and relied on a captain's pick in order to make the United States Solheim Cup team. All of this caused Creamer to leave her swing coach and make a swing change.
One week in, it appears to have been the right move.
"I put zero expectations on myself this week." Creamer said. "It's obviously hard taking a new golf swing out to a golf tournament, but I did it, and I'm proud of this start. I putted pretty well. Overall I gave myself some opportunities, and that's all you can do."
Creamer began the week ranked 63rd in the Rolex Rankings, a position she's expected to improve on after her T5 finish. She has a long way to go before she gets back to her best career position, which was second, but more finishes like this will go a long way to pushing her back up the rankings.