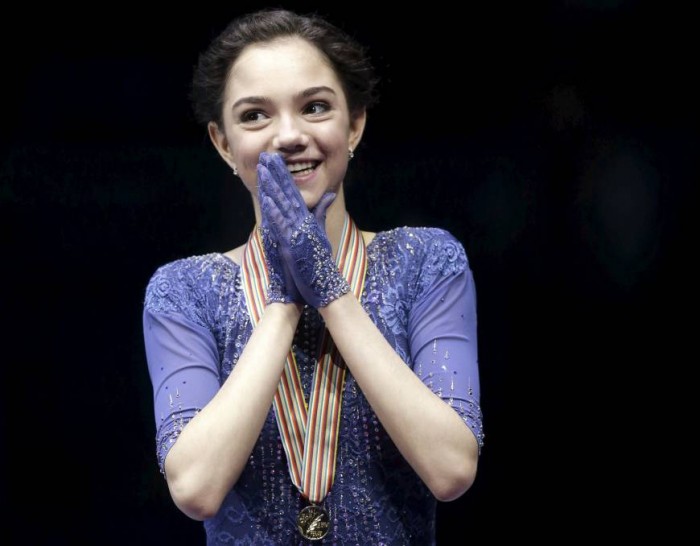 Due to its geographic nature, the European Championships are a major tournament in some sports, especially for figure skaters. While powerhouse countries like Japan and the United States do not compete, many of the best figure skaters come from European countries, so the competition is a great way to test skaters against some of the best in the world and give them a great warm up leading into the World Championships.
While the event was missing some notable skaters, the best in the continent showed up in full force last week. Here are some thing we learned from the 2016 European Figure Skating Championships.
If Medvedeva Isn't The Best, She's Real Close
When Evgeniva Medvedeva won the 2015 Skate America, it could have been seen as a fluke. When she won the Grand Prix Finals, it could have been chalked up to a stretch of great skating. She proved the doubters wrong when she beat a world class field at the Russian National Championships, and she wasn't seriously challenged on her way to her first European Championship gold medal. Medvedeva is only 16 years old and just competed in her first Grand Prix season as a senior skater, so all signs point to her improving as she continues to age. While there are many young skaters coming up the ranks, none have the experience winning big events like Medvedeva has, and will likely be looked at as a favorite entering the World Championships.
Russian Ladies Could Legitimately Sweep The World Championships
Russia entered the European Championships without their reigning European and World Champion, or reigning Olympic Champion, both of whom are still competing on the international stage.
They still swept the podium.
Russia isn't just deep with figure skaters in the ladies division, they are historically stacked. Joining Medvedeva on the podium last week were Elena Radionova, a bronze medalist from last year's World Championship and now a two time European silver medalist, and Anna Pororilaya, who picked up her second straight bronze medal. Swap out the skaters, and the results are likely the same. Russia has at least six figure skaters who have experience winning in major international competitions. With the United States team struggling, Mao Asada battling injuries and inconsistencies, and South Korea pinning their hopes on a skater who won't be eligible until after the 2020 Olympics, Russia stands a real chance to walk out of the World Championships with three medals.
Fernandez Is The Second Best Skater In The World - But The Gap Is Large
Javier Fernandez won his fourth consecutive European Championship, becoming the first male figure skater to do so since Ondrej Nepela of Czechoslovokia won five straight from 1969-1973. He was never seriously challenged, finishing over 50 points ahead of Israel's Oleksii Bychenko.
"It doesn't matter how many times you win something, if it is the first time or second time, it is always special," Fernandez said. "It is so important to keep making history in my home and in figure skating. To be among those great figure skaters who have won this title four times in a row is such a special thing."
Fernandez put on a dominating performance, but he is still miles behind Yuzuru Hanyu. Fernandez had many errors in his performance, especially in his free skate, that prevented his score from being even higher. While Hanyu continues to add elements into his routine to make his record breaking scores even higher, Fernandez is only now topping the 300 point mark for the first time. Fernandez is clearly the second best skater in the world, and he likely will not be challenged for that position for some time, but it would take some help on Hanyu's part in order for Fernandez to win his second consecutive World Championship.
Russia Misses Evgeni Plushenko
While the Russian ladies dominate figure skating, Russian men have struggled in the absence of four time Olympic medalist Evgeni Plushenko. Plushenko, who has struggled with back injuries and initially announced his retirement following the 2014 Olympics before backtracking later that year, looks to make a comeback in 2016. In the meantime, Russian men are being lead by Maxim Kovtun, who won his second straight European medal, this time a bronze. He looked to be in great position to win another silver, but a rough free skate sent him tumbling from that position. He only finished 2 points ahead of Florent Amodio of France. It's not a good sign when you pin your medal hopes on a 32 year old with several back injuries, but that is the position Russia finds themselves in heading into the 2016 season.