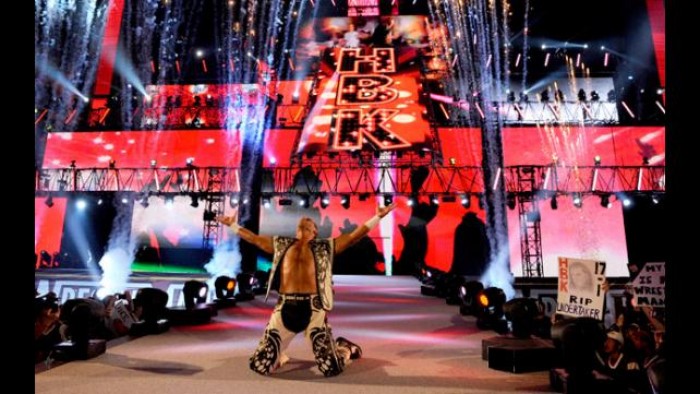 Shawn Michaels is a name synonymous with WrestleMania, the heart-break kid always rose to the occasion on the grandest stage of them all, and it seems like the WWE is hoping to put him to use at 'Mania once again.
With this years show taking place in his home state of Texas, most fans probably expected him to be around, whether it was at the Axxess week, or a quick cameo backstage during the night itself, but WWE are hoping to have him play a much bigger role this year.
It's no secret that the company is struggling with injuries, the amount of talent the have out injured is possibly the worst it has ever been, especially at their most important time of year, and it's not just any wrestlers either, it's many of the WWE's major stars, John Cena, Seth Rollins, Daniel Bryan and Randy Orton to name just a few.
They are now having to pull out all the stops to ensure they have a strong enough card to get people interested, putting Triple H in a marquee match and bringing back The Rock is a start, and the return of The Undertaker will certainly help, but WWE needs more, and HBK could certainly help.
Royal Rumble rumors
If Ric Flair is to be believed, then the WWE has recently attempted to get the hall of fame superstar out of retirement and back into the ring. During his Woo Nation podcast before the Royal Rumble, Flair revealed that the company offered Michaels a large sum of money to be a surprise entrant in the match.
Clearly HBK turned that deal down as he did not appear in the Rumble, and hasn't done since, and the main reason behind it is that he wants to honor his retirement match stipulation with The Undertaker, so the WWE knew he wasn't interested in getting in the ring, hence why their 'Mania offer didn't involve wrestling...
1,2...3!
According to PWInsider.com, the WWE has offered HBK a major role at WrestleMania 32, which would be a special guest referee role, for what is the likely main event, between Triple H and Roman Reigns, a role that Batista has already rejected.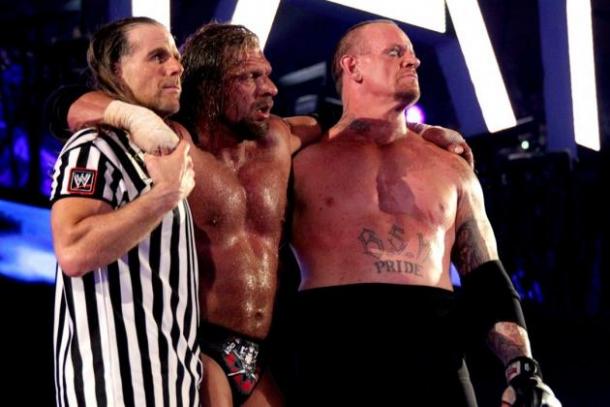 It is purely speculation at this point, but the WWE has now reportedly offered two former talents (also close friends of Hunter's) a role as a referee for that match, which makes it seem like it is something they certainly want to happen.
It wouldn't be the first time Michaels has been in this role at 'Mania either, as he was the referee for the Hell in a Cell match between Triple H and The Undertaker at WrestleMania 28, but whether he has accepted this opportunity is not known, but it's clear that WWE want HBK to at least appear at this years show.
Do you think HBK will be involved in WrestleMania 32? Let us know in the comments.