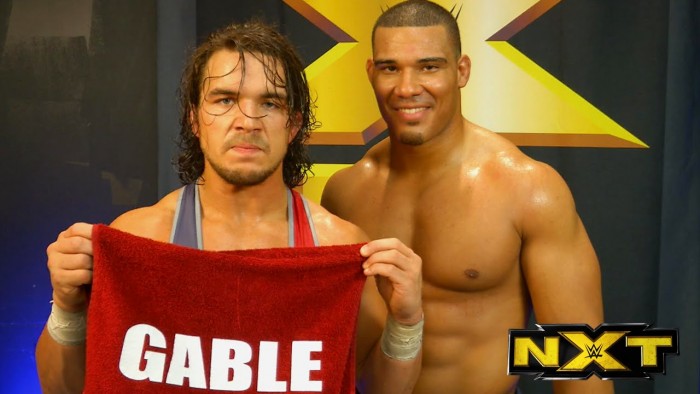 5. The Vaudevillians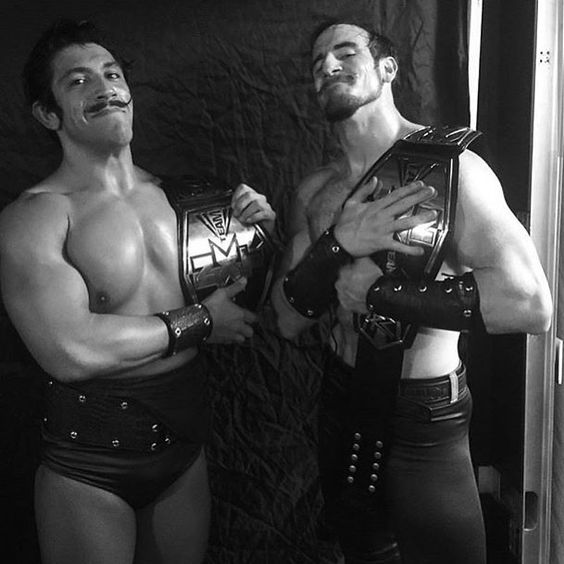 Simon Gotch and Aiden English have been two main stays on NXT beginning as singles superstars, they failed to click and make the impact that they had hoped, and were put together in 2014, creating The Vaudevillians, who have remained a team ever since.
Creating a gimmick based on old school wrestling, a throwback to the Vaudeville period, from their black and white entrances to their ring attire they have adapted their entire style in an impressive and convincing manner that has allowed them to become one of the most dominant teams in the WWE's development brand.
After working tirelessly on their style to get over with the NXT audience, they eventually captured the tag team titles at Takeover:Brooklyn, after several failed attempts, but their rein ended when the current champions, Dash and Dawson took the belts from them.
Since returning, The Vaudevillians have returned to their heel gimmick, proving that they can perform as both baby faces and as true villains, an adaptability that certainly goes a long way, especially on the main roster.
Having won the big one, and proved they can cope at the top of the tag team division in NXT, as well as having the durability to last as long as they have whilst keeping things fresh, they are certainly a tag team worthy of being pushed to the main roster.
4. Hype Bros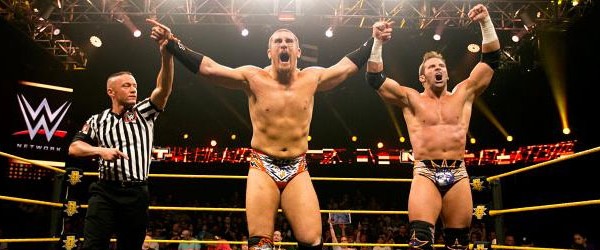 Zack Ryder and Mojo Rawley were two superstars full of personality and charisma, that lacked any form of direction or purpose, until the NXT creative team came up with the Hype Bros, a way to team them together and use both of them to their fullest potentials, whilst strengthening NXT's tag division.
The team provides an interesting dynamic with Ryder technically being a main roster talent and Rawley being strictly in developmental, but they have both worked hard to make the most of the situation, which for Ryder, is arguably his last big chance to make a name for himself.
The gimmick of the team is simple, they are an over the top team who use their charisma to full advantage, they party and live wild lives and are all about their fans, whilst their opponents tend not to be 'hype'.
If this gimmick was given to most people, it wouldn't work and would same fake, yet with these two it appears organic, as Rawley is genuinely full of life, and Ryder's previous singles run was a similar over the top character.
Even though they can occasionally go too far, which can come off as annoying to some fans, they have become one of the most popular teams in NXT within a very short space of time, whilst they are not the best in-ring team, their wrestling is of a good enough standard.
There is definitely a role for them to fill on the main roster, there is a lack of real personalities on the main roster and the Hype Bros can certainly provide that, and whilst they wouldn't jump straight to being title challengers, they could put on some entertaining matches as they develop to that level, rather than simply seeing the Uso's take on the New Day every week.
3. The Mechanics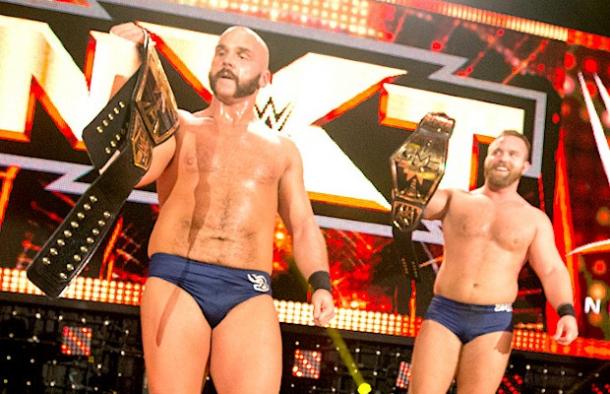 The Mechanics are the current NXT Tag Team Champions, and consist of Scott Dawson and Dash Wilder, who are a hard hitting, no nonsense team, with their catchphrase of 'No flips just fists' summing them and their in ring work up perfectly.
They have taken NXT by storm, and gained huge praise from WWE legends such as Edge and Stone Cold Steve Austin, they are an old school tag team who know how to get the job done, constantly cutting off the ring to isolate opponents, frequent tags and a devastating finisher to match their aggressive style makes them the complete package.
They've been the perfect heels since picking up the titles, and they pay attention to small details inside the ring that most tag teams seem to miss, and the fact they are just as strong on the microphone as they are in the ring doesn't hurt them either.
The main roster currently has a real lack of heel tag teams, with only the New Day, but as their popularity increases with every segment they do, it's unlikely they will stay that way soon, and eventually the roster is going to need a serious heel team that isn't the Ascension, and these guys fit the bill.
2- American Alpha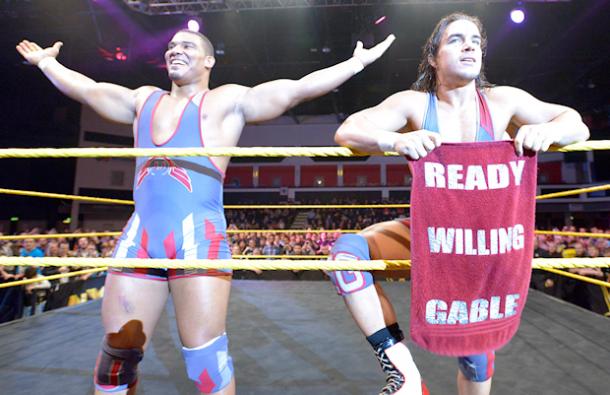 Jason Jordan and Chad Gable, the newly named American Alpha are probably the hottest thing on NXT right now, if not the entire company. When they enter the ring, the crowd goes absolutley insane for them, and the episode filmed in London clearly showed they have mass appeal.
Fans can't get enough of these guys right now, and rightfully so. They are two of the best wrestling technicians the WWE has, with Gable's Olympic background allowing him to put on an amateur wrestling style that fans haven't seen since Kurt Angle being mixed with Jordan's power and pace, they make a dynamic duo.
In recent months they have begun working on their characters more, with their confident and cocky personalities winning over the NXT Universe, it would make perfect sense for WWE to strike whilst the iron is hot, and make the most of this talented team.
1- Enzo Amore and Colin Cassady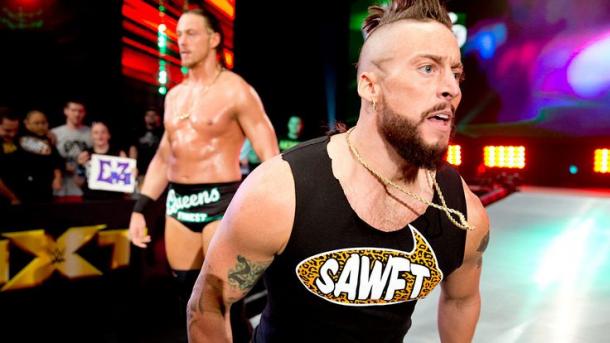 Team SAWFT have been around on NXT as a team since 2013 and have been on the developmental stage the longest, and have certainly paid their dues by now, but being on NXT for such a long time has benefited them as they have become the most over team on the roster.
There are few people that evoke as loud of a reaction as these men, and their opening promo has the fans gripped right from the start, on the microphone they know how to get the fans fired up and invested in them, and when it comes to the wrestling, they back it up in the ring.
They have been the nearly men in NXT for too long, coming a fingertip away from capturing the titles on countless occasions now, and it seems like they've put over so many teams that surely it's time for them to get some credit, in a similar way to how Tyler Breeze did.
With Carmella by their side, they have a unique element that so far, no one on the main roster has, and she adds something to the team and would hopefully transition to the main roster with her boys.
No tag team has worked harder, or been more patient that Enzo Amore and Big Cass, and they are the most deserving of a move up to the big leagues, where they would no doubt prove to be just as popular.
Do you agree with the list? Let us know in the comments, and why not take a look at our Top 5 Single's Wrestlers ready for the main roster.