With the 2016 NHRA season kicking off at the Winternationals this coming weekend at Ponoma Raceway, VAVEL USA interviewed John Force about his team's offseason, comparing 2016 to 2015 and the state of NHRA with the new TV package with Fox Sports this season.
VAVEL USA: After a disappointing 2015 season, what are your reasonable goals for the 2016 season for John Force and John Force Racing?
John Force: Train new employees, build a brain trust and win the championship.
VAVEL USA: How are all four of your teams looking going into 2016? You guys had a really good test session this past weekend, how much confidence does that give you going forward?
John Force: We didn't pass the competition, but we ran right into the ballpark putting cars into the eighties (referencing 3.80's elapsed time), what we can really hope for right now, it looks good.
VAVEL USA: Do you focus on trying to beat Don Schumacher Racing or Kalitta Motorsports or do you just look at we just need to go out there and just do the best we can and focus on John Force Racing?
John Force: We look at what we need, have to have financial backing and the right people, we have both. We have tons of experience. What we are looking for is pushing these cars to an ET slip of where they need to be and if they don't get there they're not going to beat them. So it's not any certain team but they have set the bar and we're going after it. For years we set the bar and now they have for 2015 and we're going after it.
VAVEL USA: What does Alan Johnson and Brian Houston bring to the table for Brittany Force and the top fuel side?
John Force: The experience of running a top fuel car, we are funny car people, our engine program was completely designed around funny cars. I don't know that for a fact (talking on last season for the top fuel program) that it wouldn't work, its run big numbers and I had the right people in their running the car but it had no consistency. Without that consistency you can't win.
By buying the Alan Johnson motor program and him working as a consultant along with one of his crew chiefs in Brian Houston taking this program over, the proofs in the pudding but I think we are on track based on what we saw in testing.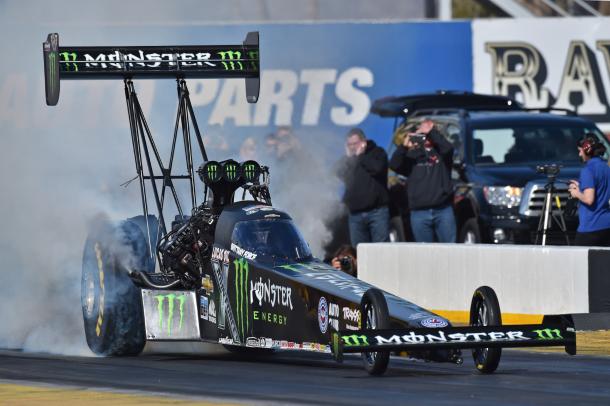 VAVEL USA: What's the latest on the new 2016 Chevy Camaro body and when will we see it on the track?
John Force: They told me Gainesville, then it was Vegas. Now we are looking at Houston, so it will be in that Vegas to Houston time frame. We really need it for the aero package, but really cause of the excess weight we are carrying now. It's an extra 25 pounds.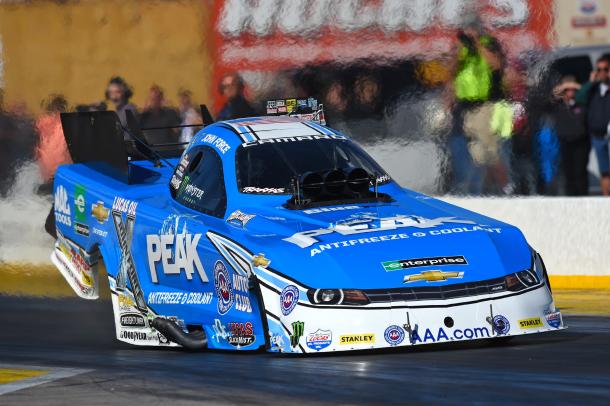 VAVEL USA: You already have sixteen championships already under your belt, is 2016 the year you get number seventeen?
John Force: I'm not quitting on sweet sixteen, I'm going after number seventeen. If I didn't have the attitude, even though Robert Hight, I want to see him win. I want to see Courtney Force win along with my daughter Brittany in top fuel. If I didn't have the attitude that I want to win the championship, then I should get out of the seat. My goal is to win rounds, win races and then win the championship.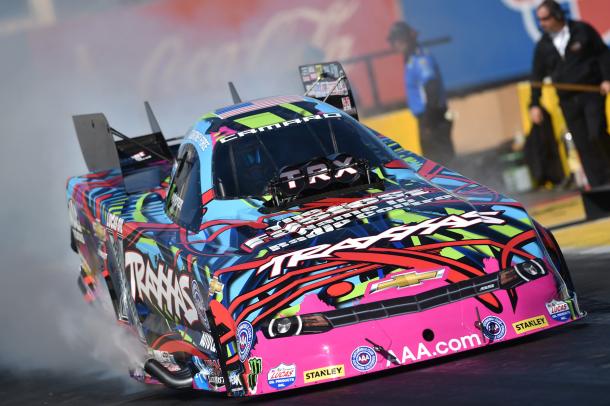 The State of NHRA
VAVEL USA: What do you think the addition of Fox and Fox Sports 1 will have on the sport and also while we try to find new sponsors?
John Force: We have a great product; it was a time slot issue with ESPN that it was put into that hurt it along with not being live. Peter Clifford has a new program with Fox with 18 to 20 live shows with more coming hopefully. The teams are all working together to try and make the rounds so they can make the time clock to fit within that live time slot Fox gives us.
Our sport really needs this, no matter how great the product is, if the people can't find you on TV they don't want it, if they can't find you on TV they won't go to the races it's that simple. Because fans can't be there at every state to watch every race, they can watch it on TV. So that way when we come to their town they can come to the races. We needed this.
I was in the boardroom and I had a sponsor who said to me we love what you do, you're a sixteen-time champion, you've got these beautiful girls along with your son in law and you know how to do all this but the bottom line is we can't find it on TV. I praise the lord that Clifford made this change.
VAVEL USA: Do you think this will help get us new sponsors?
John Force: Without a doubt, because what do sponsors buy? They want their brand to be put out there on TV. Look at the Super Bowl or NASCAR, we aren't even in the same league. But for the cost of a drag race car - the Super Bowl, there is no comparison. The cost of NASCAR, there is no comparison. Even in this economy, but for what we put out there, from store displays to radio, to newspapers print and social media, now you go on TV then to the racetrack, we've got a great product and I guarantee you we're going to sell it.
Pictures in the story from John Force Racing from the preseason warm-up last weekend and are courtesy of Richard Shute/Auto Imagery