 The Four Continents Championship, one of the major ISU skating competitions that features skaters from the Americas, Asia, Africa, and Australia, took place in Taipai, Taiwan this weekend. It is the final major competition prior to the World Championships in Boston. Both the ladies and the men's competitions had intriguing storylines that played out over the course of four days.
Patrick Chan Has Perfect Free Skate; Wins Gold
Following a less than stellar short program, Patrick Chan was in fifth place. All the focus was on young Jin Boyang from China, who was in first place and looking for his first major gold medal as a senior skater. It appeared as if Chan was battling for a position on the podium, and not for the gold.
That was until he skated his best program...ever.
The 2014 Olympic silver medalist skated a personal best 203.99 in the free skate, vaulting him past all the other skaters and securing his third Four Continents gold medal, and first since 2012.
"I didn't panic," Chan said according to the Canadian Press. "I took my time and kept focused on the things that make me successful in practice and competition and today is a result of that."
Boyang finished in second. While he will likely be disappointed that he did not win gold, the 18 year old will be encouraged by the progress that he has made. In his first full year as a senior skater, he has won three silver medals and made it to the Grand Prix Finals. His performance this week proved that he can skate with some of the best in the world.
Yan Han of China won the bronze medal, his third bronze in four years at the Four Continents Championship.
Defending champion Denis Ten was unable to defend due to injury.
Miyahara Finally Wins Gold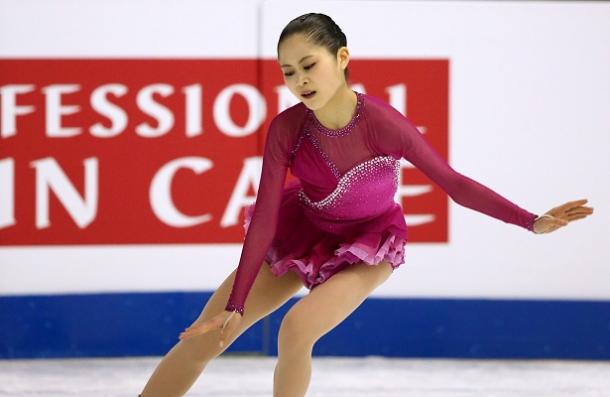 (source: Robin Ritoss)
The ladies competition saw a host of withdraws from big name skaters before the competition began. Japanese fan favorite Mao Asada, defending champion Polina Edmunds, and former champion Ashley Wagner all decided to skip the event, opening the door for other skaters to cash in.
Satoko Miyahara did just that, in relatively easy fashion.
The two time Japanese National Champion won her first major gold medal in dominating fashion, winning by over 20 points. This was possible due to a nearly flawless short program, where she scored a 72.48.
"I think I've achieved a target in the short skate by scoring 70 points in an international competition," Miyahara said after her short program. "I've been practicing the whole program in one go for the whole season and it's finally starting to sink in. I focused not to drop levels with my steps, and execute them in bold strokes."
Miyahara finally has a gold medal to add to her shelf of silvers. She finished runner up in the past two Four Continents Championship, and was also the silver medalist at the Grand Prix Finals. With all the attention on former World Champion Mao Asada, Miyahara has become a world class skater in her own right. She enters the World Championships with a ton of confidence.
"It gives me a good feeling heading into Worlds," said Miyahara according to Golden Skate, "I was a little bit nervous. I felt nervous even in my last jump, but I stayed calm and believed in myself. I'm confident about the elements of my free program and I've been doing well in big competitions this season, which led to this success here. At Worlds, there will be a lot more great skaters, so I would like to make sure not to be beaten by them."
Former Olympian Mirai Nagasu of the United States got into the field thanks to the withdraws of Wagner and Edmunds. Nagasu, who won the bronze medal at this event in 2011, has struggled in recent years, and hasn't made the podium in a major event in several years. That all changed this week when she put together two brilliant programs and walked away with the silver medal.
"I think it's safe to say that I haven't skated like this in a long, long time," Nagasu said. "It's taken a lot to get me back on the podium and I'm so grateful to my team and support group who have gotten me here. I hope to only improve and continue on this track of improvement."
Rika Hongo won the bronze medal, a return to form for the skater after a disappointing 4th place finish at the Japanese National Championships two months ago. Hongo will be joining Miyahara and Asada in Boston, while Nagasu will be the first alternate for the United States team.