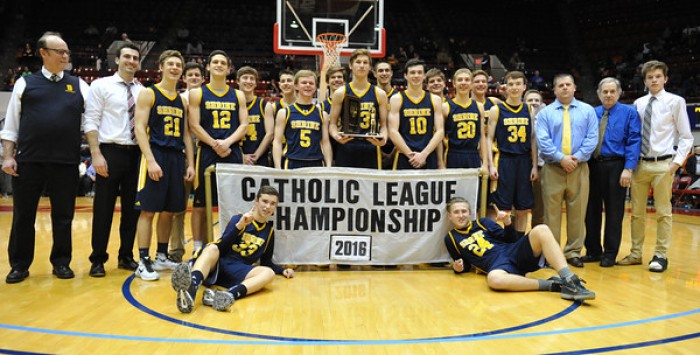 DETROIT, Michigan -- The Shrine Knights battled hard at Calihan Hall and took home the Michigan Catholic High School League C-D Championship over the Our Lady of the Lakes Lakers, 49-38. It was the first Catholic League title for Shrine since the 1978 season.
"It's a beautiful thing," said Shrine head coach Jim Skaggs of the victory. "This was a complete team effort."
The Knights (14-6) defeated the Cristo Rey Wolves by 22 points in the C-D tournament opener and went on to defeat the Gabriel Richard Pioneers by four points to advance to the championship, which they won by 11 points.
As for the Lakers (15-3), they owned a first round bye and defeated the Cardinal Mooney Cardinals by three points behind 21 points off the hand of Devin Senerius.
"We knew winning a Catholic League title would go through Lakes, that's been the focus all year long," Skaggs said.
Andrew Kline struggled for Our Lady of the Lakes, scoring just a few points in the losing effort. Usually, Kline is good for a handful of points, but Sunday afternoon was not the same for the senior guard. Freshman guard Noah Robak started to bring the team back with two three-point jumpers in one minute during the fourth quarter, but it just was not enough. Robak and junior Isaac Oliver finished with 10 points each in the loss.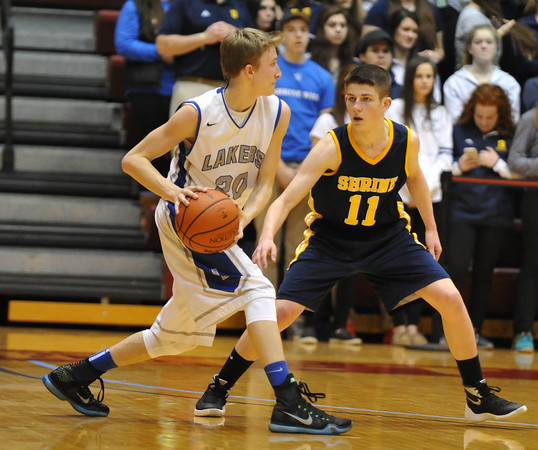 At halftime, the Knights held a 23-21 lead over the Lakers, but had more momentum than the score showed.
Scoring a game-high 16 points for Shrine was Michael Niehaus, who led the team offensively and defensively. Along with the game-high in points, Niehaus added eight boards. Freshsman guard AJ Massucci came off the bench and surprised everyone with a few three-point jumpers late in the third quarter to give Shrine a comfortable lead over Our Lady of the Lakes entering the fourth quarter.
"It means everything to us," said Niehaus. "I mean, we've been working for this. We talk about it all the time, and we know we're gonna be up there for a while. Part of history now."
Ethan Groth, who pulled down a game-high 14 rebounds, and Jeremy Reece combined for five late free throws to seal the deal for the Knights and give the program the first Catholic League crown since 1978, which was 38 years ago.
"Just a horrible game on our part," said Our Lady of the Lakes head coach Paul Robak, who saw his team shoot 26 percent from the field. "That's a testament to Shrine and how well they played though. For us, we've got to play better. We're reading too many press clippings telling us how great we are instead of going out on the floor and proving it. These next couple weeks will tell us what we're made of."