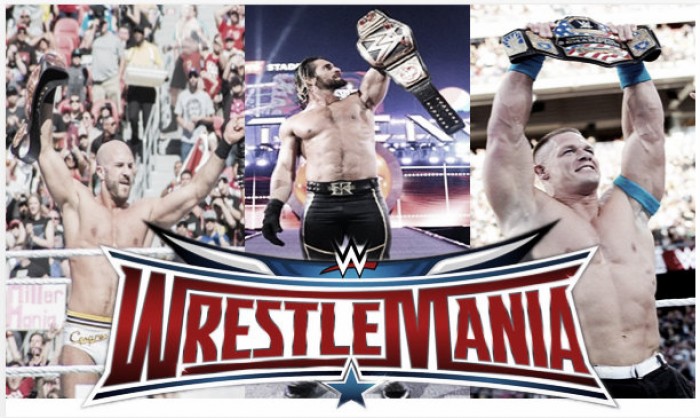 With WrestleMania 32 coming up fast the photo of three top WWE superstars at the Andrews Sports Medicine and Orthopedic Center in Orlando has sparked rumors regarding a shock return.
All three superstars left the Levi's Stadium last year at WrestleMania 31 as champions but as if a curse was placed upon the superstars of the company; all who left as victors through gold are currently injured and look set to miss out on appearances at this years grandest stage of them all.
The photo of the three has shown that the trio are on their way back to full fitness and also offered a glimpse of hope to fans that they may return in time to add to the expectation of this year's Mania as the match cards begin to expand.
Return from rehab?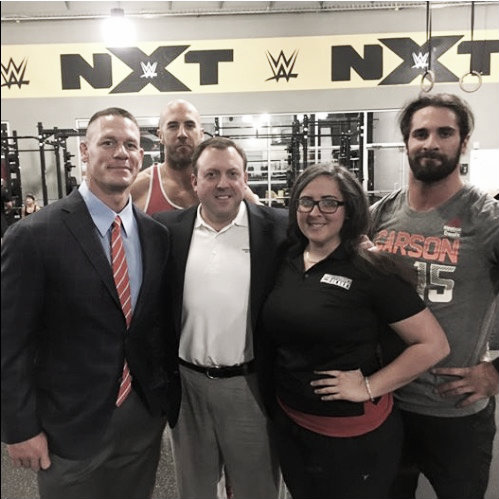 It is predicted that only ONE of the three superstars has a realistic chance of making it to Dallas in April, the man who has been the face of the company for over 10 years.
John Cena the man who has often shattered expectations regarding his injury returns (Royal Rumble 2008 for example) has undergone an astonishing rehabilitation program since his injury,and the 38-year-old now has a outside chance of competing in his twelfth successive WrestleMania.
The 15-time world champion reportedly suffered a torn rotator cuff and underwent surgery on Jan 7 just weeks before the Royal Rumble would kick off the road to the biggest 'show of shows,' in what was a massive blow with the veteran being one of the biggest draws in the company.
Seth Rollins is expected to be absent until May after he suffered a Torn ACL at a house show in Dublin during their UK Tour. 'The Architect' was the WWE Champion at the time and his injury forced the creative team to completely scrap their current plans that had been in place for months.
Cesaro who was one of the most popular stars before his injury, is not expected back until after WrestleMania as his rehab has taken longer than estimated. The 'King of Swing' suffered a partially torn tendon in his shoulder but continued to wrestle before an MRI scan eventually confirmed his fears and halted his momentum.
Cena on social media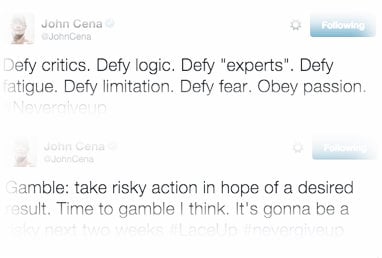 The social media sites of John Cena are as confusing as they come, either they are promoting his various charitable works, gym workouts or confusing cryptic messages.
Twitter is one of the favorites the former leader of the Cenation as he sent out the following message, prompting many to come up with their own interpretations of the tweet.
He said "Gamble: take risky action in hope of a desired result. Time to gamble I think. It's gonna be a risky next two weeks #LaceUp #nevergiveup"
Many believed he was referring to taking a chance with his suggested recovery time which was estimated at around six months,hoping his gamble would pay off. This would mean almost halving his recovery time to just over three months,but would it be right to gamble and risk aggravating an injury given his age?
One more message sent via the Twittersphere was this,"Defy critics. Defy logic. Defy "experts". Defy fatigue. Defy limitation. Defy fear. Obey passion. #Nevergiveup." Many believe it is suggesting that he knows his own body better than what doctors are saying and he will "defy" their expertise, but with no clarification and no word from WWE, only he will know what will happen come April 3rd.
The social media account, Instagram is often used by the former United States Champion and is in a lot of ways even more baffling. He uses the 'bio message' "Welcome to my Instagram. These images will be posted without explanation for your interpretation. Enjoy."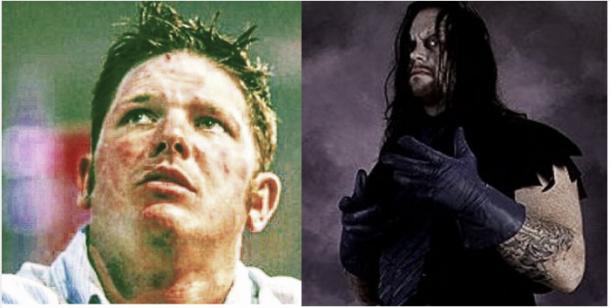 The confusing images range from cartoons to the Trailer Park Boys but every so often a photo is posted that is often related to WWE as he posted a picture of former TNA star AJ Styles as he made his debut in the company. The phenomenal one retaliated by also posting a photo of Cena on his account as fans were hoping for a feud down the line.
However, after much talk and rumors circulating the internet regarding a dream match, the face of WWE seemed to address these rumors as he posted a photo of the 'Phenom' the Undertaker, again with no comment leaving fans to once more decide on their own interpretation.