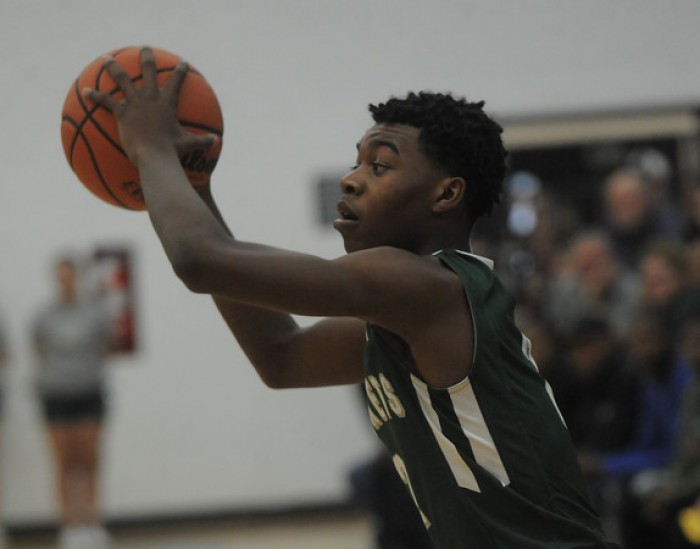 MACOMB, Michigan -- The New Haven Rockets traveled to battle the Lutheran North Mustangs after a 14-day absence between games. The Rockets came out with defense and the offense heated up late to put things out of hand in the Class B district semifinal victory, 70-44.
"I knew it was going to take some time for our offense so we had to come out and set the tempo on the defensive side of the ball," New Haven coach Tedaro France II said after the win over Lutheran North on Wednesday. "When you take that many days off, with the way the schedule was this year, we were idle for 14 days which is always tough.

"I want to teach our kids that we can score off our defense. Just keep playing defense and you can stay in games by just being solid there."
Eric Williams Jr. scored a game-high 16 points, Tavares Oliver added 10, but the most important aspect of the game for New Haven was rebounding. Jerry Ben threw down two dunks and grabbed 10 rebounds, while Innocent Nwoko snagged 10 rebounds. Romeo Weems, a 6-foot-6 freshman, had a career day with 10 rebounds, 10 assists, four blocks and four steals.
The Rockets (19-2) held a 12-8 lead after the first quarter, but increased their edge to a 20 points at the halftime break.
As for the Mustangs (13-9), Drew Arft led the way with 11 points. Junior point guard Eli Thaut dished off four assists. Jack Hilt pulled down eight rebounds and Michael Barno, a senior, corralled seven.
"We tried to take away their inside game, which I thought we did well and if you're going to do that you're going to give up some outside shots," Mustangs coach Kevin Murawski said. "We were hoping they wouldn't make that many and they made them. That's why they're predicted to go to the Final Four.

"Where we've had success our guards have gotten by defenders, but not many teams have guys that can clean it up in the back like they do. Even when we did get past their defenders it was getting blocked and it was hard to finish. We were off tonight and we knew going in we'd have to play really well to get it. We didn't play as good as we needed to win and they played better than we thought they would."
New Haven will travel to Marysville High School to battle in the Class B district final at 7:00 PM ET against the Clintondale Dragons. The winner of the championship game will advance to regionals and the loser will go home.