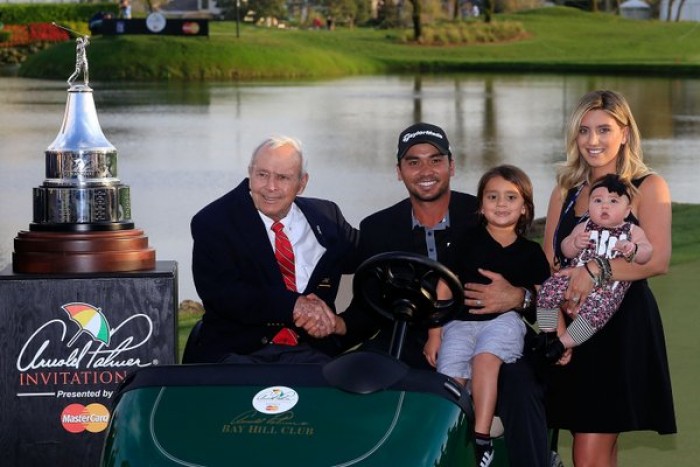 The New Big Three remains in tact.
World number three Jason Day won the Arnold Palmer Invitational by one stroke after firing a final round 70. He won in wire-to-wire fashion after shooting an opening round 66 and leading after all four days of competition.
Day entered the final round knowing he would be nervous when he stepped to the first tee. He thought about his mentality when entering the final round with the lead in previous events, and admitted Saturday night that Day of previous years would have had trouble closing.
"I probably would have choked," he said during Saturday's press conference. "I may choke in the future as well but like, that's just how it is. You learn and you get better and, unfortunately, those times when you do play bad and you don't win, that's when you learn the most."
Day made a quick call to Tiger Woods, who won Arnold Palmer's tournament eight times in the past, and got some advice on how to close it out.
Still, it did not come easy for Day. A shakey start, coupled with rock solid play by Kevin Chappell found Day trailing at the turn. Chappell, who is searching for his first PGA Tour victory, had a one shot lead standing on the 18th green. A Day birdie on the 17th, however, sent a roar through the crowd, and a shaken Chappell missed his par putt.
"Being honest, kind of had me rattled a little bit," Chappell said. Chappell fired a final round 69.
All Day needed was a par on the last hole, but a sloppy shot left him in a greenside bunker. With water on the other side of the green, Day needed to hit a fabolous shot to get close to the hole. He did just that, leaving it within four feet and making the par putt to win his eighth PGA Tour victory.
"It means the world," Day said. "I just ground it out. I got it done when I wasn't quite on."
Chappell finished in solo second. Henrik Stenson and Troy Merritt tied for third place, three shots back of Day. Zach Johnson finished in solo fifth. Kiradech Aphibarnrat fired a final round 65 to tie for sixth place with Phoenix Open champion Hideki Matsuyama and Jamie Lovemark.
Entering the tournament on the heels of two straight victories, Adam Scott had an up and down tournament. Despite making three doubles or worse throughout the week, Scott finished T12 to continue his string of high finishes. World number two Rory McIlroy had two rounds of 75 that derailed his chances at winning. He finished T27 after a final round 65.