 She's used to breaking boards, but this week, she nearly broke a record.
2015 Rookie of the Year Sei Young Kim fired a final round ten under 62 to win the JTBC Founders Cup. Her four day total of 27 under par tied Annika Sorenstam with the lowest 72 hole score in LPGA Tour history.
"Yeah. It's a dream come true," Kim told the media. "Today's score 10-under is my best score ever, ever. So I didn't know that after the last putt, but after I check the scorecard, I asked to Paul, my caddy, did I shoot 10-under? He said, yeah. Oh, my God. That's amazing. Yeah. Dream come true. So feel great now."
Kim, who has a black belt in Taekwondo, broke her personal single round scoring record by three strokes on Sunday. She picks up her fourth LPGA Tour victory. Most importantly, it keeps her inside the projected standings for the Korean Olympic Team. With reigning US Women's Open champion In Gee Chun expected to miss some time due to injury, Kim has the opportunity to separate herself from the rest of her countrywomen and secure a spot on the team.
This tournament ends a string of disappointing weeks for Kim. After beginning the season with two top 5 finishes, Kim hasn't finished better than T34 in her last two weeks. This victory should give Kim a ton of momentum moving forward.
Kim also continues Asia's dominance on the LPGA Tour. Five of the six tournaments in the 2016 LPGA Tour season have been won by Asian born players. Kim is the fourth Korean champion, after Hyo Joo Kim and Ha Na Jang (twice).
Se Ri Pak's Emotional Week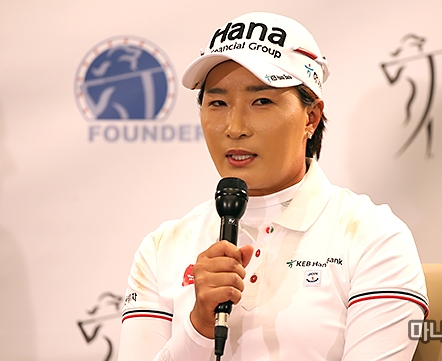 (source: Korean Media)
It was an emotional week for the Queen of Korean golf.
Se Ri Pak, who announced in Korea last year that 2016 would be her last on Tour, officially began her season at the Founders Cup with an emotional interview with the LPGA Tour, kicked her season off with two bogey free rounds that guarenteed a paycheck. She then played decently well on the weekend, and while a T48 finish is nothing to write home about, it was more than expected for the oft injured Pak who had plenty of media commitments this week.
While the golf hasn't been great over the past couple of season, Pak insists that her decision to retire has nothing to do with her game, but rather where she is personally in life.
"The retirement is not about my golf." Pak said. "It is about my life. My golf, it's good. As a person, I don't think I'm good. Not good enough."
Pak will coach the Korean Olympic Team and then move back to Korea at the end of the year to help in youth programs.
"Hopefully, I'm going back to my country and I (can help) young players that are trying to play the LPGA or international," said Pak. "A lot of players have such talent, and the young kids, they're trying to make their dream. So, I'm trying to make possible for them to follow their dreams. So that's my plans."
Pak will be remembered as one of the most influential players in professional golf history, and it is quite fitting that a Korean player wins the same week Pak formally announced her retirement. While Pak is ready to move on from the Tour, she's not ready to fade into the sunset quite yet. She still has her sights set on qualifying for the ANA Inspiration and winning the one major that has been missing from her resume her entire career.