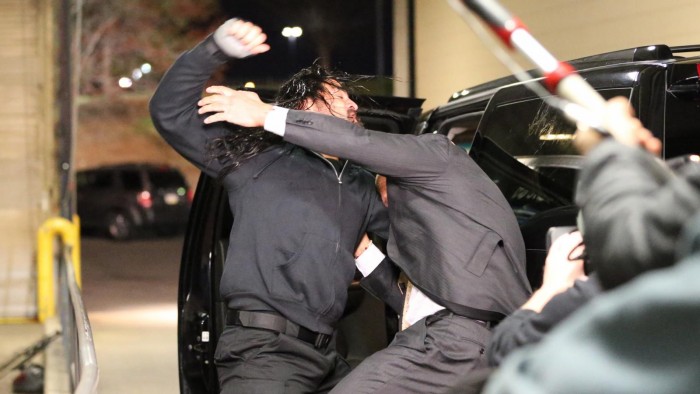 On a night where the WWE is advertising a major announcement for the Hell in a Cell between The Undertaker and Shane McMahon. WWE Monday Night Raw from Philadelphia kicks things off with the Billion Dollar Princess, Shane's sister, Stephanie McMahon, who claims that Triple H can't make it to Raw due to corporate responsibilities. Roman Reigns interrupts Stephanie, and cuts a short, but above decent promo, claiming that Triple H isn't there due to him, and that he's The Authority.
Note: A really good promo from Roman Reigns...to the point, aggressive, and something Roman Reigns needs to continue doing. Don't continue with the Cena-quick wit, be your own entity, and you'll go places in this business. It's a different type of charisma but Reigns showed a ton of charisma in a just few sentences. Anyone who says he does not have charisma is fooling themselves; they just have to let him show it.
In a fast-paced, fantastic rematch from this past Smackdown, Kevin Owens takes on "The Phenomenal" AJ Styles. Kevin Owens' frog splash can't be neglected, what a (for lack of better terms) phenomenal spot, perfectly worked. Fun match that was given a good time slot and took up three segments. Everything was on point, the in ring work, the chemistry, the crowd was involved and the commentators called moves. That's what a Raw match should be. With an ending that looked to be similar to Smackdown's, but wasn't, Chris Jericho entered distracting Styles, who almost got KO in the calf crusher, Jericho gets on the apron and distracts him long enough for Owens to pin him off of a schoolboy. KO picks up a mic and addresses the WrestleMania title match, as Dolph Ziggler interrupts Owens. Ziggler is interrupted by the Miz, to be interrupted by Sami Zayn. KO claims that none of them deserve a title shot, and wants a triple threat match for the #1 Contendership. Camera cuts to Dean Ambrose, who is talking to....Terry Funk? Funk hands him his legendary chainsaw from the great "Chainsaw Charlie" gimmick of the Attitude Era.
Next up, we have a League of Nations promo, with their same boring shtick. Interrupted by the New Day, the segment picks up. New Day draws The "League of Booty's" as trash cans and New Day's Big E Langston beats Rusev in a rather forgettable match. The camera cuts to a weird Braun Strowman promo, in which it announces that Ambrose v Strowman is the Main Event of Raw.
We come back from commercial, this time with The Big Show, who rambles about how great Andre the Giant was, and why he's entering the Memorial Battle Royal, with an interruption from the Social Outcasts (Curtis Axel, Bo Dallas, Heath Slater and Adam Rose) who throw their names in the metaphoric hat, too. The Outcasts beatdown Show, as Kane comes in for the save. After taking out the Outcasts, Kane chokeslams Big Show, officially putting his name in the hat. We then have a quick Jericho v Fandango WrestleMania Rewind, as Styles enters and distracts Jericho, yet Jericho's able to hit the Codebreaker for a quick win over the jobber.
KO re-enters the arena and announces he's decided his opponent, and it is Stardust, Zack Ryder and Sin Cara in a triple threat. The Miz, Sami Zayn and Dolph Ziggler enter, and all 7 start to brawl. Stephanie McMahon makes it official: a seven man ladder match. We get back from commercial to Steph getting picked up from HHH, as the garage door opens to Roman Reigns who opens the door to the limo as attacks Triple H, before H hits him and rushes off.
Next is Charlotte v Natalya, with Becky Lynch and Sasha Banks on commentary. After a decent match, Charlotte wins via the Natural Selection. Bubba Ray Dudley defeats R-Truth and Dudley Boyz attack the Golden Truth as The Usos come out and brawl the Dudley's (and win). The Usos would almost drive D-Von through a table.
Vince heads out to the ring with the "Major Announcement" alluded to in the first sentence. Vince talks about the Hell in a Cell and Taker v Shane. Vince announces that if Taker loses, it's his last match ever, in a let down of an announcement. We close the show with The Lunatic Fringe! Ambrose loses to The Wyatt Family's "Black Sheep", Braun Strowman by disqualification after whacking him with a chair, and hitting Dirty Deeds on the chair. In a match that felt like it took forever, the Philly crowd leads a boring chant, which in no way helps Dean Ambrose.
After a phenomenal (pun intended) match between AJ Styles and Kevin Owens, and an outstanding Reigns' promos, it seems like the Philly crowd was in for a great show...between the announcement of the ladder match, the disappointment in the HIAC announcement and the main event that put the crowd to sleep quicker than a Jeff Jarrett promo, Raw was solid, but not great.
Rate: 6.5/10.