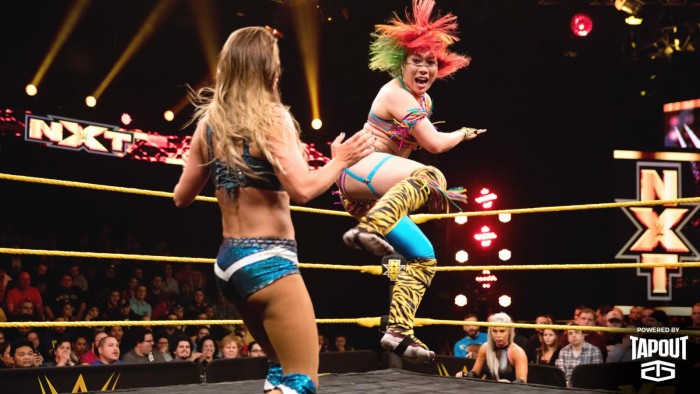 With just over a week to go till NXT takes over the Kay Bailey Hutchison Convention Center in Dallas for NXT Takeover: Dallas. The stakes have never been as higher as NXT heads to its biggest event yet. Finn Bálor set out to show Samoa Joe that he will not be a push over in Dallas. Joe would deliver a huge statement of intent to the Champion and Asuka would look to continue on her road to the NXT Women's Championship as she faced Emma in the Main Event of the evening.
Samson suffers first loss
The opening bout on NXT saw Johnny Gargano take on the undefeated Elias Samson and it was Samson that began like a house on fire but, "Johnny Wrestling" quickly found his footing in the contest when he put his boot into the side of Samson's head. He built up a bit of momentum only to be stopped dead in his tracks by the "Drifter," but throughout the match Samson seemed to be elsewhere and he was made to pay when Gargano rolled him up and just like that Samson was handed his first loss.
Post match Samson unleashed a vicious attack at ringside on Gargano yelling "I am what they need!" before smashing him into the ring post, and it would not stop there as Elias Samson would continue to beat Gargano down. That was until Apollo Crews made the save and he dared Samson to challenge him but he backed away, so Samson lives to fight another day.
Bálor Sends a Statement of Intent
Finn Bálor looked to send a statement to his challenger Samoa Joe as he took on NXT newcomer Rich Swann who was in the mood for dancing as he made his way to the ring. Swann however was coming against an aggressive Bálor with the champion grounding his opponent. Swann fought to try and escape but Bálor would not let the hold go. When Swann did actually escape from the hold he was able to build up a head of steam hitting Bálor with a flurry of kicks and then a hurricanrana.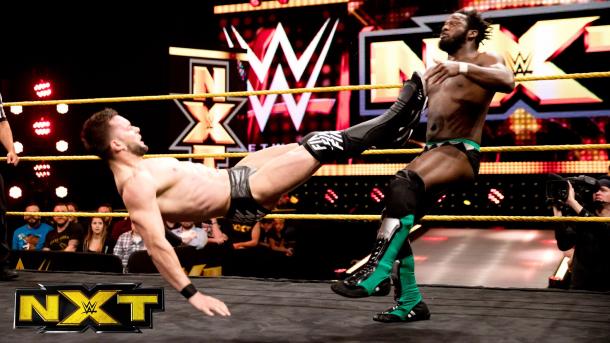 Swann then tried to take things to the air but he was cut off and the NXT Champion unleashed his full fury on Swann and he would hit the Coup De Grace, Bálor however put an exclamation point on this match and he spiked Swann on his head with a DDT which he has dubbed "1916" named after the Irish Rising on Easter Sunday 100 years ago. We saw a new side to the NXT Champion this week but will this newfound aggression be enough to defeat Samoa Joe.
Alexa Bliss Sparkles Once Again
While Bayley look towards her title defense at NXT Takeover: Dallas against Asuka this week's NXT provided Alexa Bliss a chance to prove herself as the rest of the NXT Women's Division looks to make a huge impression. Alexa Bliss took on newcomer Sarah Dobson who started with a dropkick to Bliss which ust seemed to infuriate her as she just took control from this point on stomping away at Dobson.
Then the newcomer regained control after catching Bliss with a wild knee off the top rope and began to assert herself but with Blake & Murphy at ringside this was always going to be a tough task and it was the former NXT Tag Team Champions that made the difference for Bliss as they distracted the ref and moved Bliss out of the way of an oncoming Sarah Dobson which gave Alexa the opening to hit the Sparkle Splash for the win.
Challenge Accepted
As Bull Dempsey made his way to the ring for a match with Danny Burch the Bull-Fit innovator never even made it to the ring for his match as he was attacked from behind by Samoa Joe who put Dempsey to sleep with the Coquina Clutch. Joe then introduced Danny Burch to the same fate as Bull Dempsey. The Rampage was Joe's way of sending a message to the NXT Champion Finn Bálor ahead of Takeover: Dallas: "You will not survive".
Asuka Is On The Crest Of A Wave
The main event of NXT this week saw the number one contender to the NXT Women's Championship Asuka take on Emma, who seemed to be a little confident and this could have been the downfall of Emma as she left herself open to the rather unusual offense of "The Empress of Tomorrow" who nearly ended the bout on several different occasions.
This was an unusual bout in that when Emma looked to be in the driver's seat, Asuka quickly took control of the match back and would apply some painful holds on her Australian opponent. But then Emma finally managed to turn the tide of the match reversing Asuka's ankle lock and sending the Japanese superstar crashing to the floor. From there Emma employed a good strategy of keeping Asuka grounded so she could not employ her hard hitting strikes going as far as having Dana Brooke attack her as the referee was distracted.
Alas this was not enough as Asuka was able to rally back and she began to unleash the hard hitting strikes and it looked as though there was nothing stopping Asuka from winning but Emma tried to steal the victory by pinning Asuka with her feet on the ropes, but was caught by the referee. After this Asuka would go onto win the match by cinching in the Asuka Lock and the question now becomes, will Bayley meet the same fate at Takeover:Dallas in just over a week?