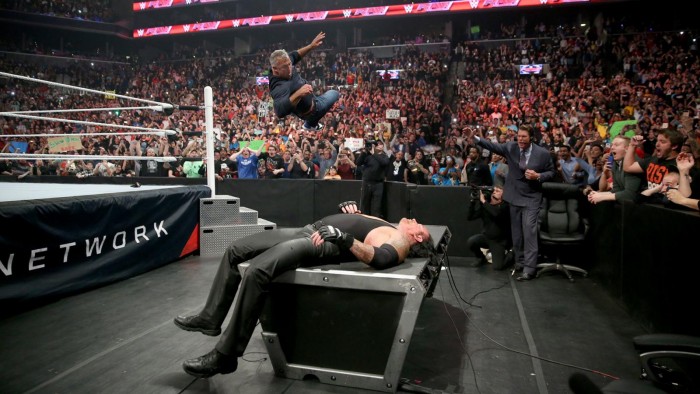 On a night that is expected to be exciting, we kick off the final Raw before WrestleMania with arguably the greatest competitor in WWE History, the Undertaker, who claims this "isn't his last WrestleMania." Taker claims that Hell in a Cell is his house (though his record may say otherwise), and his signature "Rest in Peace" shtick, before he was interrupted by Shane McMahon. A loud pop for the Undertaker, and a loud pop for Shane shows exactly why they booked it. It comes down to who you want to win. After a back and forth mic battle, Shane put the nail in the coffin (no pun intended), by saying, "lemme take you back to two years ago...your legacy died." Shane would start to take it away against the Undertaker, throwing jabs, Taker would attack Shane on the outside, before Taker went for the Last Ride through the announce table and Shane beat him on the table with a monitor. Shane hits his signature elbow from the top through the announce table to kick off the show with a "This is Awesome" chant. Whatever, this 'Mania match is going to be nuts. After Shane went to the stage, Taker sat up and went vintage Undertaker.
After an intense opening segment, we come back from commercial with...Zack Ryder v Chris Jericho? Apparently, it sprang off of a Raw Pre-Show interview, where Jericho interrupted Ryder. AJ Styles would enter the ring and talk him into accepting the 'Mania match. After a quick match, Ryder would go for the Broski Boot before countering into the Walls of Jericho, before Styles distracted Y2J long enough for Ryder to steal one, and then get a Code Breaker and have Jericho snap very WCW-esq on the outside. Jericho called him a rookie, promising his first Mania will be his last, and accepted the challenge. We then have the divas, as Becky Lynch takes on the Divas Champion, Charlotte, with their Sunday opponent, Sasha Banks, on commentary. After an above decent match, Becky takes out Ric, allowing Charlotte to hit the Natural Selection for the victory. Vince McMahon is interviewed by Renee Young, claiming he wanted an angry Undertaker and got it as Shane interrupts his father, claiming he will control Monday Night Raw. Next we have the Social Outcasts, where Axel said "Happy Birthday" as a tribute to his father. All of the superstars in the battle royal enter the ring and brawl. Big Show and Kane choke slam Mark Henry.
Triple H and Stephanie enter the ring and cut a promo on his upcoming match against Roman Reigns at WrestleMania. For the 20th time in history he walks down the aisle, and 9th time for the World Title (more than anyone else in history). After a fantastic promo by H, Roman Reigns enters and they start to brawl. H would roll outside the ring and Reigns would turn his focus on Stephanie, before she quickly retreated and Reigns stared them down. Next we have the New Day, though still kind of unsure if they'd work as face (which they are). Anyone who says that the New Day isn't over is fooling themselves. Booty'O's is officially the official cereal as WrestleMania. We then have a WrestleMania preview, as Kofi Kingston takes on the League of Nation's Alberto Del Rio. After a decent match, Kofi picks up the win in the upset. Jonathon Coachman enters the building, and announces that ESPN will be live AT WrestleMania and that he loves him some Booty'O's. Coach dances to Francesca....
Note: Xavier playing La Cucaracha on Franchesca #2 may be the greatest thing ever. The ending was really good, as Kofi pulled out the upset. Coach's dance was embarrassingly amazing.
During an interview, H and The Dudley's attack Roman Reigns as Triple H drapes the title over a stand and tells Reigns he'll never get the title and slams against him. The United States Champion Kalisto takes on former NXT rival, Konnor of the Ascension. In a quick match, Kalisto wins after the Solida Del Sol.
They could've done so much better with Kalisto. He's in a rather lackluster match with Ryback with zero build. Imagine Kalisto v Dolph Ziggler? Or a ladder match to highlight what Kalisto can do and Zayn v Owens for the IC title? Also, Ryback needs to stop with the feed me more.
Paul Heyman and Brock Lesnar enter the ring as Heyman picks up a mic. Heyman gives Ambrose credit, whilst making Brock mad, though saying it's a spoiler Brock will win and Ambrose comes out with a wagon. Ambrose loads up the wagon with everything from the steel steps, a crowbar, a fire extinguisher and the weapons gifted by Terry Funk and Mick Foley, and left....and it was perfection.
It was announced the Authority would have a promo at 'Mania? Why? The WWE doesn't need another promo waste of time at WrestleMania.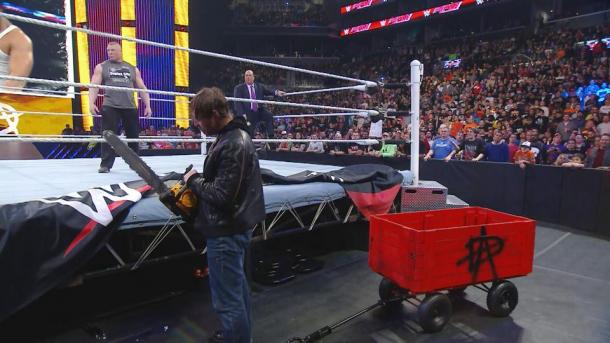 Emma (the best female wrestler in the world today) enters with Lana, Team B.A.D. and Summer Rae. Another NXT rivalry is renewed when Emma takes on Paige. Emma picks up the win after interference from Lana and everybody starts to brawl. Now we have...Eva Marie? Meh. Why would you put her on a face team? Brooklyn booed the snot out of her, and rightfully so. She's improving, but she isn't ready.
The final HoF class is announced as followed:
-Sting
-The Big Bossman
-The Fabulous Freebirds
-The Godfather
-Snoop Dog
-Jacqueline
-Stan Hansen
-Joan Lunden (Warrior)
That's one...odd class. Next we have KO (who had a great pop), The Miz and Stardust v Sami Zayn, Dolph Ziggler and Sin Cara. Brooklyn screwed it up with a Punk chant, during a great match. In an outstanding match ruined by the crowd, Stardust and Miz walked out on KO as Zayn hit him with the Helluva Kick for the win. You want to know why these guys aren't pushed? Crowd's like that who chant for CM Punk, New Day and Byron Saxton (of all people). Triple H re-enters, Reigns interrupts and we have a locker room clearing brawl close the show.
Though it felts like a lot crammed into three hours, the show was overall extremely well-booked and better than last week. 7/10, great for a go-home show.