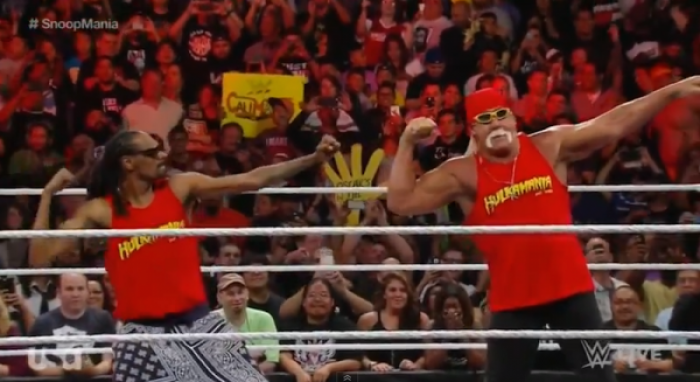 Ladies and Gentlemen, the WWE Hall of Fame just got a lot funkier, as Long Beach rapper Snoop Dogg gets the official nod from the sports entertainment juggernaut to join the Hall of Fame Class of 2016. Snoop Dogg will join the likes of Sting, The Fabulous Freebirds, Stan Hansen, Big Bossman, The Godfather, Jacqueline, and the newest recipient of the Warrior Award, Joan Lunden. But, don't think for a second that he doesn't deserve to join the Hall of Fame with these stars, his past proves for shizzle that he izzle (okay, that wasn't very cool at all).
Connections With WWE
Snoop Dogg has been seen on WWE programming sporadically dating back to 2009. His first appearance WrestleMania XXIV, where he served as the Master of Ceremonies for the Bunnymania Lumberjill Match between the teams of Maria & Ashley, as well as Beth Phoenix and Melina. Snoop arrived in style, leading the lumberjills to the match in a custom Mercedes-Benz cart, before introducing the Divas in a way only he could. After the match, Snoop got up close and personal with Maria's ex-boyfriend Santino Marella. After clotheslineing her former partner, Maria rewarded the Drop It Like It's Hot rapper with a smooch for his troubles.
Later in the year, Snoop would return to the WWE to be the guest host of Monday Night Raw. Not only did he make a blockbuster match between Triple H and John Cena, but he also proved his interaction with Santino Marella was surely not a fluke, as he speared the life out of Chavo Guerrero to protect Hornswoggle from the third generation Superstar.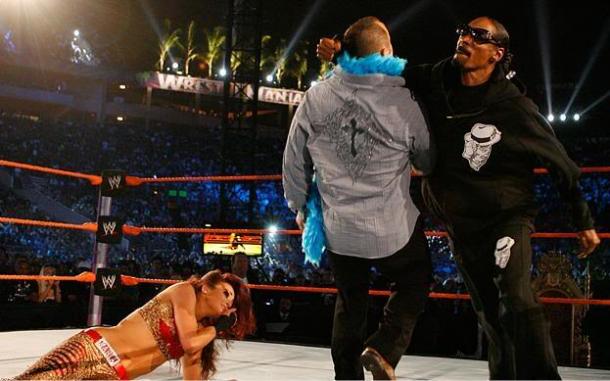 The Young Wild and Free rapper's most recent visit to the WWE Universe was in March of 2015, where he threw Curtis Axel out of the ring, and into the floor, and then began to flex with Hulk Hogan. As everyone has always known, Snoop has never been short on personality and star power, and now as everyone has found out, he is not short on WWE highlights either. But with such a great personality, who could induct the Top Dogg? One would have to think that the inductor has to be a Boss.
Possible Inductors
Sasha Banks- This is the most obvious, as well as being admittedly the most realistic candidate to be the legendary Snoop Dogg's inductor into the WWE Hall of Fame. Being his real-life cousin, and a prime star on the main roster, it only makes sense. If this writer had to pick someone, it would most definitely be The Boss, Sasha Banks, but let us humor ourselves and pick a few others, just in case, plus this next one may just be a miracle in disguise.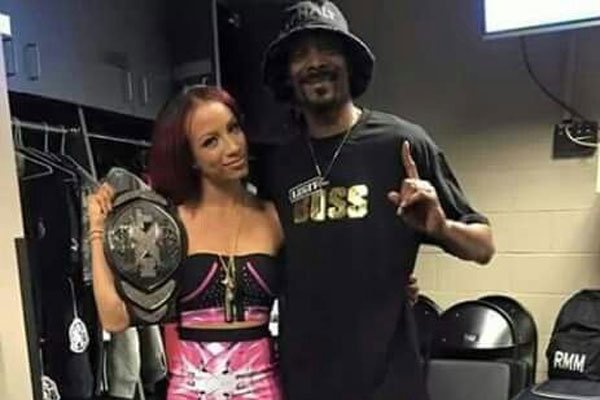 Santino Marella- Using Santino Marella to do what he does best, comedy relief, that is, may just be a Milan Miracle. Santino not only has a past with Snoop but he can entertain and hold a crowd like almost nobody else can. Also, Santino is arguably a future WWE Hall of Famer in his own right. But, perhaps a fresher face could be the perfect man for the job, whether or not this pick is socially acceptable, is the real question.
Curtis Axel- Now Trending: Snoop Dogg Hall of Famer, has a nice ring to it, right? Axelmania might just make a one night return to induct his old foe Snoop Doggy Dogg into the WWE Hall of Fame on April 2nd. For many of the same reasons as Santino Marella, Curtis Axel may very well be comedy gold, but if Sasha Banks isn't available, there's one person who would be even better than either of WWE's resident comedians, and yes, his time is now.
John Cena- By far the biggest name on this list, John Cena can entertain like nobody else on this planet. The undisputed face of the WWE for the past decade is a great choice to induct the Doggfather of rap into the WWE Hall of Fame on April 2nd. Never mind his mega-star status, his ability to engage any crowd, his fifteen world championship reigns and the fact that he is a sure-fire future first-ballot WWE Hall of Famer. Only focus on three words: Doctor of Thuganomics. Can you imagine the rhymes Cena could kick to kick off his induction speech for one of the greatest rappers of all time? But even as great as that sounds, remember, never bet against the Boss.
WrestleMania Bound?
Don't be surprised to see Snoop Dogg perform for his cousin, Sasha Banks' entrance at the granddaddy of them all, WrestleMania 32. Will he stop there? Or will he stick around to keep old man Flair at bay? Tune in Sunday April 3rd to find out!
What do you guys think? Does the Doggfather belong in the WWE Hall of Fame? If so, who should induct him? What's your favorite WWE/Snoop moment? Let us know on Twitter at @Vavel_Wrestling using the hash tag #SnoopHOF. Until next time wrestlemaniacs, this writer is signing out.