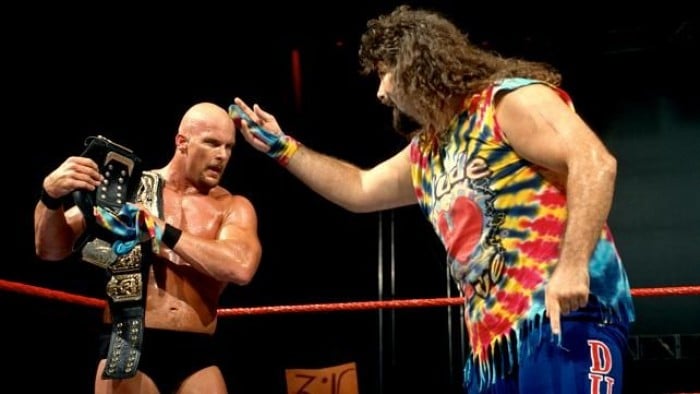 In an attempt to do something different, the WWE did this episode of the Stone Cold Steve Austin Podcast inside the ring at WWE Axxess (but no, that doesn't make this list)....As this is being written, this writer wants the crowd to stop with the "What!" chants already, but be that as it may, here we go with FIVE things learned, Steve Austin podcast edition with Mrs. Foley's Baby Boy!
Notable Story: After multiple cheap pops and what's and what nots, Mick Foley mentions WCW and 'Gentleman' Chris Adams (Rest in Peace) and our first thing learned. Wrestling and wrestling class, where he predicted Stunning Steve Austin to be a star. Austin mentions the gym, and that Foley lost weight, he's down fifty pounds, good for him...indirectly referring and crediting DDP Yoga. Foley mentions it's the lightest he's been since the Randy Orton match at Backlash (that match made VAVEL's "Top 10: Intercontinental Championship Matches" list). Nobody is happier to see Foley doing great than this writer!
5. When training with Domonic DeNucci, DeNucci sent a call to the legendary AWA, and he had trick photography done for Memphis. They booked him on how they thought he looked but kept him because he was different. He also went from Dude Love to Cactus Jack to get his name out before becoming "The Dude" and became Cactus Jack as a tribute to his father. Cactus would get the heat and become dangerous. When he was in none other than Dallas, Texas. As he was in character, he met a young lady that liked him, and they started dating. He would decide to not break kayfabe, as Foley claims it was great character building. The girl never found out he was Mick Foley. They'd break up, 'til he got a call of a worried girl because he was in a scaffold match. They'd get back together, but obviously break up again.
4. After meeting the Dynamite Kid and Bruiser Brody (Rest in Peace, Bruiser), Foley knew he wasn't the caliber athlete as Kid nor as wild as Brody, so he'd use his body as a weapon. The runner of the Sportatorium would think he could possibly break through the floor. Foley would build up a name, which would help in the near future. He always wanted to have the best match on the card, which should tell you how great of a performer Mick Foley truly was.
HOLY FOLEY!
3. We also learn early on that Holy Foley is officially a thing, and out comes Noelle Foley (with her own music), being introduced as his co-star. Holy Foley is set to air on the WWE Network in August, about his family. Even after the feud with Taker and MindGames with Shawn Michaels, Vince McMahon wasn't sold on Mick Foley until he saw Dude Love and footage of him and Noelle. It will be a Network drama and comedy. Noelle also announces that she dreams to be a WWE Diva. After Austin asks, she claims that she won't wrestle like Cactus. Filming will start in two weeks. Noelle would leave, and we'd go back to just Mick and Austin.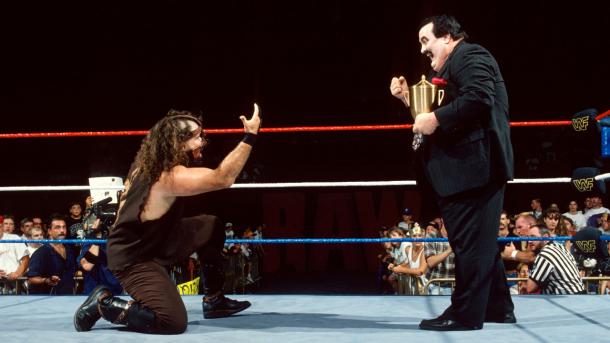 2. When the Mankind character was born, Vince wanted to call Foley "Mason The Mutilator" (fortunately that didn't pan out). McMahon wanted to take the mask that Taker used after Mabel (kayfabe) broke his face. In a 1995 booking meeting, Jim Ross pushed for Foley, and Vince agreed but made sure they covered up his face. Vince was initially against Foley, believe it or not, as he hated his work style. Foley of course, became a multiple time WWE Champion. 20 years ago, Foley debuted the Mankind character, against The Undertaker on Raw, after vignettes with George (a rat) in the bowels of the building. This feud would make Foley's career. Foley spent 4 days in his first week underneath the ring getting into the Mankind character and McMahon would finally become officially sold on the Mankind character during the famous interview with Jim Ross in 1997. They discussed the HIAC where Foley would be chokeslammed through the top of the cell with a chair pushing a tooth through his lip at the 1998 King of the Ring in Pittsburgh.
1. Foley is high on Dean Ambrose. Foley said he wanted force whenever he came back, like October 2014 with Seth Rollins and Ambrose (which is still a fantastic promo from Foley). Though originally against the segment, he wanted to get Ambrose something big, which was handing him "Barbie", his signature Cactus Jack barbed wire baseball bat. This was 2 weeks ago, and he didn't know how to approach it, in his words, and on air, he gave him a line, and it was un-taped, because Ambrose loved the line. He got the feeling that it was the most important thing he's ever done, which is a huge statement.
Overall, this was a really, really good podcast. Though Noelle may have been a tiny bit overboard, it was good exposure for not only Holy Foley, but Noelle, which helps in the long run.