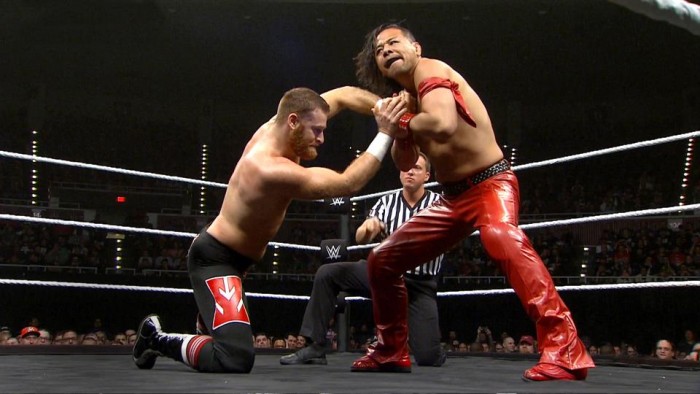 On a night with the debut's of Shinsuke Nakamura and Austin Aries, three titles were on the line, as The Revival faced American Alpha, Asuka challenges Bayley and Samoa Joe challenges Finn Balor.
Tag Team Action
NXT kick things off with the NXT Tag Team Championships, in a classic. As one of the biggest proponents of classic tag wrestling (Hart Foundation, Brainbusters, Fabulous Rougeaus) in the press, this was fantastic, from the booking to the story to the drama. Between a brilliant tag sequences and amazing psychology, this definitely ranks as one of the greatest tag team matches in the history of 'Mania weekend, joining the Steiner Brothers v Headshrinkers, Bulldogs v Harts, and The TLC II.
That may be NXT's Match of the Year. American Alpha are your new NXT Tag Team Champions! Next is Austin Aries' debut against Baron Corbin. In a more interesting match, Baron Corbin not only solidified himself as wrestling's top heel (other than Adam Cole), but did it whilst making Aries look like a million bucks in his debut. In the end, Aries countered the End of Days into a rollup for the win. Note: It looked like that one kid you don't pick on against the courageous idiot who picked a fight with the bully. The way Baron Corbin throws his opponents out of the ring is like he grabs you by the scruff of your hair, and throws you out like you're trash.
Where does the Nakamura v Zayn match begin? This match was literally perfect in every way. It had a compelling story, two of the globes best wrestlers, a hot crowd, hype, and time. A match that had everything you can ask for, a hard-hitting yet a great wrestling match using technical prowess and Strong-Style, a style made famous by WWE Hall of Famer Antonio Inoki, Sami Zayn and Shinsuke Nakamura put on a match that will not be topped the entire weekend.
Fans thought the tag match was outstanding, and then they got that. It's one of those matches you've always wanted to see, and it's everything you dreamed it would be. They were given 21 minutes and made it feel like an hour.
Next was Bayley defending her NXT Women's Championship against Asuka. In her best match since joining NXT, Asuka defeats Bayley.....is this how little kids feel when John Cena loses? Anyhow, Bayley had a counter for everything except the Asuka lock, where she passed out. It felt anti-climatic and not very emotionally investing. The match felt like it was still building the story when Bayley passed out. Either way, Asuka's your new NXT Women's Champion.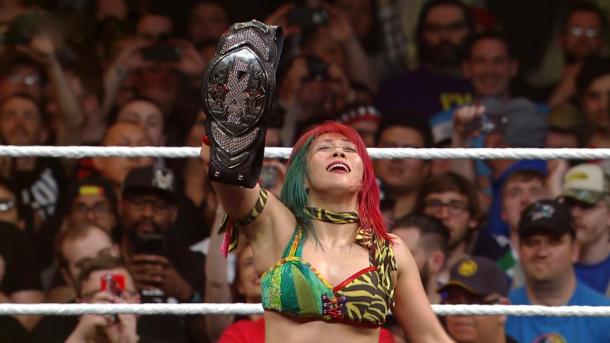 JOE IS BUSTED!
After Balor's Texas Chainsaw Massacre entrance, Balor and Joe brawled throughout the ringside area, with Joe getting cut wide open two minutes into the match, before Joe went through the ropes and punched him into the face. The match only three minutes in was already better than the London match, and it isn't that Takeover London's matchup was bad, it's that it took awhile to get the fans emotionally invested.
"I love blood in wrestling, it adds to the spectacle but when the blood is covering half of his face something has to be done. The fans are actually idiotic."~~Corey Brennan
In a match ruined by the crowd early on (after all the blood stuff), the referee and WWE NXT medical staff was sent out to clean up the blood, in what was an atrocious cut, and the crowd started to start some non-PG chants because they're angry they have to clean up the blood because of PG, in which it isn't about that. It isn't because of the TV rating, and fans don't comprehend that. It's more about Joe's health, and that's the most important thing, and you know, as great as this show was, and it's was great, between Nakamura and Zayn and The Revival and The American Alpha, this is the only thing we'll hear about, and it's quite frankly stupid and ignorant.
The "PG Sucks" chant has nothing to do with the contest being put on for them and they need to get over it. Samoa Joe doesn't have to put his health on the line and he's doing it anyway, it's as simple as that. Either way, in a very Bret-Piper, Austin-Bret esq ending, Balor picks up the win over Samoa Joe...

The show gets an 7/10 from this writer. Asuka and Bayley takes some points off, because of how anti-climatic it felt. Overall great show, with two of the best matches of the era. This is what not only NXT, but wrestling is all about. After this show, however, all that you're going to hear about is that. Not the booking, not how great every match was, you'll hear complaints about them protecting the guys working their tail off for our entertainment.