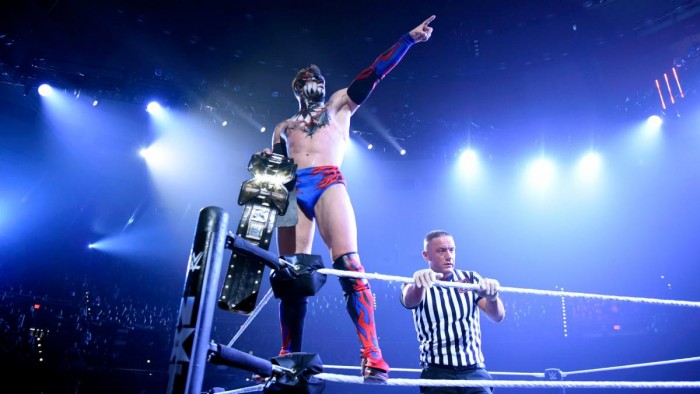 5. The Underdog Comes Out On Top
Whilst the debut of Shinsuke Nakamura was the most talked about heading into the event, fans were still certainly excited to see the debut of Austin Aries in NXT. The Greatest Man That Ever Lived took on Baron Corbin in a match that was in no means a classic, but still made both men look fantastic.
Corbin used his size and strength to his advantage, bullying Aries for the majority of the match whilst Aries used his speed to cause the big man problems. Aries also showed that he has plenty of tough fighting spirit here too, hitting Corbin with some huge shots including a forearm that sent Corbin flying out of the ring.
Even though the Lone Wolf dominated the majority of the match, it would be Aries that walked away on top pulling out a surprise victory after using a roll-up. This was an effective way to get both guys over with Corbin looking strong in defeat and Aries picking up a victory on his debut, this feud should now continue which most fans will be happy about.
4. Tag Team Wrestling Is Back
There has been a lot of talk and hype over the women's division in NXT and rightfully so, but the tag team division in NXT is just as strong and a revival of sorts is taking over. Two of the best teams in the company locked up at Takeover:Dallas with The Revival defending their titles against American Alpha.
This match was simply electric from start to finish with the crowd being fully involved. Jason Jordan and Chad Gable used all the energy they had to put on a wrestling clinic, whist the defending champions pulled out every heel move they could think of. In the end it was America Alpha who walked away to become the new champions and the emotion was clear to see on the faces of both men who have very big futures.
3. Women's Wrestling Continues To Flourish
Every since three of the Four Horsewomen left NXT fans wondered if the division would be able to maintain its high standard. Well if Takeover:London didn't prove it then Bayley's match against Asuka certainly did. Having to follow on from one of the greatest matches in NXT history is no small feat, yet both women put on a master class that kept the fans on the edge of their seats.
Bayley proved once again that she belongs at the top as she can work against any style with any story whilst Asuka showed she is ready to take over from the Hugger should she move to the main roster (which she should this weekend).
The match was brilliant and whilst the ending might not be to everyone's taste the shocked gasps of the live crowd showed just how much the fans care about these ladies. Women's wrestling is finally being respected and long may it stay that way.
2. Samoa Joe And Finn Balor Go To War
This match was always going to be an all out war between two of the very best hands in the company but it surpassed most people's expectations. It took just under two minutes for the tone to be set with Samoa Joe being bust open after a head butt, leading to blood gushing from his eye. His response to this? Throwing Balor over the barricade, taking out an innocent security guard in the process.
Both men traded huge blows throughout and it was a very intense match with Balor eventually coming out on top to defend his title. Another opportunity to debut the Balor Club not taken here, does that mean they have plans at some other stage in the weekend?
Side Note: There was a major issues revolving around the blood in this match with the WWE medical team stopping the match on three occasions to fix up Joes face. This results in the match's momentum being halted and major frustration from not just the fans but Joe himself. It was clear that Joe had the classic wrestlers mentality of just wanting to finish the match, but the doctors and the company were focused on his safety.
Fans chanted "PG Sucks" and whilst the PG aspect of WWE certainly has major flaws, this is not one of them. The WWE were not stopping the match due to the blood (Nakamura was busted open earlier on in the night) but due to concern over Joe's safety. It's not a PG issue.
1. Welcome Nakamura, Farewell Zayn
The match everyone had been waiting for certainly delivered and then some as both Nakamura and Sami Zayn left everything in the ring in what was more of a fight than a wrestling match. A tremendous match too might this writer add.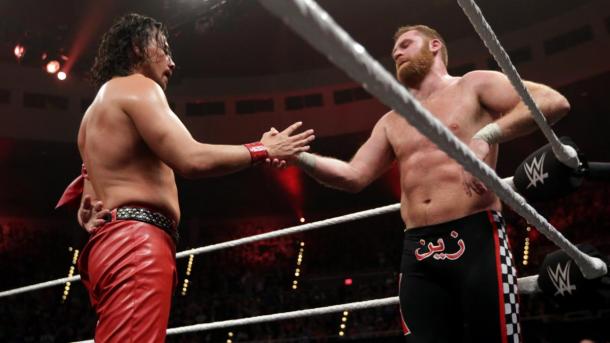 The King of Strong Style certainly lived up to his name, but not to be outdone, the heart and soul of NXT certainly gave as good as he got bringing his A game to the former New Japan superstar.
Both men left it all in the ring and even received a "Fight Forever" chant showcasing just how hard they worked. With Nakamura getting the victory on his debut a mutual show of respect was shown between both men before Zayn received a standing ovation in an emotional moment that seemed like a goodbye to his beloved brand.