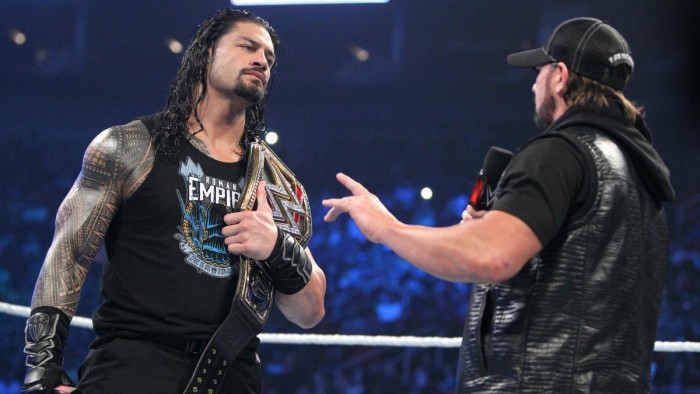 We kick things off on SmackDown with your NEW WWE World Heavyweight Champion, Roman Reigns. In a rather heel promo such as Monday, Reigns talks about how it's one versus all and he's THE guy, and doesn't care if you love him or hate him.
After taking it with a grain of salt, he claims that he'll beat AJ Styles. Styles interrupts Reigns to a loud pop. Styles congratulates Reigns on the title win, they shake hands and AJ said he's coming for the belt. Reigns talks about how he's never beaten him and never will as he leaves the ring. A Raw Replay is shown, and then they announce The Main Event...AJ Styles teams up with the King of Swing, Cesaro to take on Chris Jericho and Kevin Owens.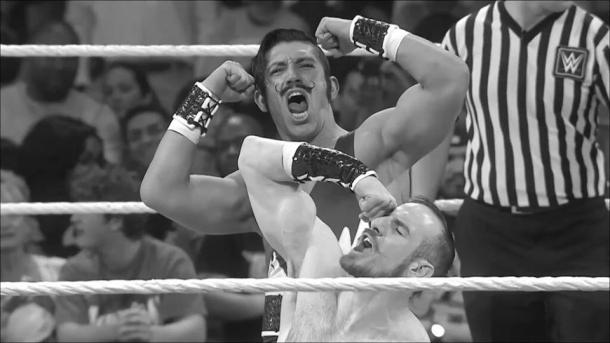 We come back from commercial to two former NXT Tag Team Champions, as the debuting Vaudevillains take on The WWE United States Champion Kalisto and Sin Cara. The excitement begins when Simon Gotch blind tags Aiden English and breaks up Kalisto's suicide-like dive. The Vauds double team as English starts to beat down Kalisto. After the Whirling Dervish, the Vauds dominate the Lucha Dragons. We get to the divas, as Summer Rae takes on Natalya with Charlotte at ringside. Natalya makes Summer tap after a decent match. It was great to see Summer get some offense in.
Next is Zack Ryder who not only shocked the world by winning the Intercontinental Championship at WrestleMania 32, but lost it the next night to the Miz, with the help of his returning wife, former Divas Champion Maryse. After a great, back and forth match, we have our first false finish after the "ElBro Drop" by Ryder. The Miz would rake the eye and hit the Skull Crushing Finale for the win....
The Social Outcasts rock, paper, scissor to see who fights Apollo Crews in his SmackDown debut, and Axel uses "The Axe" to win? This is why these guys are the greatest thing in the WWE not named New Day. Crews dominates Axel quickly, and we pan to a Corbin interview who claims that "The End of Days is already here." Breeze does the job to Dean Ambrose. In the Main Event Sami Zayn distracts Owens and Styles picks up the win via school boy as KO and Zayn brawl to close the show.
Notes
The gimmick will no doubt work for Reigns, especially if a full heel turn is in the foreseeable future, however, Reigns needs to not use "THE GUY" more than one time a promo. Two promos in and it's already old and too repetitive.
The Vaudevillians won't make it far. They're one of the best tag teams in the world, but don't expect them making it far. Being brutally honest, and it's the same case scenario for Tyler Breeze AND the Ascension, they have characters geared toward NXT that will bomb on the Main Roster, and it isn't their fault, at all. It's the main reason guys like Kevin Owens, Sami Zayn, Seth Rollins etc. have made it and the others have not. It's not that they're buried it's that they can't garner a reaction with those specific characters outside of NXTs main viewers, which is mainly a small portion compared to WWE. Kalisto, KO, Zayn, Rollins, all of the guys going big right now have characters we can relate to and have more of a WWE style character that they know how to use them. Be that as it may, characters like Breeze are too one dimensional for the main roster.
The Miz is a great hand, to get a guy over like he did with AJ Styles, and may be one of the most underrated workers today. When you have the Miz's heat it's hard to distinguish the go-away heat that Eva Marie has from heel heat. The Miz has heel heat
All in all, a fantastic show. 8/10