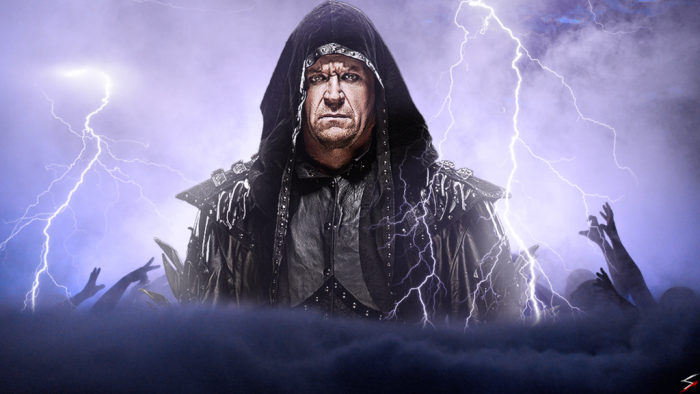 The Undertaker has been a WWE superstar for over 20 years and is regarded as one of, if not the greatest of all time. A nod of respect from The Phenom could set your career on the path to success in his later years of regular competing. However, in recent years The Deadman has been showing signs of humanity which doesn't bode well for a character that weighs so heavily on the supernatural. From his concussion at WrestleMania 30 or the removal of the outside dive from his move set to the slower matches, Undertaker is slowly becoming human.
Forgetting About Kayfabe​

Now, this is not a bad thing because kayfabe as we know it is dying already. Even Vince McMahon's son in law, Triple H, breaks kayfabe from switching between the evil, tyrannical leader of The Authority and the real man, who runs NXT and has been seen on WWE Network series 'Breaking Ground'. But Undertaker used to hold the breaking of kayfabe as the highest of sins. For example, at Elimination Chamber 2011, the man was almost burned alive if not for his quick thinking and removing his long jacket when his pyro exploded in his face.
However for the remainder of the match, Undertaker did not ask for any kind of medical assistance nor did he even answer the referees who can be clearly heard asking him if he needs any, all he would do was empty bottles of water over himself to cool himself down while in his chamber pod. Then when he was brought into the match, he was the same hard hitting veteran fans knew him as and you wouldn't know the difference if not for the huge red burn on his chest.
That was just five years ago and now, Undertaker is talking more on the mic than ever before, he looks more and more human. And for a character like The Undertaker, that's not a good trait.
Battling The Beast

WWE have not helped Undertakers fall from grace however, by giving him three matches with Brock Lesnar, the stiffest worker in the WWE, one including a Hell In A Cell match. Now, Undertaker has put on amazing matches with Brock in the past but a 50 year old man can not step into the ring with Brock Lesnar and come out unhurt. WrestleMania 30, Taker was concussed. SummerSlam 2015, Undertaker collapsed on the way backstage. Hell In A Cell 2015 Undertaker looked shaky on his feet. (yes, could easily be selling but based from past matches...)
Although Undertaker probably thought these were the best matches on paper, he didn't think about what they would do to his own body. He is a broken shell of his former self and it all began with Brock Lesnar.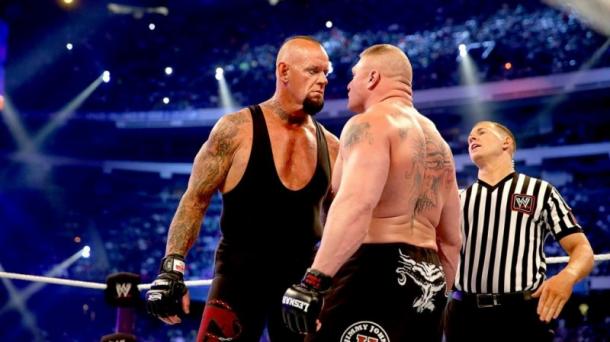 Going Old School

This isn't accusing Undertaker of hogging the limelight because, even if he was, there would be no problem with that. Undertaker has given his body for 25 years to the industry and it would be the ultimate disrespect to even whisper that accusation.
Perhaps he believes he has to die in that ring. You may smile at that comment and think its ridiculous but this is Mark Calaway we're talking about, he is old school to the tee.
He is also incredibly stubborn as has been shown in the past. But as far as this writer see's it, if he can go, let him keep going. His legacy is impenetrable you do not go 23-1 at WrestleMania and ruin that by having a few bad matches. As far as his legacy goes, it will never, ever, be tarnished.