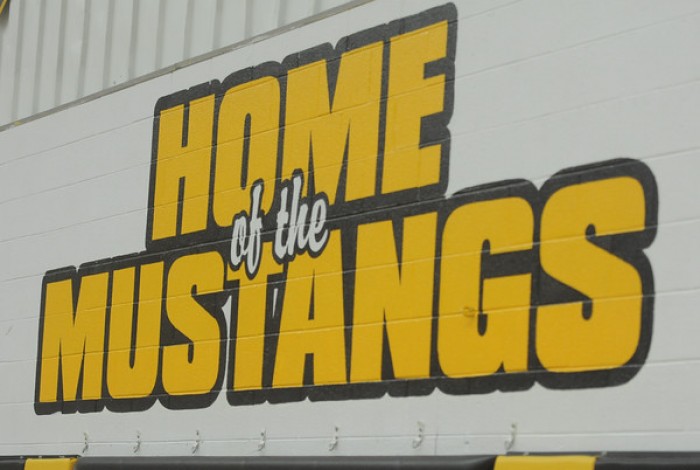 MACOMB, Michigan -- The Notre Dame Prep Fighting Irish and Lutheran North Mustangs split a doubleheader on Tuesday afternoon at Lutheran High School North. Notre Dame Prep won 7-0 in Game 1 and Lutheran North bounced back with an 11-1 victory in Game 2.
Game 1
Matthew Pezolt, a freshman, toed the slab for Notre Dame Prep and went the distance to give the Fighting Irish a 7-0 victory over the Mustangs at Lutheran High School North.
The pitcher gave up just two hits and four walks across 7.0 innings of work. Pezolt struck out 12 batters and got a first pitch strike on 17 of 27 batters faced.
The only hits recorded by the Mustangs came off the bat of Kevin Kapanowski, who finished 2-for-3. Meanwhile, Charles Kruse, Noah Fiehn, Nick Lesch and James Neimeyer drew walks against Pezolt.
On his 18th birthday, Neimeyer gave up seven runs (six earned runs) on six hits and five walks, while recording eight strikeouts. The senior pitcher made it 5.2 innings before Austin Monroe retired the final Fighting Irish batter with a punch out.
The offensive for Notre Dame Prep was sparked by Joseph Argo and Luke Zerona, who tallied four hits, one walk and three RBI.
Game 2
Lutheran North scored six runs in the first inning to build momentum and cruise to an 11-1 victory over Notre Dame Prep in Game 2 at Lutheran High School North.
The first run of the game for Lutheran North was scored on a wild pitch in the bottom of the first inning. James Neimeyer, who got on-base with a single, scored to get the Mustangs on the board. Michael Barno scored Charles Kruse and Andrew Lech on a double to right field for a 3-0 edge, which turned into a 6-0 lead after the first frame.
The Mustangs added two runs in the second inning and three runs in the third inning to take an 11-0 lead.
Starting pitcher River Shea and reliever Parker Borowski issued 10 walks to Lutheran North, three of which went to Kruse. The duo allowed 11 runs (eight earned runs) during 4.0 innings pitched. Shea and Borowski both struk out three Mustangs.
Notre Dame Prep finally got on the board in the top of the fourth inning. Benjamin Mancini hit a sacrifice fly and Kory Czajkowski touched home plate.
Barno, the starting pitcher for Lutheran North, was brilliant on Tuesday afternoon through 4.0 innings. The senior gave up just one run on two hits and one walk with four strikeouts. Not only did he play well on the mound, Barno went 1-for-2 with two RBI and a run scored.
With a 10 run lead, Jack Hilt relieved Barno on the mound and finished the game with a scoreless fifth inning to finalize the 11-1 win for Lutheran North.
Up Next
Lutheran North will duel against the Lake Shore Shorians on Thursday, April 14th at Lutheran High School North. First pitch will be tossed out at 4:30 PM ET.