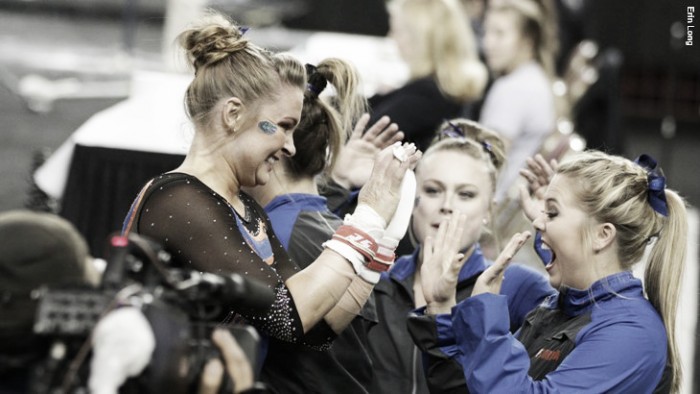 Florida, LSU, and Georgia all put up outstanding performances to reach the Super Six team finals out of preliminary semifinal one at the NCAA Women's Gymnastics Championships in Fort Worth. Florida came in first with a 197.475, while LSU came in second with a 197.3375, and Georgia taking the final Super Six spot with a score of 196.725.
Florida dominates, takes first in semifinal one
The Florida Gators put up an outstanding performance to take first in their prelim, putting up a score of 197.475 to qualify for the Super Six. The three-time defending national champions began with a bye, before traveling to floor exercise, where all-Americans Bridget Sloan and Kennedy Baker each put up 9.900s, with Alex McMurtry posting a 9.8625. The Gators next went to vault, where they Bridget Sloan, Alex McMurtry, and Kennedy Baker again came up big, each getting 9.900s, the best vault scores of the session.
This year's SEC Champions and regional champions then had a bye, before going to the uneven bars for rotation five. 21-time All-American Bridget Sloan put up another outstanding routine, posting a 9.950, before fellow senior Bridgette Caquatto received a 9.900, putting Florida in prime position to qualify for the Super Six. The three-time defending national champions finished strong on balance beam, with another superb performance from Sloan, putting up another 9.950, along with 9.8875 from sophmore Alex McMurtry and freshmen sensation Alicia Boren. The Gators finished the meet winning their semifinal for a fourth consecutive year, after success in 2013, 2014, and 2015, all of which ended in national titles.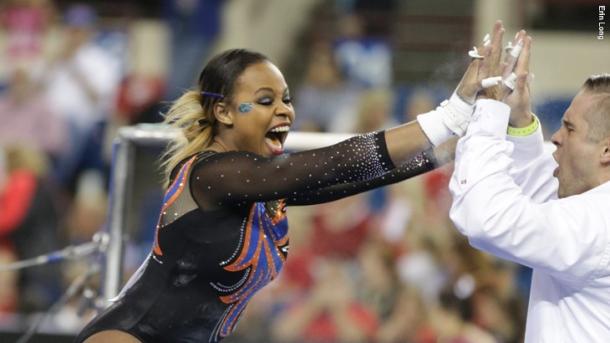 LSU shows explosive routines, finishes second
The LSU Tigers began their meet with a bye, starting off on the uneven bars. Freshmen Sarah Finnegan posted an impressive 9.900, with Myia Hambrick and Lexie Priesmann receiving 9.8875s on their bar routines. The number three ranked team then moved to the balance beam for rotation three, with All-American Ashleigh Gnat putting up a 9.900 and Myia Hambrick and Erin Macadaeg each posting a 9.875 for the Tigers.
The Tigers had a bye in rotation four, before going to their best event, floor exercise, for rotation five. The key for LSU on floor this year has been their explosive tumbling and routines, with each teammate spurring the other on to even higher heights on the floor. Sophmore Myia Hambrick received the best floor score on the team, posting a 9.925, with LSU's best floor performer, Ashleigh Gnat, putting up a 9.875, a good score but a far cry from her three perfect tens on the apparatus this year. Jessica Savona also received a 9.8875, before the Tigers went to vault to finish out their session. On vault, junior and All-American Ashleigh Gnat received a 9.925, with Myia Hambrick putting up a 9.875 to send the Tigers to their fifth Super Six appearance in program history.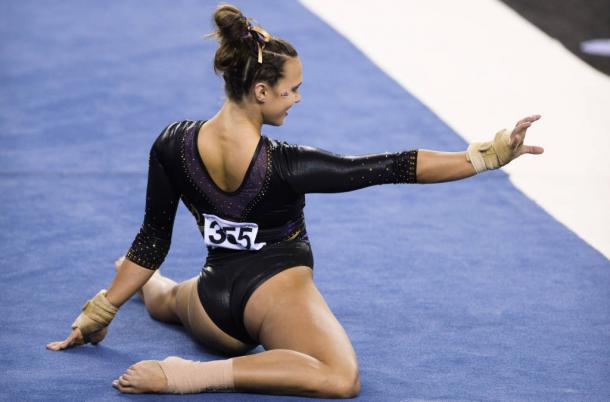 Georgia hangs on to clinch third and final spot
The Georgia Gymdogs clinched the third and final spot for the Super Six in semifinal one. The Gymdogs put up an overall score of 196.725, to take the final spot over fourth place Stanford. The Gymdogs began on balance beam, where senior Mary Beth Box posted a 9.8625 and Ashlyn Broussard received a 9.850. The sixth ranked Gymdogs then had a bye, before going to floor exercise, arguably Georgia's best event. All-American Mary Beth Box put up a 9.875, on what was one of Georiga's lower floor performances, but solid enough to keep them in contention for the final spot.
Georgia then traveled to vault, where senior Brandie Jay posted a 9.950 and fellow senior Brittany Rogers, who competed last weekend at the Pacific Rim Championships for Canada, put up a 9.900. The Gymdogs had a bye in rotation five, before going to the uneven bars for their final rotation. Senior Brittany Rogers came in clutch, putting up an impressive 9.950, as the final performer to clinch the Gymdogs' spot in the Super Six.