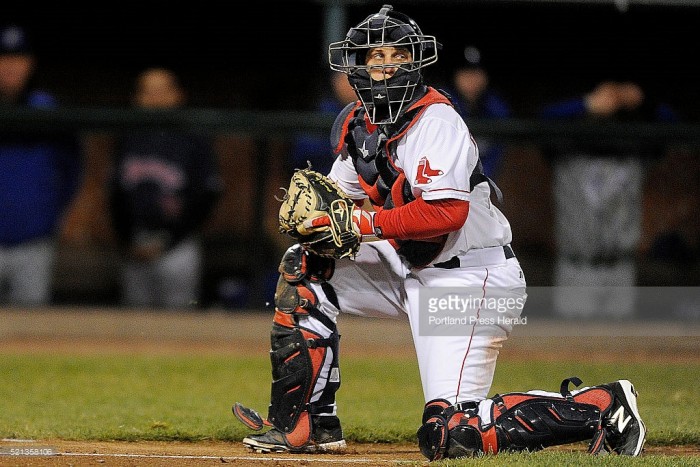 On April 16, 2008, the Portland Sea Dogs played their longest game in franchise history, a 17-inning bout with the Connecticut Defenders. On the eve of the eighth anniversary of that game, which took over five and a half hours, the Sea Dogs and Defenders, now relocated to Hartford and named the YardGoats, celebrated with another 17-inning marathon. Hartford catcher Jackson Williams sealed the win with a three-run double in the seventeenth inning to pick up the 5-2 win for the YardGoats. Williams led all hitters with four hits. He scored Hartford's first two runs and drove in the last three. He was complemented by multi-hit games from David Dahl, Dillon Thomas, and Ashley Graeter. The Sea Dogs were led by Tzu-Wei Lin who picked up three base knocks, while both Aneury Tavarez and Rainel Rosario picked up a pair of hits each. The game looked to be a quick one as starting pitchers German Marquez for the YardGoats and Teddy Stankiewicz for the Sea Dogs settled into an old-fashioned pitching duel.
Marquez Spins Seven Scoreless Innings
German Marquez is the only Yardgoats' pitcher on the 40-man roster of Hartford's parent squad, the Colorado Rockies. Marquez pitched like it on Friday night, twirling a seven-inning shutout, scattering six hits. He only struck out three batters, but he also induced nine ground-ball outs. He almost surrendered an early run after Tavarez singled and stole second to put himself in scoring position. However, after Rosario grounded a single up the middle, Tavarez was cut down trying to score. After that, Marquez settled down. He allowed a few hits but scattered them easily. He kept his pitch count down but, after giving up back to back singles in the seventh inning before escaping the mini-jam, Marquez was pulled after seven spectacular innings and just 80 pitches. His ERA after two starts is a miniscule 0.90.
Stankiewicz Hurls Another Gem
Teddy Stankiewicz broke onto the Double-A scene with a six-inning one run performance in his first start. He came back and duplicated that in his first start at Portland's Hadlock Field, firing six near-flawless frames, surrendering just three hits and one earned run. He struck out five while walking none. Stankiewicz was almost perfect through five innings, surrendering just one infield hit to the YardGoats. He mixed a low-90s fastball with an effective changeup and curveball. However, he received no offensive backing and the game was still tied into the sixth inning.
Offenses Finally Break Through in Late Innings
Hartford got to Stankiewicz for the first run of the game in the sixth inning. Williams served as the sparkplug, blasting a leadoff double to deep right field. A single advanced Williams 90 feet before he scampered home on a sacrifice fly. That advantage looked like it might hold up, courtesy of the stellar pitching from Marquez, but, after Marquez's departure, the Sea Dogs finally scratched out a run. Wendell Rijo banged a leadoff double of the "Maine Monster" in left field. Portland almost wasted the opportunity with consecutive ground-outs, but Lin came up clutch for the 'Dogs. Lin connected with a Texas-Leaguer to left field that scored Rijo. Hartford reliever Rayan Gonzalez was charged with the blown save. The run also saved Stankiewicz from a tough-luck loss.
Hartford Wastes Big Threat in 12th Inning, Scores in the 13th frame but Portland Responds
Neither team would seriously threaten to score again in the regular nine innings, which were completed in a breezy 2 hours and 10 minutes. Mike McCarthy and Chandler Shepherd combined for five scoreless innings for Portland, while Hartford used Gonzalez, Austin House, and Shane Broyles to keep the Sea Dogs off the scoreboard. Hartford generated a huge scoring threat in the twelfth inning, putting runners on second and third with nobody out against reliever Heri Quevedo. However, Quevedo got a pair of strikeouts and a groundout to escape the inning alive. Quevedo saved Portland's bullpen, hurling five innings. He would allow one run in the thirteenth inning, but that was the lone blemish on Quevado's stat sheet. Jackson Williams sparked Hartford's thirteenth inning rally again, leading off a single. Another single and subsequent sacrifice bunt advanced Williams to third base again where he, again, scored on a sacrifice fly. It seemed like the game might finally be heading towards the end, but Portland had one more answer. Lin singled to begin the inning and took a large lead off of first base. Down by one run, it seemed probable that the speedy Lin would attempt to steal second base. Pitcher Matt Carasiti spun and fired to first base but the throw was wild and rolled down the right field line. With his speed, Lin was into third base without a problem. This positioned him to score an unearned run after Tavarez lifted a high fly to left field, tying the game at two runs apiece.
Portland Haunted by Jackson Williams Once More
Jackson Williams had caused havoc all night long, sparking two rallies for Hartford that produced their only runs of the game. And he wasn't quite done. After Quevedo kept Hartford mostly silent for five innings, he exited in favor of Simon Mercedes. Mercedes was victimized by an error to lead off the inning. A sacrifice bunt and two infield singles loaded the bases with one out. Williams came up and hit a high chopper down the third base line. The ball cleared the jump of Jose Vinicio and rolled into the corner, scoring all three runs. It wasn't the big bang finish that those fans that remained from the initial 4,443 people were hoping for but it was very effective. Portland failed to generate a threat in the bottom half of the inning and the game ended after 4 hours and 33 minutes.
Matt Pierpont Dominates in 4 No-Hit Relief Innings
Often in a minor league baseball game that extends past the 14th or 15th inning, fielders are often brought in to pitch. However, the YardGoats were saved by an absolutely dominant outing from Matt Pierpont. The sixth Hartford pitcher of the night, Pierpont shut down the Sea Dogs, allowing no hits over four shutout innings. He walked two batters and struck out four. He allowed only one runner to second base during his outing. Pierpont's outing not only saved the game for Hartford, but he also saved their bullpen as much as possible.
But, no matter how well Pierpont pitch, he couldn't erase the fact that Hartford used six pitchers in the 17-inning victory. Portland used five pitchers. They meet again at 1pm on Saturday, barely 14 hours after this game finished. They'll hope for long starts from their starters.
And hopefully this one might end in nine innings.