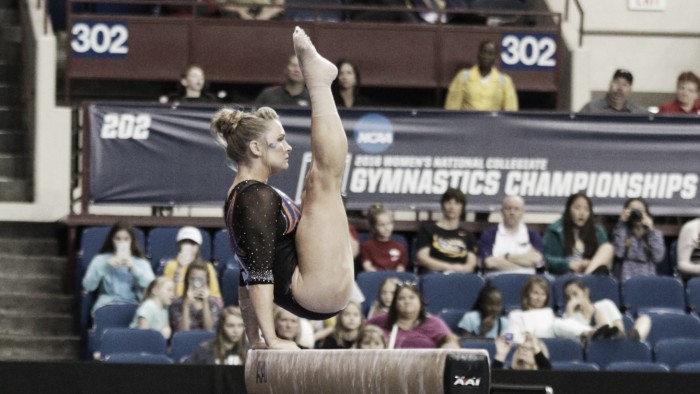 21-time All-American senior Bridget Sloan won her second career NCAA Women's Gymnastics All-Around title, with a score of 39.700 to clinch the title in Fort Worth. Sloan came first in the all-around, while Chayse Capps of Oklahoma finished second, with LSU's Myia Hambrick placing in third. Along with winning her second all-around title, Florida's Sloan also won first on uneven bars tied with Brittany Rogers of Georgia, and on balance beam, tied with UCLA's Danusia Francis. The 2008 Olympian, who is competing in her final gymnastics meet, also won the all-around and balance beam title in 2013, and the uneven bars in 2014. Also winning event titles was Katie Bailey of Alabama and Brandie Jay of Georgia on vault, and individual performer Nina McGee of Denver on floor exercise.
Sloan discusses second career all-around title
"Even if you're getting a 10 on everything you're probably saying, 'I can do better,' " Sloan said. "I really couldn't have asked for a better performance. At the same time, there are things I can work on. That's how prelims go. I don't want to say prelims are survival, but you want to go 4-for-4. You want to hit all your routines."

"Bars has been one of our better events but it was nice getting floor and vault out of the way. We were super hype going into vault and floor. Before we walked out for bars I said, 'all right guys let's do this'. You could tell in every one of my teammate's eyes that they wanted it. It was awesome seeing that as an upper classman, looking at the freshmen. Alicia (Boren) did not have the best vault day of her life but she had an incredible bar, incredible beam. It is really awesome knowing when I leave I can think back and realize that this team is so full of talent." added Sloan.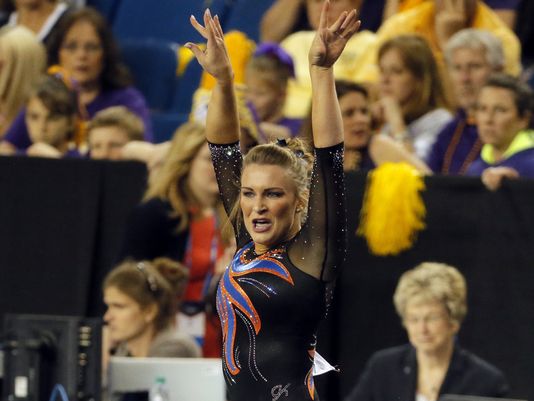 Sloan's legendary gymnastics career
Bridget Sloan has achieved just about everything in gymnastics, especially collegiate gymnastics. Sloan, a 21-time All-American, has won two all-around titles in 2013 and 2015, three team titles with the University of Florida in 2013, 2014, and 2015, and has also achieved the gymnastics grand slam, having received a perfect 10 on all four events in her career. The senior from Naperville, Illinois, made the 2008 Beijing Olympics team, where Team USA placed second to host country China. In 2009, Sloan won the US all-around title, and the world all-around title. The 21-time all-American will finish her gymnastics career tonight at the NCAA Women's Gymnastics Championships in Fort Worth, as her and her team look for their fourth straight NCAA Women's Gymnastics Championship.