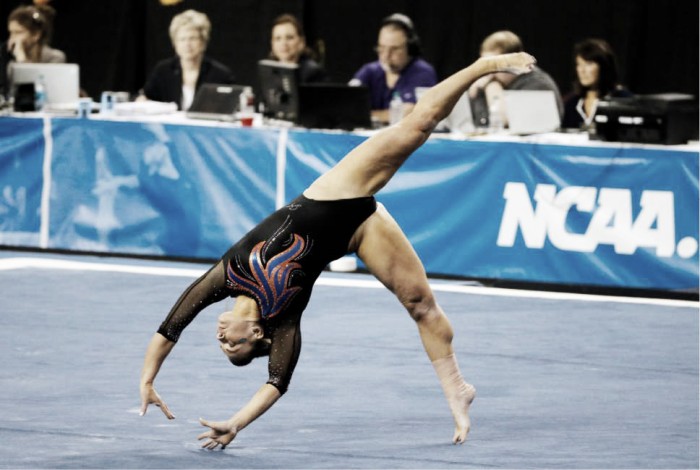 Florida Gators head coach Jenny Rowland discussed her team's chances at the Super Six Team Finals and the pressure of being the three-time defending national champions. Rowland, who has never won an NCAA National title, is in her first season at Florida, after former coach Rhonda Faehn left after leading the team to back to back to back national titles in 2013, 2014, and 2015 for a position at USA Gymnastics. Rowland previously was the associate head coach at Auburn, where she led them to their first Super Six appearance in 22 years last year.
Rowland discusses the Super Six
"Every team that makes it to the Super Six is a good team, they would not have gotten there if they were not. I think tomorrow is going to be absolutely incredible. You are going to see the best of the best in college gymnastics. I think it is going to be a great day," said Rowland.
When asked about the team's confidence going into the first semifinal, Rowland said, "Absolutely, yesterday was probably one of the best trainings that we had on podium. After yesterday's practice I knew this team was ready to go today."
When discussing the team's performance in prelim one, the head coach said, "I could not have asked for more today, it was a team oriented competition and we hit 24-for-24, we had some mistakes. We didn't have a perfect meet I do not think anyone can say they had a perfect meet."
Rowland on filling Faehn's shoes at Florida
"Everyone asks, 'Are you going to win a fourth one?' I've never won one before," Rowland said. "This is an opportunity for me to help this team win another championship and it would be the first time I've had a championship of my own."
When asked about her experience as the head coach at such a storied program, Rowland said, "It is a dream, I pinch myself every day. It is an opportunity that I am grateful for every day. It has been an amazing season being able to take on a team filled with energy, filled with passion and get to know them a little better one-on-one. We have only had a couple of months to build bonds and relationships. It has been an amazing process."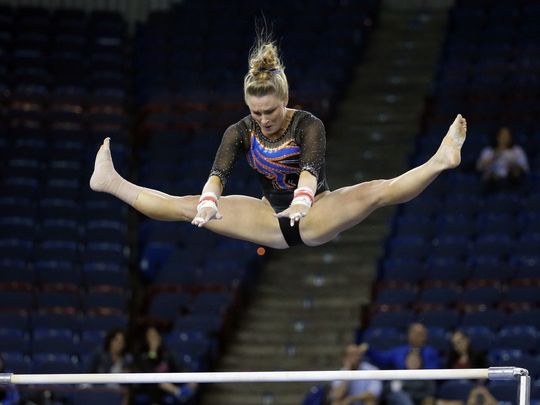 Gator gymnasts on the upcoming Super Six
21-time All-American and all-around champion Bridget Sloan said, "Every team at Super Six is good. Every team wants to win," Sloan said. "[Saturday] will be incredible."
"Waking up this morning, I was like, 'OK, here we go!' Kind of my last go-around," added Sloan, who is competing in her final gymnastics meet of her career tonight at the Super Six.
Sophmore and All-American Kennedy Baker said, "We were relaxed, just sort of chillin'. "
"That's our time to shine," added another All-American sophmore in Alex McMurtry.