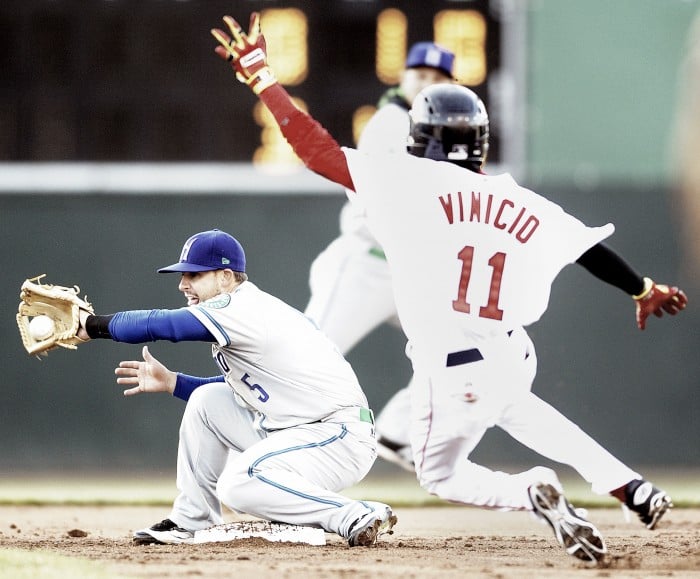 Never had a 1-0 pitching duel turned ugly so fast.
Up 1-0 after six innings, the Portland Sea Dogs allowed eight runs, five of them unearned, in the final three frames to lose their third straight game, 8-1. The loss clinched the series win for the Hartford YardGoats, who won the last three games of the four-game set after dropping the opener on Thursday. Simon Mercedes was marked for his second loss of the series, plus a blown save. Kyle Freeland got the win for the YardGoats. Rosell Herrera and Zach Osborne led Hartford with two hits apiece. No Portland hitter had more than one hit or an extra-base hit. Only Aneury Tavarez and Jordan Tavarez reached base twice, with a single and a walk each.
Wilkerson strong again
The Portland Sea Dogs may not have a 217 million dollar ace like their parent club, the Boston Red Sox.
But they are pretty happy with the one they have.
Aaron Wilkerson has taken the long road through the minor leagues. An undrafted free agent, Wilkerson spent a couple of years in the Independent Leagues before being signed by the Boston Red Sox in 2014. Wilkerson wasn't given any kind of headstart due to his age, as he was sent to Low-A Lowell.
However, Wilkerson pitched his way through the levels, hurling to the tune of a 3.10 ERA and an 11-3 record. And thus far in 2016, Wilkerson, now 26 years of age, is looking every bit the ace for the Sea Dogs.
Making his third start of the season on Sunday afternoon, Wilkerson fired six scoreless innings. For the third consecutive start, Wilkerson allowed just two hits. He walked one and struck out five. His ERA shrunk to a miniscule 0.54. He surrenders just 0.54 baserunners per inning and is averaging 11.88 strikeouts per nine innings. He was just as dominant as usual on Sunday, mixing in a changeup and curveball very effectively with his fastball. He was very trusting with his changeup, firing it 20 times, 11 times when he was behind or even in the count.
Meanwhile, his fastball, which clocked in right around 90 mph, was blowing by batters, generating 8 swings and misses on his heater. However, Wilkerson was robbed of a well-deserved win when Simon Mercedes couldn't hold the lead in the seventh inning.
More Strong Starting Pitching for the Hartford YardGoats
Kyle Freeland, Hartford's starting pitcher, entered today's game with some big expectations. Hartford's previous two starters had each gone seven innings, allowing zero and two runs respectively. However, Freeland continued the trend of spectacular Hartford outings. Freeland made it through seven spectacular innings himself, surrendering just one unearned run and five hits.
Freeland kept the YardGoats in the game until they could stage their comeback. His ERA shrinks to just 1.50. He has allowed just 0.96 runners per inning and struck out four more batters to add to his season total of 10 on the season. His lone 'blemish' was the unearned run he surrendered in the third inning when Hartford made two errors in the frame. He pitched out a major jam with only minor damage in that inning. Faced with a bases loaded and one out jam, Freeland escaped with only one run having crossed the plate.
Simon Mercedes Roughed Up by YardGoats Once More
Given a 1-0 lead to protect, Simon Mercedes only retired one batter in the seventh inning before he gave it up. After being charged with the loss in Friday's 17-inning loss, Mercedes gave up five runs (three earned) in two innings. He gave up six earned runs over three innings in this series. After a walk and a strikeout to begin the inning, Mercedes allowed Ashley Graeter to take him deep on a ball that barely cleared the yellow line in right field. He escaped the seventh inning without further damage but gave up three more runs in the seventh inning to put the game out of reach.
Only one run was earned, courtesy of a bad throwing error by shortstop Tzu-Wei Lin. Hartford got the runs on RBI singles from Rosell Herrera and Ryan McMahon, plus a run-scoring double play by Graeter. David Dahl sparked the rally with a double down the left field line to put two runners in scoring position. Mercedes finished the series with two losses, a blown save, and a 18.00 ERA. He'll be happy to see the YardGoats get on the bus from Portland.
Sloppy Game Costs Sea Dogs in a Big Way
The Sea Dogs made two errors while Wilkerson was pitching, but he was able to pitch his way around both of them. However, when Mercedes, and then Rob Wort, took over, Portland made three more errors, which cost the Sea Dogs several runs. A throwing error by Lin produced two unearned runs in the eighth inning.
A lazy fielding error by left fielder Aneury Tavarez saw three more unearned runs cross the plate in the ninth inning. Sloppy fielding by the Sea Dogs turned what could have been a close game into an ugly blowout in the late innings. Rob Wort, who pitched the ninth inning for the Sea Dogs, was the victim of the subpar fielding in the ninth inning. Hartford made four errors of their own but they only translated into one unearned run for the Sea Dogs.
Quick Hits
Up Next
The Sea Dogs are happy to see the red-hot YardGoats (8-3) leave town and will welcome in the Trenton Thunder, Double-A affiliate of the rival New York Yankees. Meanwhile, Hartford while travel to New Hampshire.
Home Away From Home
Hartford will be coming back to Hadlock soon enough, as they return on Friday, but not as the visiting team. With their new park still under construction, the YardGoats are playing their home games at the visiting teams' parks, but playing as the home squad. Hartford will play four games in three days with Portland (a double-header on Saturday) as the home team approximately three hours north of their actual home park.