The Fort Wayne Komets got another win over the Utah Grizzlies on Saturday night extending their series lead to two games to zero. For the second game in a row the Komets started their scoring very early into the game. Both teams will now head to Utah, where they will face off for games three through five.
Komets open up scoring right away again
For the second night in a row the Komets had a goal within the first minute of the game. Tonight, it was Brett Perlini who opened up the scoring for the Komets. Perlini was able to find the net .22 seconds into the game. This goal would be the only one for the Komets in the first period, but in the second and third period they scored four more goals. Utah was also able to score in the first period and their goal came just before the end of the first period. Barry Almeida, who has had himself a very good playoffs, scored a goal with one second left in the first period. Almeida struck again in the second period, which for the moment gave the Grizzlies a two to one lead.
Not long after that though Alex Belzile was able to score the tying goal to make it a two to two game. Belzile wasn't done scoring on the night though. 5:57 into the third period of play, Belzile found the back of the net yet again and this time it was to give the Komets the three to two advantage. Perlini also added another goal to his good evening to extend the lead to four to two. Charles Sarault was able to make it a one goal deficit late in the third period. The Grizzlies would not be able to score again though which ended up leaving them no choice but to pull their goaltender for an extra attacker. This did not work out for the Grizzlies as the Komets were able to tack on a empty netter and come out with a five to three lead.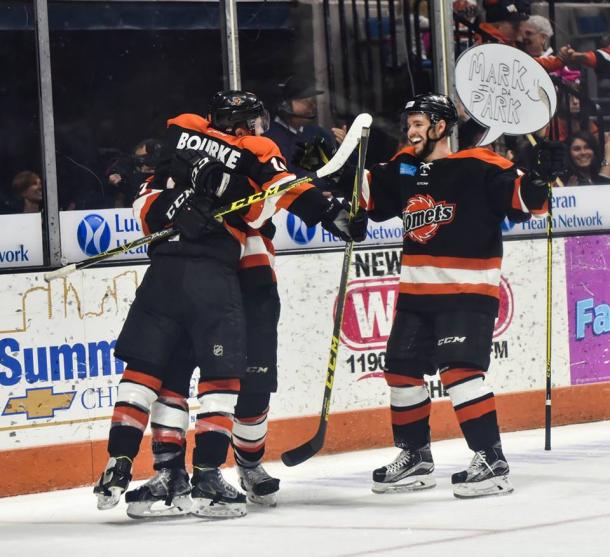 Series moves on to Utah for games three through five
After the Komets were able to take games one and two at home the series now shifts to Utah for games three through five. Game three will be Wednesday night. Puck drop is scheduled for 9 PM EST. The Fort Wayne Komets have to feel pretty good about themselves going to Utah as they only need to win two out of three games. They are in way better shape in this series than they were in the past series against Cincinnati. The Komets dropped the first two games at home against the Cyclones and still managed to win the series in seven games. Therefore going to Utah, this puts all of the pressure on the Grizzlies.