Writing about injuries in the WWE has seems to have become the norm recently as the company has been plagued by serious injuries to their stars with the most recent taking place at Payback to Enzo Amore. However whilst that horrific incident was viewed by all the WWE Universe at a live ppv on the WWE Network it seems as if the injury curse has made its way to the bottom of the company also.
NXT rookie, Kenneth Crawford was involved in a potentially very serious injury at an NXT live event in Florida which saw him be taken away on a stretcher with conflicting reports over his state afterwards.
The incident
Crawford was competing in a match with Noah when he attempted a springboard maneuver, however he didn't make it all the way to the ropes and instead slipped which resulted in him falling hard into the ring. Noah quickly rolled him up and the 'X' sign was flashed from the official immediately as it became clear it was a serious situation.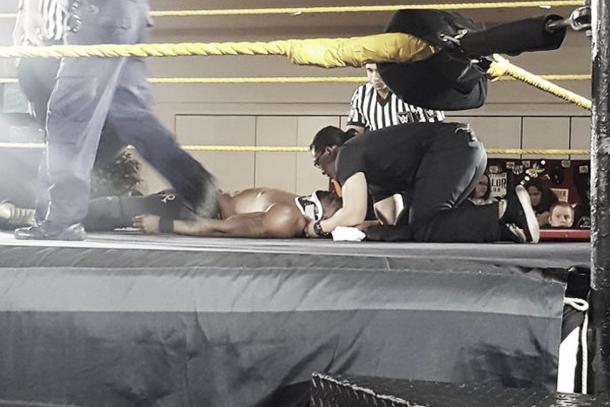 The NXT star had to be taken out on a stretcher which is never a good sign as far as injuries are concerned and then several reports stated different stories about how he was acting afterwards.
Conflicting reports
By all accounts it is clear that Crawford was sadly unable to move his arms or his legs, which was the same situation Amore was in until he got to hospital after his injury. This is a worrying sign as it could signify a serious neck injury. There were however, various conflicting reports regarding whether or not he was able to speak with the medical staff, with several fans using social media to state that he was communicating.
However according to F4WOnline.com's correspondent who was live at the show, Crawford was unconscious whilst being taken to the back on a stretcher, and one fan noted that he was being flown for immediate medical attention but that hasn't been made clear yet.
His condition is not yet known, but it is being reported that tests came back negative and that he is okay, which is a positive sign for this promising star.