This week's Lucha Underground began with Dario Cueto meeting Councilman Delgado. Dario handed the councilman an envelope of money which Delgado says will please his employer. Cueto then tried to leave but the councilman requested that he stay for a drink. He then told the Lucha Underground owner that the police are coming after him. Dario says if it were true he would know about it. He is then told someone may be on the inside. Delgado then tells Dario that his employer will visit the temple soon the Delgado says "What? Did you think your brother would have all the fun?"
Gift of the God Match Finalized
Next Week will see the 7 holders of the Ancient Aztec Medallions compete in the Gift of The Gods Title Match with Texano, Aero Star, The Mack, Cage (Chavo Guerrero stole Cage's medallion), El Siniestro de la Muerte and Sexy Star having already booked their places. The opening bout of this week's Lucha Underground saw Joey Ryan, Cortez Castro,and Mr. Cisco face off for the final medallion. In the early moments of the bout, Ryan was sent out to the floor leaving the two friends to slug it out. Ryan then snuck in and rolled up Castro to gain that all important final place in the Gift of The Gods Title match.
Raising The Dead
We then see Catrina backstage with Mil Muertes in his lair. Catrina says she has been waiting for this for 197 years (Catrina is looking good for a woman who is almost two centuries old). It appears as though that The Priestess of Haiti is hyping Mil up for his Graver Consequences match. She wants him to watch her lick the face of The Monster Matanza Cueto. Then King Cuerno appears after Mil & Catrina leave and it looks as though Cuerno has picked his next prey.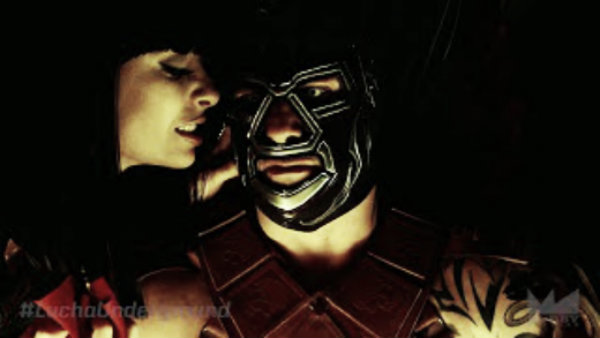 Trios Miscommunication leads to Loss
Due to the injury sustained a fortnight ago by Angelico, Dario Cueto had a unique situation in mind for the former trios' champions' replacement partner in their rematch. He picked Johnny Mundo to fill in. Throughout this match, Ivelisse and Taya seemed to argue at every decision made during the match. In this bout, we saw some unique sub-matches such as Son of Havoc and Rey Mysterio. Once again Dragon Azteca Jr impressed, the finish came when Mundo accidentally caught Ivelisse with a high flying springboard maneuver and with SOH being left alone and Mysterio hit a 619 and tagged Prince Puma, who won with the 630.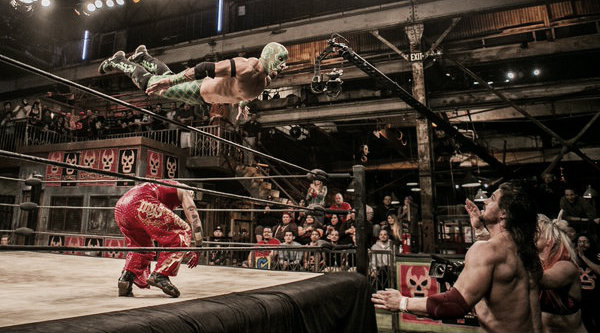 And Still.........
Then came what is arguably one of the biggest main events in Lucha Underground history as The Monster Matanza Cueto defended his Lucha Underground title against Mil Muertes in what can only be described as a war. This match kicks off almost immediately when Mil attacked before the bell could even ring. This was in an attempt to show that Matanza was human after all. This match had big spots and some which began with a spear through a pile of chairs by Mil Muertes, followed by Mil hitting a Flatliner off the apron and onto two caskets.
Then like something you would see in a horror movie Mil had been put into the coffin by Matanza who must have thought that this was over only to see a hand rise from the coffin.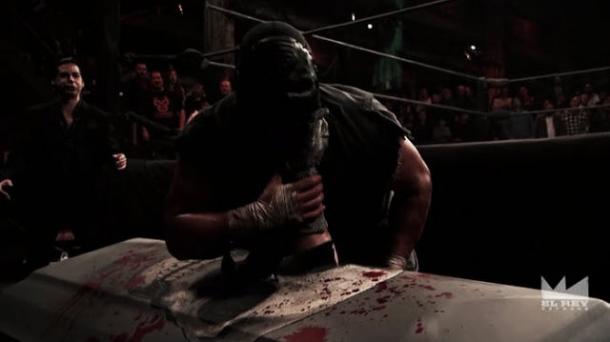 Catrina then got involved when she hit Dario only to be hit in the back with a chair and then she was placed in a coffin with her magic stone.
However, Mil took him out with a dive and nearly locked him in a coffin inside of the ring. Matanza fought him off, though. Hit a powerbomb and The Wraith of the Gods on a coffin and this ended the match. Dario Cueto opened the coffin that had Catrina BUT SHE WAS GONE. The "Faces of Death" came out to get the coffin holding Mil Muertes. One of these men was revealed to be King Cuerno who is now on the hunt.
When will all be revealed?
They see Councilman Delgado meet with his employer who arrives in a limo. He hands this mysterious man the money. Then he reveals that he spoke with Dario about his arrival in the temple. Delgado refers to this man as My Lord. A cigar is lit which ends the show.