Emma has been climbing her way back up the women's division ever since her return to NXT to change up her character and become a heel and she could now see that hard work derailed by injury, right in the middle of her feud with Becky Lynch.
Injury news
Today the WWE announced that Emma is suffering a back injury in a statement on their website which read, "WWE.com has learned that Superstar Emma suffered a back injured last Sunday night during a WWE live event and is currently undergoing tests to determine the extent of her injuries."
This statement, whilst negative, isn't as bad as it could be. The fact that WWE does not know the extent of the damage leaves a possibility that there will not be much-sustained meaning she can get back into the ring as soon as possible, or it could fall the opposite way with it becoming serious, forcing Emma to miss a large spell of time.
The company has been plagued by injury this year and just as Vince McMahon announced that several major stars such as Randy Orton and Bray Wyatt will be returning to action soon they are immediately hit with another injury and they will be hoping that it isn't serious as they will be wanting a full roster heading into the summer.
Current feud
Emma has been feuding with Becky Lynch over the past few weeks and on last week's episode of Raw, fans were treated to the main roster debut of Dana Brooke, showing that the company has real plans for the partnership between the two ladies. The WWE were teasing whether or not Lynch would be able to find a tag team partner to even the numbers game and Sasha Banks was a name rumored to be helping the Irish Lass Kicker. If they were considering putting the most popular women's wrestler in the company in a feud with her, it shows the WWE have ideas for Emma.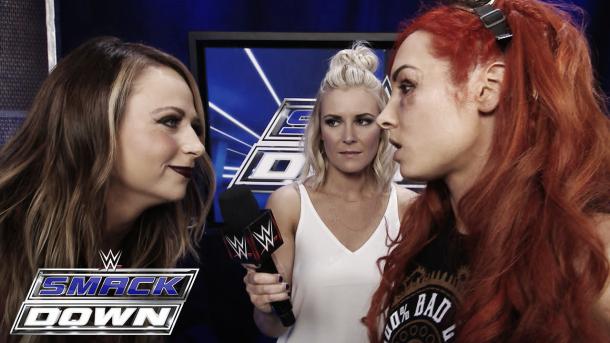 With Brooke debuting on Raw, it is likely that this feud will not be brought to an abrupt end and instead the former NXT star will take Emma's place and work against Lynch on her own, likely with Emma at ringside. This is a parallel of what happened on NXT when Brooke was injured and worked on the outside as a ring enforcer for Emma, a role which she performed excellently in and saw her character really develop.
The situation will become clearer during Monday Night Raw and hopefully, the injury will not be a serious one and fans will get to see Emma back in the ring as soon as possible.